Budding linguist explores roots of family dialect, finds clearer self at W&M
As he approaches the next chapter in his life, Abram Clear '21 readily acknowledges the role William & Mary had in helping him get there. 
He discovered a lot about himself during his college years, and he's quick to credit the inclusive and welcoming home W&M provided throughout that time. 
Clear, a linguistics and anthropology major from Chilhowie, Virginia, is on track to graduate in May and recently accepted an offer to pursue a fully-funded linguistics M.A. at University of Toronto.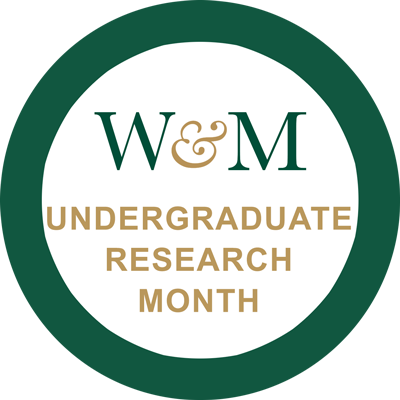 "That sense of belonging was important to me because I was a queer kid from a conservative environment and had been closeted for most of my life," Clear said. "The sense of acceptance and love that I felt from LGBTQ students on this campus encouraged me to come out and encouraged me to stay here for four years. 
"I chose this place because of its open-mindedness and because of its really salient, constructive environment." 
Clear is an active member of the William & Mary community. He is co-president of Rainbow Coalition, the university's LGBTQ education and advocacy programming board, and also serves as vice president of W&M's Omicron Delta Kappa honor society. 
Moreover, Clear is the president of the university's Linguistics Club and has worked as graphics student assistant in Swem Library's Special Collections since the fall of his freshman year. He has also served as a Transfers and More orientation aide the past two falls. 
He was co-chair for the first ever virtual Yule Log Ceremony in December. 
A 2021 Rhodes Scholarship finalist, Clear became interested in linguistics as he learned more about language variations and dialects. He learned that the dialect of his family based in the Appalachian Mountains is rule-based and systematic, in addition to being unique and special in its own right. 
This became the basis of his honors thesis, "Cross-Dialectical Vowel Mapping and Glide Perception," that he presented in January at the annual meeting of the Linguistic Society of America. 
"Abram is an outstanding linguist and human being," said Senior Lecturer of English and Linguistics Leslie Cochrane. "He is constantly giving back to the community, whether through his scholarship – as with his honors thesis on the unjustly stigmatized dialect of Appalachian English – or through his leadership, as with his tireless work on behalf of the LGBTQ+ community at William & Mary."
Clear felt welcomed at William & Mary from the start. 
"I came out my freshman year here at William & Mary during my spring semester, after I had found a chosen family here that I felt fully supported by," Clear said. 
"I became a linguistics major first semester freshman year and have been really lucky to have such wonderful and affirming mentors there. Without them I think I'd still be kind of an unrecognizable version of myself." 
Clear credits many professors, faculty members and students at W&M for supporting him along the way. The aid he received throughout his college years has inspired him to help others. 
"I really don't grow alone," Clear said. "I think I seek out new perspectives and am constantly re-evaluating and interrogating my stances based on these new perspectives and experiences."