After a COVID-forced year off, off-season workouts return at W&M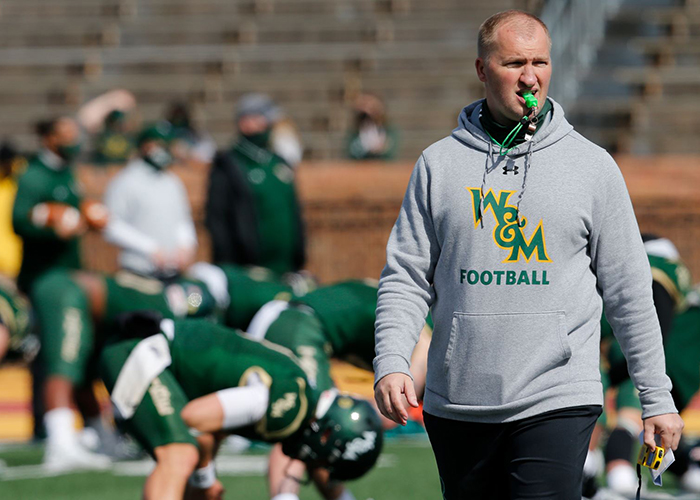 The weight room in Kaplan Arena is hopping again, a stark contrast from a year ago when it was empty. Things are loud and hectic, just the way they're supposed to be in the dog days of summer conditioning.
"I love it," said Kenny O'Mary, who is in his first year as William & Mary's director of student athlete high performance. "And I think the kids are glad to be back in a more normal world. They're excited about training and getting ready to go."
O'Mary, who has been reunited with Tribe football coach Mike London after spending the 2017 and '18 seasons together at Howard, sounds as jacked as the kids. With the pandemic in full force, none of them were able to go through organized workouts last summer.
O'Mary did get an odd taste of it in February, a month after he was hired.
After canceling its fall football season, the Colonial Athletic Association played in the spring. The first game was on March 6, and O'Mary had two weeks with the players before practice began.
"That was super challenging," he said. "Probably one of the more challenging experiences I've ever had in coaching."
O'Mary said he worked with 35 football players, mostly offensive and defensive linemen, during the first summer session in June. Now, practically the entire team is here. For the vaccinated, there is no need for masks or six feet of separation — just like old times.
"It's great to get back to actually lifting and running," center Ryan Ripley said. "The weirdest thing is probably seeing all the guys together.
"It's a welcome change. They've made it fun. Fun and challenging."
Although college football is primarily a fall sport, wins often can be traced back to the summer. With his team unable to get that work in last year, London believes this summer is especially important.
"The ability to be with a sports performance coach is critical in the development of your players, particularly in a physical game like football," London said. "The dedicated amount of time that Coach O'Mary and his staff are putting in, you're starting to see the effects of it.
"It's a whole new vibe that these guys have. We'll see the end result as we start competing against other players."
O'Mary graduated from Eastern Kentucky University in 2010 with a degree in athletic training. Two years later, he earned his M.S. in sports administration. After a couple of internships and a graduate assistant gig, he got his first job at his alma mater as assistant strength and conditioning coach in 2012.
A year later, he was hired at the United States Military Academy as assistant strength and conditioning coach. He came to Howard in 2017, the same year as London, as director of strength and conditioning.
When the job at William & Mary became available, O'Mary was excited about the opportunity to work with London again.
"He took a chance on me at Howard, and I'm forever grateful for the opportunity to earn my stripes on the football side of things," O'Mary said. "Before that, I was mainly a baseball guy at Army. I wanted to be a Division I football strength coach.
"That was a big selling point for me because Coach London is such an awesome human being and a great person to work with. He's a top-shelf person.
After two years together at Howard, London knew what he was getting in O'Mary.
"He's got a great relationship with our players," he said. "They've bought into his sense of work ethic and believing in the system. He's really interjected his energy. 
"And he's a high energy guy, now. Our players have feed off that."
O'Mary primarily works with the football team and is assisted by athletics performance coaches Bryan Jackson and Lindsey Parkins. Ray Eady, director of basketball performance, handles the men's team. Erich Murphy, head strength and conditioning coach, works with the women.
"I let each of my coaches put together their own programs," O'Mary said. "I don't micromanage it."