W&M students learn from Black-led community organizations as interns
As part of the sociology department's Social Justice Policy Initiative at William & Mary, six students are doing internships this semester with three local organizations working in the areas of voter registration, legal redress, educational equity and African-American history.
The idea is to work alongside community leaders, helping while learning from their guidance, according to faculty advisor Amy Quark, associate professor of sociology.
Ruth Hailemeskel '23 and Mya White '21  have been working with the Let Freedom Ring Foundation at the historic First Baptist Church. Kailyn Small '21  and Leah Wright '22 worked with the Yorktown-James City-Williamsburg NAACP branch, and Kersey Neal '21 and Kibiriti Majuto '21 with The Village Initiative educational equity group.
"The community-based internships are invaluable as they provide our students with hands-on experiences with organizations working on social justice issues — from educational equity to racial justice to Black history," Quark said. "For sociology majors, this means putting their coursework into practice. These internships rely on local community leaders."
Jacqueline Bridgeforth Williams and Philip Canady of The Village Initiative, Rev. Dr. Julie Grace and the Scholarship Task Force in the Let Freedom Ring Foundation, and Brian Smalls and John Tarley of the NAACP worked with interns this semester.
"These leaders have given generously of their time to guide and mentor our students," Quark said. "And they provide powerful role models, particularly for our students of color, at a time when William & Mary continues to strive to recruit and retain more faculty of color."
The internships also create a space for the community to guide the university's research agenda, she added.
For example, Neal and Majuto have provided research and design skills to produce The Village Initiative's Annual Equity Report for 2020. Guided by The Village leaders and their priorities, the pair collaborated with multiple W&M faculty members across Arts & Sciences and the School of Education to bring together scholarly research with Virginia Department of Education statistics to make equity-based policy recommendations for the Williamsburg-James City County Public Schools.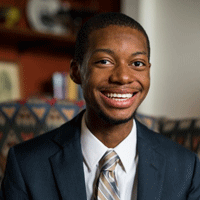 "Working with The Village Initiative has been a significant experience for me because it has deepened my understanding of educational justice," Majuto said. "Working with local community members fighting for equity in our local school system has shown me the importance of centering local community members.
"Through this internship, I have learned that achieving educational justice will require all community members to come together to demand a reconstruction of the whole system."
The internships also offer students the opportunity to use their skills to support important community initiatives, according to Quark.
"Ruth Hailemeskel and Mya White have played an important role supporting the vision of the Let Freedom Ring Foundation to develop a unique scholarship for local high school students rooted in their engagement with Black history," Quark said.
With the NAACP, Small and Wright initially worked on voter registration drives for the group's civic engagement committee. Small then transitioned into working with the education committee, assisting with a survey about Magruder Elementary School's name.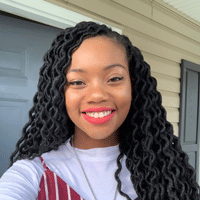 Small and Wright are finishing out the semester working on a list of Black businesses in Williamsburg for the economic development committee, a list of potential business members for the membership committee and a set of guides that the chapter can refer to for ideas for engaging with the community.
"Throughout my time, I have learned a lot about the function of the NAACP, which made me think about the role of bureaucracy in community organizations," Small said. "This line of thinking is something that I will be exploring in my final paper. I have enjoyed the time working with the NAACP because it has shown me that there is a group of people who do care about the community and want to make changes."
In addition to working on The Village Initiative's Equity Report, Majuto also monitored school board meetings and took meeting minutes for the organization. Neal's work also included indexing historical testimonies from members of the community dating back to desegregation, as well as creating a visual illustration for The Village's equity report.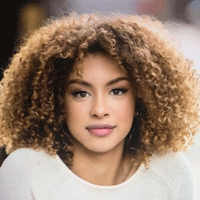 "Between the two, I have had such an enlightening time both learning about the racist realities of the area around William & Mary from the people who were there in the past, and in using my artistic side to create a format where we can articulate those realities as they still manifest themselves in schools," Neal said.
"From everyone involved with The Village, I am learning to have great hope and faith in the future of students of color. Thinking back on growing up as the only Black girl in school, and feeling ostracized and scared quite often, it is so empowering to know that there are people such as the founders and members of The Village that see those kids like me and are fighting for them."
Hailemeskel and White did several projects with the Let Freedom Ring Scholarship Task Force, including designing website content, planning a resume workshop and developing grading criteria for the scholarship.
"I have really enjoyed my experience working on the task force, and it has been inspiring to be on a team filled with strong and determined Black women who are leaders in the community," Hailemeskel said. "We all have the same goal of raising awareness about African-American history and a passion for helping students as they pursue their post-secondary plans."