W&M president, university community explore themes of resilience during virtual discussion
Valuable learning opportunities arise even from a crisis and they will shape the way forward, William & Mary President Katherine A. Rowe said during a virtual community conversation broadcast from the President's House on March 27.
Complete with a welcome from campus and special guests on hand, Rowe introduced the session as the first in a weekly series of conversations that will run through the next month. The conversations will be a chance for the community to connect on W&M's response and adaptation surrounding COVID-19, and will feature different guests for each conversation.
The next community conversation is scheduled for Wednesday, April 1, at noon. Rowe will host guest Kelly Crace, associate vice president for health & wellness at William & Mary. Future community conversations will take place every Wednesday at noon through May 13.
In Friday's opening, Rowe reiterated the university's goals and recent steps taken to reach them: to safeguard the health of students, faculty and staff; to ensure students complete their classes; to maintain the university's research and other operations; to do everything possible to support national and global efforts to slow the spread of the disease.
In her welcoming remarks, Rowe thanked W&M's faculty and staff, most of whom are working remotely, and assured students the university is developing alternate options for the Class of 2020 Commencement. Rowe has said W&M is committed to doing everything it can to have Commencement in person at some point this year.
"As for Commencement 2020, I know this matters so much," Rowe said. "We will do everything to ensure that it happens in person."
She spoke about the campus being strangely silent and empty, assuring students that they are missed.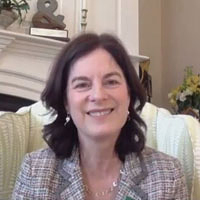 "We know that what we're doing right now is temporary," Rowe said. "Although I'm incredibly proud of what we're accomplishing right now, this is not William & Mary going online for all times coming."
Rowe's guests for the discussion were Student Assembly President Kelsey Vita '20, Student Assembly Chief of Staff Abhi Chadha '20, Junior Class President Aria Austin '21 and faculty members Carrie Dolan, an epidemiologist and assistant professor of kinesiology, and John Swaddle, professor and chair of biology.
They opened by discussing what the first week of remote learning had been like, and themes of flexibility and adaptation emerged. Students gathered online for dinners and lunches using videoconferencing tool Zoom, and Austin's a cappella singing group had met that way as well, she said.
"Students are really trying to say, this is rough but we're going to do this together," Austin said. "That just shows that when we say one Tribe, one family, we mean that even though we're not on campus."
Dolan spoke about watching as her area of specialized research, global disease, played out across international news as the pandemic has spread. She has also been through a similar situation before.
"This is very familiar to me," Dolan said. "I was at Tulane during Hurricane Katrina, and I ended up across the country finishing grad school without my books, without my calculator, without my computer, saying goodbye to my graduation and my runs and my friends.
"And what I know is that a resiliency develops from this. And I see that same resiliency in my students this week online. They are doing things they didn't think they could do and learning things they didn't know they could learn. And that's just going to continue to grow, and they're going to carry that throughout the rest of their life."
The amount of innovation that's going on in such a short period of time is amazing, according to Swaddle, who talked about faculty and students making the pivot to remote learning with tremendous support from campus departments.
"And then also the concern that everyone's showing for each other," Swaddle said. "There's an awful lot of really empathic reaching out of people — the alumni reaching back to the community, too, as well.
"Everyone just turning to each other and saying how can I help? How can I make this better? How can we move forward together? It's just such a wonderful community to be a part of, to see that kind of positive reaction."
Asked what surprised them this week, students mentioned the deep human connections that still are evident, changes to the culture of philanthropy and that they are engaging more intentionally with friends.
As part of community building, Swaddle said the biology department is trying to make this semester special for seniors and has been reaching out to them especially for ideas on more ways to connect.
As for advice for students on how to navigate the distance, student leaders suggested making sure to advocate for oneself, seeing vulnerability as something that is good and asking for help from friends or faculty members when its needed.
Other discussion topics included taking time to look at what is going to matter in the actions taken during this time and what could change positively from it. Rowe asked the campus community to continue to send questions to leadership and to keep thinking with her about what can be learned.
"How do we want to remember how we were and how we stood together?" Rowe said.