W&M athletic staff were shaped by their experiences in the military
Just after 9/11, Michael London Jr., was patrolling the Persian Gulf on the USS Sacramento. He was away from the thrust of Operation Enduring Freedom, but it was an uncertain time.
 
Thirteen years ago, Brendan Bourdage was a captain in the U.S. Army leading the development of police and military forces in Iraq. He was responsible for nine of the country's 18 provinces and reported to a two-star general.
 
And two years ago, Aimee Clark was an assistant logistics officer of a Crisis Response Force that would react to embassy emergencies in Europe and Africa. Her unit took inventory at various spots across the continent to make sure, if called upon, the U.S. Marine Corps could do its job.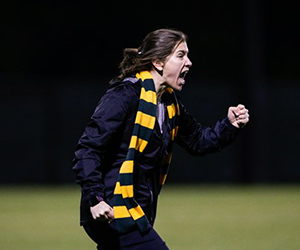 Today, each is out of the service and part of William & Mary's athletic department — London Jr., as an assistant football coach, Bourdage as associate head soccer coach, and Clark as coordinator of athletic strategies. Their military experience help shape who they are and how they handle their current roles.
 
"Being on a ship, you have one job and others have their job," said London Jr., who served in the Navy for three years. "And the outcome is that one ship's mission of being successful as one group. The military and sports go hand in hand with hard work, discipline, and dedication."
After graduating Hampton's Bethel High School in 2000, Michael London Jr. — a.k.a. "Deuce" — wasn't sure what would come next. He took a year off to figure things out and joined the Navy the following June.
 
London on leave was visiting his mother in Atlanta when the World Trade Center and Pentagon were attacked. He then joined his crew on board the USS Sacramento in the Persian Gulf to support Operation Enduring Freedom. 
 
"There were some boats coming up, a couple warning shots being fired, but nothing like the stories you hear from the guys who really experienced it," London said. "It was a scary time, but I didn't really feel that being in the water.
 
"It was a learning experience for me. You're tested. You are in a battle zone."
 
The Sacramento's tour ended in January, and London spent the rest of his time stationed in Bremerton, Wash.
 
As a signalman, London was responsible for visual commands, particularly when the ship was under "radio silence." Methods included flashing a search light and using semaphore flags.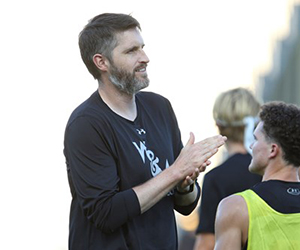 But rising technology was the signalman's downfall. In October of 2003, the Navy disestablished the rating. In 2004, at the age of 22, London Jr. left the Navy. 
 
"For me, it was a learning experience," said London, now 38 and going into his second year as the Tribe's receivers coach. "I needed to be away and learn how to do things on my own. 
 
"The discipline, the attention to detail that I learned from the military, that helped me getting into coaching. The military was something I needed to transition into an adult. I hold that experience very dearly to my heart."
Although he had three uncles who served, Bourdage didn't grow up a military brat. But when he enrolled at Santa Clara University in 1996, he joined the ROTC. He signed his contract as a sophomore and earned a three-year scholarship.
 
The day after he graduated in June of 2000, Bourdage was commissioned in the U.S. Army. In September, he went to engineer officer basic course Fort Leonard Wood in the Missouri Ozarks. 
 
A year later, he was a platoon leader responsible for 25 soldiers in a peace-keeping operation in Kosovo. Around mid-afternoon on Sept. 11, 2001 — Kosovo is six hours ahead — the news came.
 
"I was out on patrol with one of my squads when we got a call over the radio letting us know things had changed a little bit and to pay more attention to things around you," he said. "Kosovo wasn't an active combat zone, or anything like that."
 
Bourdage and his platoon came home in November. He was stationed at Fort Stewart in Georgia through May of 2004, deploying to Iraq for the first time in '03, and then Fort Leonard Wood through April of '05. Then came a two-year stint in the reserves while he worked on his Master's coached at Humboldt State in Northern California.
 
In January 2007, Bourdage's reserves unit was deployed to Iraq. His group was responsible for training the police and military forces.
 
"That had been an ongoing process since the military was disbanded immediately following the invasion in 2003," Bourdage said. "There was a lot of work to do with rehabilitating that organization and concurrently doing the same thing with the police forces."
 
After coming home in May of 2008, Bourdage remained in the reserves for two years. In 2010, as a captain, he resigned his commission in the U.S. Army. He landed his first full-time coaching job at the University of Washington.
 
Then, in 2012, Bourdage was hired as an assistant coach at William & Mary.
 
Although he's been a civilian the last 10 years, Bourdage still uses much of what he learned in the military.
 
"Overall, it's an experience I would do again if I found myself back in college," Bourdage said. "I certainly think it's done more positive for me than it has negative."
Part of Aimee Clark's title these days is chief of staff for William & Mary's athletics department. What her resume lacked in traditional experience it made up for with absolute organizational and leadership skills.
 
In four years as a logistics officer in the United States Marine Corps, Clark rose to the rank of captain. She spent seven months of 2018 across the Atlantic with the Crisis Response Force, which was based in Morón, Spain.
 
"We took inventory of all the supplies at various locations in Africa so if we were called upon by the Department of State to respond, we had what we needed to logistically get our people to where they needed to be," Clark said. "The missions in Iraq and Afghanistan and Syria were kind of winding down, so as a Marine, to be able to do your job forward was a privilege at that point."
 
Growing up outside Philadelphia, Clark got her first taste of military life as a student athlete at the U.S. Naval Academy. In four years on the lacrosse team, she had 208 goals (third all-time) and 251 points (sixth).
 
After graduating, she was commissioned into the Marines. She spent "six months of getting my butt kicked" in Quantico. She did just about everything from programming radios to assembling and disassembling machine guns.
 
Clark's husband, Alexander, is a Navy pilot who she met at the academy. Understanding the difficulty of both being career military, she left the Marines after her five-year contract expired in May 2019. Clark wasn't sure what would come next, but one thing led to another.
 
Her brother, Mike, is an assistant crew coach at Yale. He connected Aimee to some administrators in New Haven, and they introduced her to W&M athletics director Samantha Huge. 
 
Two months after leaving the Marines, Aimee Clark had new career.
 
"I don't know too many people who had a transition experience that seamless," she said. "It was a great experience to wear the uniform and get to do your part for Uncle Sam. And I was blessed to actually enjoy it while I did it because some people don't always love it."