W&M alumnus on a mission of Comfort
Having completed a month-long mission of helping New York City hospitals that were overwhelmed by the coronavirus pandemic, the USNS Comfort has sailed back to Virginia with about 600 doctors, nurses and other crew members, including Dr. A. Scott Morris '10, a lieutenant in the Navy's Medical Corps.
Morris, who led the radiology division, reported for duty on the Navy hospital ship on March 18 and returned to Norfolk on May 2.
"I am very proud of the work we did in New York, caring for our fellow citizens, and I am glad to be home," he says.
Stationed at Naval Medical Center Portsmouth since last July, Morris volunteered to serve on the Comfort. He is serving four years of active duty in return for his four years of medical school that were paid for by the Navy. 
"I was excited about serving on the Comfort, because while we often take care of our neighbors outside the U.S., this mission was an opportunity to treat Americans as well," he says.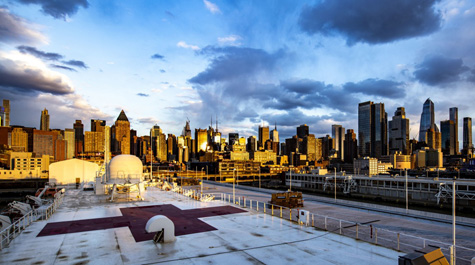 While the ship was docked in the New York harbor, 182 patients were treated there, and 11 died from the coronavirus, according to The Associated Press. Initially, the plan was for the Comfort to treat non-COVID-19 patients, but that quickly shifted to accommodate local hospitals' most pressing needs.
As a diagnostic radiologist, Morris had some limited contact with patients, mainly when doing ultrasounds. He looked for telltale signs of COVID-19 infection — peripheral inflammatory changes in the lungs.
"In general, we worked behind the scenes to help ICU doctors, pulmonologists and surgeons," he says.
As of May 4, 24,788 people in New York have died from the coronavirus, many of them in and around New York City, according to The AP. During a news conference April 21, New York Gov. Andrew Cuomo expressed appreciation for the Navy ship's assistance.
"I believe Comfort not only brought comfort but also saved lives," Cuomo said, according to the AP.
Morris and the other crew members will remain under restricted movement for the next two weeks, as a safety measure. For him, that means staying in his room in his apartment — away from his wife, Natalie, and 2-year-old daughter, Audrey — except for unavoidable trips, and wearing a mask in public at all times.
Being apart for more than a month has been challenging at times for Natalie, a speech pathologist who works from home while caring for their toddler daughter, but she says they talked by phone daily.
"I was concerned that COVID-19 exposure would occur with the crew, but I knew he would be given appropriate personal protective equipment and be medically taken care of," she says. "For me, the deployment tested my patience and strength, but left me confident that we can overcome the challenges of a deployment and come out stronger as a family."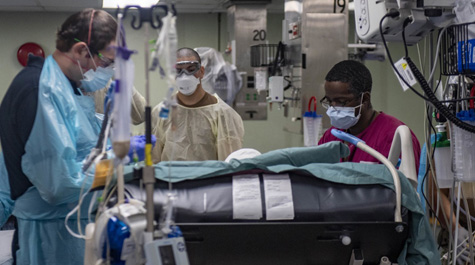 A native of Roanoke, Morris majored in biology at William & Mary, where he was a member of the James Monroe Society and Phi Beta Kappa. He was commissioned into the Navy Medical Corps in 2010, and graduated from Georgetown University School of Medicine in 2014, followed by an internship at Washington Hospital Center. He then completed a diagnostic radiology residency at Vanderbilt University Medical Center in 2019.
Morris says that when he visited William & Mary on admitted students day in 2006, he heard a speech by retired U.S. Supreme Court Justice Sandra Day O'Connor, then chancellor of the university.
"I just remember it was the best speech I've ever heard," he says. "Then, walking around the campus, I was hooked."
W&M health professions advisor Beverly Sher says she often tells pre-med students about Morris' undergraduate research project with biology professor Randy Chambers at the Keck Environmental Lab. 
"As I recall, the lab was interested in the fate of turtles that ended up in crab traps, and Scott spent at least one summer paddling on the York River, pulling up crab traps and checking for turtles," Sher says. "Pre-meds who have scientific interests similar to his are often relieved to hear that medical schools would be perfectly happy to see them doing undergraduate research in the areas that interest them most, just like Scott did."
Biology Professor Randy Chambers, one of Morris' advisors, remembers him as a "a straight-as-an-arrow, excellent W&M student."
Chambers says he tried to persuade Morris to consider graduate work in ecology, but his former student had his heart set on medicine because he wanted to care for people. He's not surprised that Morris would volunteer to serve in the heart of a pandemic outbreak.
"It's the sort of thing he would do. This is not the best anatomy, but Scott's head bone is connected to his heart bone," Chambers says. "He's smart, compassionate and the sort of person you'd want to have as your doctor during a health crisis."