Wilderness leader: Alumna relies on small teams to achieve big goals
The following story originally appeared in the spring 2020 issue of the W&M Alumni Magazine. - Ed.
Terri Watson '85 isn't certain what role gender plays in determining a person's leadership style. But as a keen observer of how men and women in positions of authority conduct themselves, she believes each person has a different way of leading.
"I work very consciously on my leadership style and trying to figure out how to how to be a better leader," she says.
As the first woman to become president of NOLS — founded in a Wyoming cabin in 1965 as the National Outdoor Leadership School — Watson brings nearly three decades of experience in corporate and nonprofit roles to an organization that enrolls more than 25,000 students annually in programs around the world. NOLS offers expeditions to places such as the Rocky Mountains, Chile, East Africa and New Zealand, as well as classroom instruction on skills relevant to a wilderness setting.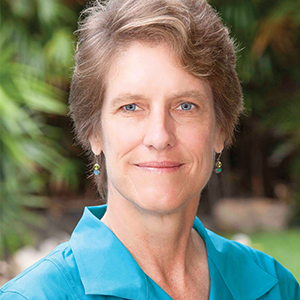 After double-majoring in geology and physical education at William & Mary, Watson flew tactical surveillance aircraft in Europe and South Korea as an Army intelligence officer. Although she studied leadership and team building in the Army, it was during an instructors' course at NOLS in 1990 that she found a model that resonated with her.
"When you're in a wilderness setting for an extended period, the pressures of daily life go away and you're really just working with the reality of who are you and who are the people you're with, what are you trying to do and how do you make that happen," she says. "And I just found that really fascinating."
Watson became an instructor and later worked in administration and management at NOLS. She also embarked on a parallel career path in professional aviation, forming her own company and doing medical transport flights for many years. She served as chief executive officer at LightHawk, a Colorado-based nonprofit that relies on volunteer pilots to support its conservation projects, before returning to NOLS as president on Jan. 1, 2020.
She describes her kind of leadership as different than a traditional, hierarchical approach.
"I very much believe in working in collegial teams and small focus groups to achieve things, versus having one person who's the expert and decrees how something will be done," Watson says. "So, facilitating effective small teams to achieve big goals is a style that I have moved to that I think really works well for me."
An example of this kind of facilitation comes from a flight she took while at LightHawk. On board were a representative of a company that wanted to drill for methane, a rancher deciding whether to allow access to his land and a person from a conservation group trying to limit drilling.
"My friends were all teasing me, saying 'You're going to have a brawl break out in the air,'" says Watson, who holds multiple aviation ratings and has flown over 11,000 hours. "But what actually happened was they all saw this landscape from a new perspective, so they ended up in a fairly powerful conversation around how compromises could be made, and how you could perhaps drill in some places and not in others, or do it more responsibly."
The conversation continued after the flight, and the three people with seemingly disparate interests became advocates for working together to find a solution.
"To me, that just illustrated the kind of creative compromise that a new experience shared together could bring," Watson says.
One of the examples she looks to for leadership inspiration is retired Gen. Colin Powell, the father of her William & Mary classmate Michael K. Powell '85, D.P.S. '02. Both Watson and the younger Powell were in the ROTC program at W&M, and Gen. Powell spoke to the cadets at their commissioning ceremony in May 1985, among other occasions.
"He talked a lot about the importance of integrity within leadership," Watson says. "I recall a conversation we had early on where he said, 'If you don't have integrity, nothing else matters. And if you do, you can pull anything off.'"
Watson has always loved collecting rocks and exploring landscapes. When she was growing up, her family traveled between Virginia and her mother's home state of Wyoming, camping and visiting national parks.
Still, she didn't come to William & Mary with the intention of majoring in geology. But after taking some introductory classes, she was captivated.
"It was partly the subject matter and partly the departmental professors," she says. "At the time, there were only five professors, four of whom were founders of the department. They loved their subject matter and they loved their students, and it was a really warm, family environment."
Watson has remained in contact with some of those faculty members, including Chancellor Professor of Geology R. Heather Macdonald.
"Terri has had a most amazing career," Macdonald says. "I am so proud of her and what she has accomplished, building on her geology major, her considerable talents and her strong commitment to people and to the earth."
Macdonald says she often tells students about Watson when discussing career paths with them. The two reconnected during the fall of 2018, when Watson was on campus for Homecoming & Reunion Weekend as part of the commemoration of 100 years of coeducation at William & Mary.
During that visit, Watson sat next to Ellen Stofan '83, director of the Smithsonian's National Air and Space Museum, at a geology department luncheon.
"We're sitting there with some of the retired professors who had come back and all the geology students, and Ellen and I are kind of looking around, saying, 'These people are really smart. We're really glad we got in when we did because we don't think William & Mary would take us now!'"
Watson laughs, but she's serious about her impression of the students she met.
"I just found myself amazed by the bright and thoughtful humans that I was sitting among," she says. "We try in the geology department to focus on mentoring and networking. It's easy because generally when I find out somebody has a William & Mary education in their background, they're a pretty astounding person."
As president of NOLS, Watson wants to strengthen relationships with East Coast colleges. She also sees partnership potential with William & Mary's recently announced Institute for Integrative Conservation.
"I envision us becoming more well-known and growing our opportunities and our programs for a larger population," she says. "I would love to find a way for William & Mary students to know of the opportunities for attending a NOLS training such as back country exploration or wilderness medicine. That's an area that we are trying to work on now."
Watson says that she was thrilled when Katherine Rowe was named William & Mary's first woman president and when Samantha Huge became the university's first female athletics director.
"I'm so interested in their perspective and the leadership style they're bringing," she says. "While the 'first woman' role is not one I see myself playing, it's important to me that they are there. Realizing that, I remember there are probably folks who think it's important that I'm here."