W&M alumnae work to transform primary care
In March, with the pandemic picking up steam worldwide and graduation just around the corner, Dena Bashri '20 was looking for her next step. A public health major with minors in math and Arabic, she knew she wanted to put her W&M education to good use, but how? And what opportunities would even be available during this economic downturn, when so many organizations have frozen hiring or are conducting all their business remotely?
Her first step: reaching out to the network of W&M alumni to learn more about possible career paths. That's how she found out about the Transforming Primary Care fellowship offered this summer by the Weitzman Institute, the research and innovation arm of Community Health Center, Inc.
This summer, she and fellow alumna Shivani Gupta '20 are two of the six inaugural fellows in this program, which is entirely remote. They are working on projects as diverse as ensuring the homeless have access to telehealth to tracking the supply chain of COVID-19 testing kits.
"The inaugural Transforming Primary Care Summer Fellowship was offered nationally to graduates from the class of 2020, students who are going through the unique challenges brought by COVID-19 as they launch their careers," said Mark Masselli, CEO and founder, in a press release. "We received an outpouring of excellent candidates, and are fortunate to have a group of truly outstanding future healthcare leaders. The Fellows have brought limitless talent, energy and intellectual curiosity to their work at CHC and the Weitzman Institute."
Bashri and Gupta found out about the fellowship through Wei Chang '17, who posted about it on the W&M Switchboard. Chang was finishing up her own fellowship at CHC/Weitzman at the time, and she had used Switchboard herself to get career and other advice from alumni. After posting about the fellowship there, she soon had several recent grads, including Bashri and Gupta, reach out to her to learn more.
"Having only graduated three years ago, I usually think of myself as a mentee, so it's incredible to be able to help students make these connections," she says.
"It always strikes me how students from William & Mary are so willing to learn and challenge themselves. So it's great to see how they are applying what they've learned at William & Mary to a really interesting and emerging area. It's a unique opportunity to have right now, to work alongside the front line of community health."
Dena Bashri '20
Bashri has always been interested in the intersections of health and migration. Growing up, she traveled with her family to Sudan every few years to see relatives and was fascinated by the ways the ways in which displacement and conflict created a complex, diverse culture there. As a student at William & Mary, she studied abroad in Jordan to conduct research on the perceptions of the domestic worker sponsorship system among domestic workers and their employers.
"I understand that my life would be super different if my family hadn't been able to benefit from systems of migration," she says. "For me, what's really powerful is to be able to leverage my privilege to serve a greater cause in communities that reflect my own identity, an identity I didn't see reflected much growing up or even at William & Mary.
"As a Black Muslim woman, it's important to recognize that facets of my intersectional identity don't hinder me. They help me gain a greater sense of empathy for others and connect with more people than I could've ever imagined."
She sees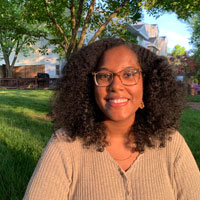 her work in the fellowship as a way to make an impact on a community level. For her fellowship with CHC/Weitzman, Bashri joined their Center for Key Populations, which engages and advocates for populations who have traditionally experienced barriers to care, including homeless and LGBTQ+- identifying individuals, along with those living with substance use disorders and hepatitis C.
Her projects this summer include helping homeless and displaced people connect to telehealth and creating a nurse-driven protocol for taking sexual histories that are more inclusive for all people, regardless of sexuality or gender identity. In the coming weeks, she will be contributing to a presentation on health disparities in the COVID-19 pandemic for the Connecticut Institute for Refugees and Immigrants.
Her work combines literature reviews, background research and interviews — qualitative and quantitative research like she conducted at William & Mary as part of the Ignite Lab and Research and Evaluation unit of AidData.
"There are these open doors at William & Mary to conduct research as an undergrad and explore your interests. I don't know if I would have had that anywhere else, that depth of knowledge, mentorship and experience," she says. "I was comfortable and confident pursuing research opportunities like this one post-grad."
In the coming future, she hopes to continue contributing to meaningful work at CHC, or travel abroad to continue her work with underserved populations. She's applying for a Fulbright to research Sweden as a case study of global response to the refugee crisis.
"In order to truly engage in meaningful work in a global context, you must be able to recognize and understand these same complex topics on a local scale," Bashri says. "It's more than just asking 'How can I help?', it's really about immersing yourself in holistic learning about the experiences and identities that form communities you are serving."
Shivani Gupta '20
Gupta was also looking a remote opportunity to make a meaningful difference and was excited to see Chang's post. A public policy major with a global education minor, she had been in India on a Boren Scholarship all year, but was called back to the U.S. in March as travel-related restrictions due to the pandemic began. Boren Scholarships, an initiative of the National Security Education Program, provide unique funding opportunities for U.S. undergraduate students to study less commonly taught languages in world regions critical to U.S. interests and underrepresented in study abroad.
After connecting with a few alumni through the Alumni Association's Online Networking Hours, the business school's career center and other venues, she saw Chang's post on the Switchboard and applied.
As part of the fellowship, Gupta is building a database that matches CHC/Weitzman's priorities to their grants and helping manage their complex supply chain of COVID-related supplies.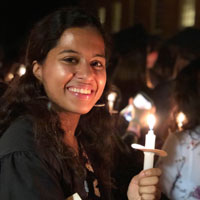 "William & Mary encourages us to try to make an impact wherever we go, in small and big ways, and to think critically," she says. "My organizational behavior class especially gave me the confidence to offer up my ideas in this fellowship about how to improve workflow and be more efficient."
As well as her fellowship, Gupta works for a social enterprise startup called Hope Sews that provides opportunities to seamstresses in Ghana. She is also interning with William & Mary's Global Research Institute on a project for the Department of Defense's U.S. Indo-Pacific Command, looking at the impacts of COVID-19 on women in the Pacific region.
"I definitely think it's helpful at this time to stay busy, so it's been really nice to have these opportunities. And they're all things that I'm passionate about and interested in," she says. "Coming back home, it's been good to engage with the community in these collaborative opportunities."
Gupta was encouraged to come to William & Mary by her AP Government teacher in high school, Allison White Cohen '94, M.A.Ed. '96.
"I started off thinking maybe I should major in government, but I learned I liked more of the community-driven aspects, seeing the impact on a local level. So I switched to public policy, which led to work with the Office of Community Engagement, studying abroad in India and the work I'm doing now," she says. "This is a really interdisciplinary and unique major that you can really take in the direction that you want."
Next, she plans to work in the federal government for at least a year to fulfill the terms of her Boren Scholarship. She hopes to land a communications position focused on international development, education and health care.
"I'd like to combine my interest in policy and sustainable development to pursue like a social enterprise," she says. "I think I could continue to make change that way."