Students lobby for W&M at 24th annual Road to Richmond
Approximately 20 civic-minded William & Mary students remembered to pack their finest business attire for the first week back at school. The occasion? An opportunity to represent their university as student-lobbyists for the 24th annual Road to Richmond on Jan. 21.
Every January, students from a variety of majors unite to learn about the inner workings of Virginia politics. Road to Richmond, sponsored by the W&M President's Office and the Office of Government Relations, offers students a platform to represent their interests before members of the Virginia General Assembly.
The students began the day in Richmond with advice from W&M President Katherine A. Rowe, who offered her observations of the current legislative atmosphere and discussed key messages about the university.
"I talk a lot about how close-knit the community is," Rowe said. "I talk about what a strong student government culture we have, a really forward-thinking student body. This is a generation that's outwardly-facing with a really strong sense of duty. That's a superpower of this generation."
Hosts in action
Energized by Rowe, the students next heard from a panel of recent alumni working in Virginia politics. Asked what lessons they learned from their time at the university, the alumni emphasized continuing to embody the character distinctive of William & Mary students.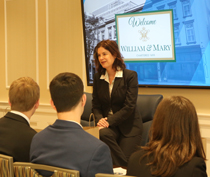 "At William & Mary, people are just nice — they smile at you when you walk down the halls," said Ka'myia Gunn '19, a deputy legislative assistant in the Virginia House of Delegates. "Something I will say is being kind goes a really long way. That surpasses the walls of William & Mary, especially in today's political landscape."
Seth Opoku-Yeboah '16, legislative advisor for Sen. Richard Saslaw (D-Fairfax) and former assistant to Virginia Gov. Ralph Northam, encouraged students to learn from the diverse perspectives of their classmates.
"Expose yourself to everything you can in terms of people from different backgrounds and perspectives," he said. "You become a lot more open-minded; you become a lot more curious. We need a lot more of that in politics right now."
At the conclusion of the panel, Supreme Court of Virginia Justice William Mims '79 emerged from the audience, enthusiastic to share from his career and his time at W&M, including his term as Student Assembly president. He spoke of fighting for greater administrative transparency during his time at the university. He learned important lessons he still carries with him today, he said.
"I learned there's a fine line between impertinence and principle," he said. "I learned that friendships are important – and that we cared about (William & Mary) and its future."
Those words resonated with Kelsey Vita '20, current president of Student Assembly.
"Students have a seat at the table when they try to voice their opinions," Vita said of current Board of Visitors meetings. "And to think, there wouldn't be that voice for students today if it hadn't been for Bill Mims and his administration in the 1970s who lobbied for that change."
Engaging policymakers
By mid-afternoon, students had gained insights into how to adapt a William & Mary education into a profession in Virginia politics. The rest of their afternoon featured such events as a conversation with Northam, whom students asked about educational access for undocumented students, infrastructure initiatives and the trajectory of Virginia's higher education system.
"It feels odd to interact with these people that you hear about on the news and then, to think, 'What business do I have discussing these issues with these people?'" said Vita. "But as students, we are in the business of holding our political leaders accountable and of advocating for our peers."
Next stop: the Governor's Mansion, where students were greeted by fresh cookies made by the house chef and the First Lady of Virginia Pamela Northam.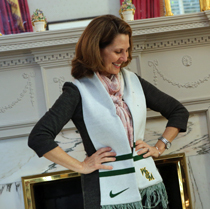 Students next brought their burning questions to Del. Mike Mullin (D-93rd) and Del. Jeff Bourne (D-71st). Quickly, the group launched into a discussion about everything from the decriminalization of marijuana to the disruption of the school-to-prison pipeline and issues of housing inequity.
First asked a question by Alton Coston III '23 about mixed income housing in his district, Bourne commented on the excellence of William & Mary students.
"That's the first question …" he said, with a lighthearted sigh. "I should expect nothing more from William & Mary."
Engaging policymakers
After meeting with legislators, the students received parting advice from William & Mary's Director of Government Relations Colin Smolinsky before the night's final event: the reception. There, students, policymakers and university administration discussed where William & Mary fits in the future of higher education.
The event began with a few words from Rowe, who articulated a series of questions that will frame the university's role in an evolving Virginia, all of which began with "How might we?" She then prompted the room to engage in the same reflection.
"What are other areas where we should be formulating questions like this? I look to this room for those questions," she said.
The students concluded the long day with a chance to network. For 90 minutes, they shared discussion, laughs and hors d'oeuvres with their fellow students and Virginia politicians.
On the way home, those who fought their fatigue took time to reflect on their experience.
Asked about the day's takeaways, Zariawn Anthony '23, a freshman and prospective government major, described feeling reassured about the winding career paths she learned about.
"The journey within government is not linear. It's okay to go back to the drawing board and discover what your interests are," she said. "It's okay, as a freshman, to not know exactly where to go and to take time to figure it out."
Abhi Chadha '20, a senior studying government and finance, described a different reassurance – that a career in government is always an option.
"What I didn't necessarily expect were the kind of reflections on a career spent in public service that I got today," he said. "I really appreciated that I got some good advice out of it, especially as a senior looking at the future with a sharp eye."
Chadha added that the day served as an opportunity for students to bring their studies to life.
"(Road to Richmond) helps lift the words off the page for some people. It helps them understand how their classes come into practice," he said. "But even if you're not someone looking to study government, this helps get an up-close and personal view you don't get anywhere else."