Senior VP Sam Jones to retire after 34 years at W&M
Amy Sebring to take on expanded role as chief operating officer
When Sam Jones '75, M.B.A. '80, returned to his alma mater as a staff member, he had no idea he'd end up shaping William & Mary's finances for the next three decades.
But the evolving nature of his job and the university's community have kept Jones engaged, and he's made protecting and advancing W&M's priorities his life's work. Now, Jones is preparing for the next chapter.
Jones, senior vice president for finance and administration, will step down from his current role at the end of June on his way to retirement.
 "I am humbled to have been able to work at William & Mary," said Jones. "It is a rare opportunity that allowed me to spend my career at an institution for which I have such great affection and which gave me so much — my wife, my education, a wonderful community to raise a family, long-standing friendships, and the opportunity to work with students, faculty, staff, university leaders, donors and volunteers who share my passion and love for this university."  
In his current role, Jones is responsible for all of the university's financial and administrative operations, including capital projects and the development and implementation of the budget. He is a member of President Katherine A. Rowe's Executive Leadership Team and cabinet. Jones also chairs the university's emergency and risk management teams.
When Jones departs, Amy Sebring M.P.P. '95, W&M's vice president for finance and technology, has agreed to take on a new role as the university's chief operating officer, Rowe said in a message to faculty, staff and students Monday. 
"Sam Jones has been a staunch and inspiring partner to five William & Mary presidents, including me," Rowe said. "From overseeing major construction to securing our budget priorities in Richmond to leading emergency management and many business operations and initiatives, Sam has played a critical role in advancing the prosperity of this university and community. We will miss him, even as we celebrate his contributions through the spring. Amy Sebring promises to capably step in; she has proved a trusted and effective leader and I have enormous confidence in her vision. I am delighted she has agreed to an expanded role."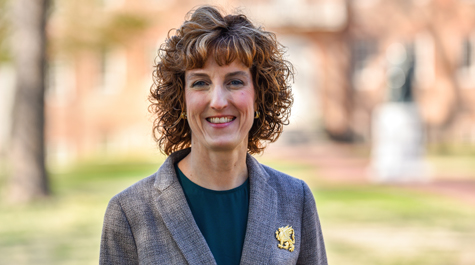 As chief operating officer for W&M, Sebring will be responsible for the strategic management of the university's finances. She will oversee a consolidated group of areas that she and Jones have been leading, including auxiliary services, emergency management and public safety, facilities, finance, human resources, information technology, risk management and compliance.
"This restructuring allows us to streamline administrative operations in a single, cohesive leadership team, under one executive," Rowe said. "The COO's leadership team will partner with and support academic leadership, advancing our educational mission. This partnership is especially important as we finish this year's phase of strategic planning."
Sam Jones
Jones graduated from W&M in 1975 with a bachelor's degree in government, and he received his Master of Business Administration degree from the university in 1980. His career began as a revenue forecaster for the Virginia Department of Taxation, and he worked for the Virginia Department of Planning and Budget before returning to W&M in 1986 as budget director. 
Over his W&M career, Jones has worked for five university presidents and secured financing for multiple capital projects, including construction of Alan B. Miller Hall, the new School of Education and the various phases of the Integrated Science Center. He also was a lead architect of the W&M Promise, an innovative operating and tuition model adopted by the Board of Visitors in 2013. 
"William & Mary has continually advanced, through thick and thin, largely due to Sam's remarkable ability to keep 'first things first,'" said John E. Littel, rector of W&M's Board of Visitors.  "At William & Mary, that means centering students and academics squarely in all that we do. Amy shares this critical ability, as well as a great many others. William & Mary is fortunate to have enjoyed decades of their capable financial and strategic leadership. We wish Sam the best in retirement and thank Amy for supporting W&M in new ways."
Jones has also been involved in statewide initiatives, including serving as chair of the Virginia Higher Education Procurement Consortium, and passage of the Higher Education Restructuring Act, which gave Virginia universities more autonomy and flexibility over human resources, financial and other administrative matters.
"If you mix strategic vision, hard work, humility, financial knowledge, dedication and management expertise in just the right proportions, you get Sam Jones," said Jim Golden, former vice president for strategic initiatives. "No one has contributed more than Sam to William & Mary's progress over the past several decades. It has been a privilege to work with him."
Jones has seen myriad changes during his time at the university: periodic reductions in state support, greater dependence on tuition and growing private support for the university from alumni and friends. At the same time, he's also worked with leaders in Richmond and friends of the university to secure hundreds of millions of dollars to support capital projects for nearly every corner of campus. Throughout it all, Jones has worked to protect the university and its mission.
"I've always said that whether you're cutting budgets, or whether you're investing new money, the priorities you have, things of strategic importance, really shouldn't change," said Jones. "We've always had a commitment to protect the academic side as much as possible. At the end of the day, it's all about the students and their education."
When reflecting on his success, Jones credits the people he's worked with, both within the university and across the state.
"It has been wonderful to work with such incredible individuals in so many different facets of the job," Jones said. "I'm very happy to see Amy take on these additional responsibilities. She is a true asset to William & Mary and a real leader."
After retirement, Jones and his wife, Julie Reynolds Jones '76, plan on spending more time on the Eastern Shore and finding options for volunteer work. 
Amy Sebring
Sebring began as William & Mary's first chief financial officer in 2016 after serving as senior associate dean for finance and administration at Virginia Commonwealth University School of Medicine and executive director and chief operating officer of MCV Physicians.
Before that, she held a number of financial and administrative roles in higher education. Prior to her work at VCU, she was a legislative analyst for the Virginia Senate Finance Committee from 2003 to 2006, finance policy director at the State Council of Higher Education for Virginia from 2000 to 2002, a budget analyst for the Virginia Department of Planning and Budget from 1997 to 2000 and a research associate for the Education Commission of the States from 1995 to 1997.
 "Sam has been such a tremendous leader for both the university and Virginia higher education for decades," Sebring said. "I am so grateful for his mentorship and the confidence President Rowe has expressed in my ability to step into the COO role. It's an important time for William & Mary, particularly as we set the university's strategic course for the coming decade. I am excited about the work ahead and look forward to working in partnership with faculty, staff and students as we imagine and realize our future potential."