Discussion helps launch International Justice Lab at W&M
William & Mary students, scholars and community members gathered Jan. 31 to celebrate the launch of the International Justice Lab at the university with a roundtable discussion on "International Law and Justice: Challenges and Challengers in the 21st Century."
The roundtable featured Wayne Sandholtz of the University of Southern California, Tanisha Fazal of the University of Minnesota and Layla Abi-Falah '17, J.D. '20 with IJL founder and director Kelebogile Zvobgo as the moderator.
The lab, which is part of W&M's Global Research Institute, "brings together faculty and students from across the United States to conduct collaborative research on human rights, transitional justice and international law and courts," according to the GRI website. The lab seeks to "to produce high-quality social science research that is relevant to policy makers, practitioners and civil society advocates," the website says.
W&M Provost Peggy Agouris opened the event and highlighted the importance of labs like IJL.
"IJL's mission requires that it — that we, actually — engage with challenges facing international law and justice in the 21st century and contemplate its defenses and defenders," she said. "And so we have Kelly (Zvobgo) and three experts in the field here tonight with us, to transmit their insider insights."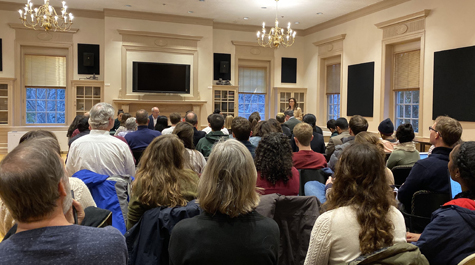 Zvobgo began the roundtable with a message for students and faculty interested in international law and justice.
"If we pursue questions that are important to scholars, to policymakers, to activists and, very importantly, to future generations, building and using the very best data, leveraging new tools and applying novel methods, I think — I am convicted, really — that we can bring important answers and solutions to bear on the world today," said Zvobgo.
Each of the roundtable participants shared their perspective on the most pressing challenges to law and justice in the world today, leveraging their research expertise. Fazal discussed the current crisis among medical humanitarians.
"Increasingly, they see real tension between the work that they want to do and their ability to abide by the founding principles of humanitarianism, which are neutrality, impartiality, independence and humanity," said Fazal.
Next, Sandholtz discussed the ongoing erosion of democratic norms, backlash against international institutions, and state withdrawals from human rights obligations.
"International law at the moment appears to be in a watershed crisis in several ways, in the sense that the rules and the institutions that have governed politics since World War 2 are under a lot of stress," he said. "What's different about this new wave of authoritarianism, is that these are elected authoritarians. They're coming to power not through coups and revolutions but through democratic processes, and then they use democratic forms to undermine and erode democratic institutions from within."
Abi-Falah also remarked on stark changes in international politics relating to criminal justice.
"The state of international criminal law is going through a very serious transition and change right now that's going to have an incredible impact on the practice of international criminal law and moreover on how we, as students and future practitioners, can participate in it," said Abi-Falah.
Abi-Falah cited her internship with the International Residual Mechanism for Criminal Tribunals, where she observed the decline in international criminal prosecutions.
"Budget cuts and downsizing from international funding fatigue in the midst of cases winding down — alongside critiques of the lack of effectiveness of international courts and political gridlock — have all come together and resulted in many of these offices, as you walk down the halls, being left completely empty," she said.
After the discussion, one thing was clear: International justice is more important than ever before.
"When I heard that the International Justice Lab was coming to William & Mary's Global Research Institute, I was really proud, really excited," Abi-Falah said. "Mostly, I was also really jealous of you guys, the students. I really wish I was still an undergrad here now and I could be part of this. I just want you guys to know you have an incredible experience here, and engaging with GRI, engaging with Kelly (Zvobgo) and this new program. Any place that you want to go, this place will get you ready."