Robert C. Knoeppel to lead W&M's School of Education
Robert C. Knoeppel, dean of the University of South Florida's College of Education, longtime educator and noted scholar on educational finance innovation, has been chosen as the next dean of William & Mary's School of Education. The executive committee of the Board of Visitors is expected to officially confirm his appointment during its meeting Tuesday afternoon.
Knoeppel, who studies school finance, accountability policy and leadership, will become dean July 15, 2020. The current dean, Spencer "Skip" Niles, will continue at the school as a professor in the counselor education program.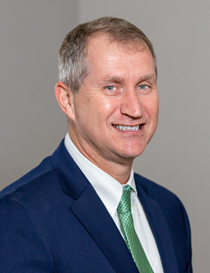 "With experience in multiple facets of education, Rob will expertly lead our School of Education and its wide-ranging programs as they continue to evolve to meet the needs of teachers, students, administrators and community members," said W&M President Katherine A. Rowe. "Finance and reform dominate current discussions about the future of education, and we look forward to learning from Rob's expertise in those areas as we, too, plan for the coming years. He's a thoughtful leader who cares deeply about his community and believes in the transformative mission of education.
"As we welcome Rob, we also thank Skip for his dedicated service to William & Mary throughout the last seven years, leading the school in expanding its academic offerings and engaging community partners to make a difference in the lives of so many. We are delighted that he will continue his work here as a member of the faculty."
The School of Education includes 48 full-time faculty members and about 600 undergraduate and graduate students. As dean, Knoeppel will serve as the school's chief academic and administrative leader responsible for overseeing strategic planning and implementation, operations, budgeting, fundraising and faculty research. He will also work to further develop programmatic offerings and expand the school's reach by growing its undergraduate student body and online graduate programs.
"I am honored and humbled to be named dean of William & Mary's School of Education," said Knoeppel. "I have strong personal and academic ties to the commonwealth, having worked in three different school divisions in Virginia and welcome the opportunity to come home.
"I strongly believe that education is the conduit of opportunity and justice. The mission of the School of Education to transform schools and communities through professional preparation, mutually beneficial partnerships and by conducting research that seeks solutions to complex questions in a rapidly changing world is closely aligned with my view of the purpose of a school of education. I am grateful for the leadership of Dean Niles. His unwavering commitment to educational transformation, shared governance and the dignity of all persons will continue to be a source of inspiration for me and the entire educational community."
Knoeppel received his bachelor's degree from the University of North Carolina at Chapel Hill and holds both a master's and doctorate from the University of Virginia.
He began his career in Virginia working as a school counselor, administrator and coach for the public school system. While working in those roles, he also taught courses as an adjunct instructor for the University of Virginia and George Mason University.
Knoeppel started working in higher education fulltime in 2004 when he became an assistant professor at the University of Kentucky. In 2008, he became an assistant professor of educational leadership at Clemson University and rose through the ranks over the next few years, serving as program coordinator and ultimately chair of the Department of Educational and Organizational Leadership Development. He began his current position at the University of South Florida in 2018.
Throughout his career in academia, Knoeppel has served on various campus committees, including Clemson's Faculty Senate, Graduate Academic Integrity Committee and University Assessment Committee, which he chaired in 2015-2016. Within Clemson's College of Education, he was a member of the Curriculum Committee, Diversity Committee and Student Services Committee, among others. He was also a member of the University Senate at the University of Kentucky and served on multiple committees, including those focused on strategic planning and undergraduate admissions and standards.
"During his time at the University of South Florida, Dean Knoeppel's leadership has guided the USF College of Education towards new heights," said USF Provost & Executive Vice President Ralph C. Wilcox. "We will miss his thoughtful and collaborative leadership, and wish him all the best at William & Mary and know he will be a valued asset at his new institution."
Knoeppel is as accomplished a scholar as he is a teacher and administrator and has authored more than 100 refereed journal publications, book chapters, technical reports and conference papers about education finance, education reform and educational leadership. In 2019, he co-authored the textbook "Financing education in a climate of change."
He has served with multiple professional associations, including the American Educational Research Association and University Council for Educational Administration. He has held myriad roles with the National Education Finance Academy and was installed as its president in April. That organization honored him with its Scholarly Paper of the Year Award for three consecutive years. His other accolades include the Excellence in Teaching Award from the Eugene T. Moore School of Education and National Education Finance Conference Distinguished Research & Practice Fellow Award.
"Rob's extraordinary work as a teacher, scholar, mentor and administrator will greatly benefit the School of Education and William & Mary as a whole," said W&M Provost Peggy Agouris. "He has so much compelling experience in so many areas, including finance, educational reform and leadership. Most importantly, he carries a deep appreciation for the impact education can have on the future of our communities. We're excited to welcome Rob to the university family."
Niles started at W&M in 2013, just a few years after the school moved into its new building on Monticello Avenue, uniting its programs and centers under one roof. During his tenure as dean, he initiated a strategic planning process, introduced a system of shared governance and oversaw the implementation and expansion of online programs, among other accomplishments. In 2016, he was identified in a national survey as the 11th most influential dean of education in the United States.
"We're thrilled to have Rob Knoeppel joining us as the next dean of the School of Education," said Niles. "Dean Knoeppel has worked extensively in higher education and as an educator in Virginia K-12 schools as a teacher, school counselor and school administrator. His deep experience and capable leadership will serve the school well as we move forward with our mission to transform students, schools and communities. As I transition to a full-time faculty role next year, I look forward to working with Rob as we prepare transformative leaders for a world that needs them."