King commemoration speaker turned 'pain into purpose'
Yusef Salaam did not know the meaning of his name until he was in prison.
"My name means 'God will increase the teacher with peace,'" he said.
On Thursday, Jan. 30, Salaam spoke at William & Mary's 2020 Martin Luther King Jr. commemoration before a crowd of faculty, staff, students and community members who filled the Sadler Center's Commonwealth Auditorium. Stephanie Walters, producer and television host, moderated the discussion.
Salaam spoke about his experience being tried and falsely convicted for the rape and assault of a jogger in Central Park in 1989. Four other young men were roped into the case, all pressured to confess to a crime they did not commit. Salaam was only 14 years old at the time.
Shené V. Owens, associate director of the Center for Student Diversity, welcomed the crowd. The Center for Student Diversity, in conjunction with Community Values & Restorative Practices and the W&M Law School Office of Student Services, hosted this year's Martin Luther King Jr. commemoration program.
Owens spoke about how her student volunteers, along with Kimberly Weatherly, assistant dean and director of the Center for Student Diversity, came up with the idea of inviting one of the five men who were wrongfully convicted, deemed as the Central Park Five and now known as the Exonerated Five. Through the collective efforts of the CVRP and W&M Law School Office of Student Services, the CSD was able to invite Salaam to discuss his experience with the criminal justice system.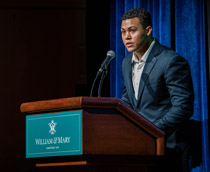 Beginning the program with the audience singing "Lift Every Voice and Sing," Owens introduced John Ezzard '23 who gave a passionate rendition of King's famous speech, "I Have a Dream." It brought the crowd to a standing ovation.
Walters opened the discussion by connecting Salaam's experience and activism with King.
"I'm standing on his shoulders because he had the opportunity to stand," responded Salaam.
Salaam spoke about his use of prayer, meditation and reading to get himself through his nearly seven years of prison time. He discussed his "theory of fallibility as it pertains to law," noting that his confession was coerced, that he and the other four boys were under 18 years old.
"This was a tsunami we were not supposed to survive," Salaam said of the entire process.
Salaam's lengthy conversation with Walters wove its way through the story of how he and the four boys were tried and falsely convicted, his time in prison and the process of his exoneration in 2002 once the true criminal admitted to the assault of the Central Park jogger.
Upon their exoneration, the City of New York gave the famous five $41 million in settlement, releasing a statement to absolve itself of blame in the wrongful conviction of the five men.
"The City of New York has denied and continues to deny that it and the individually named defendants have committed any violations of law or engaged in any wrongful acts concerning or related to any allegations that were or could have been alleged," the settlement states.
"They weren't concerned about justice," Salaam said.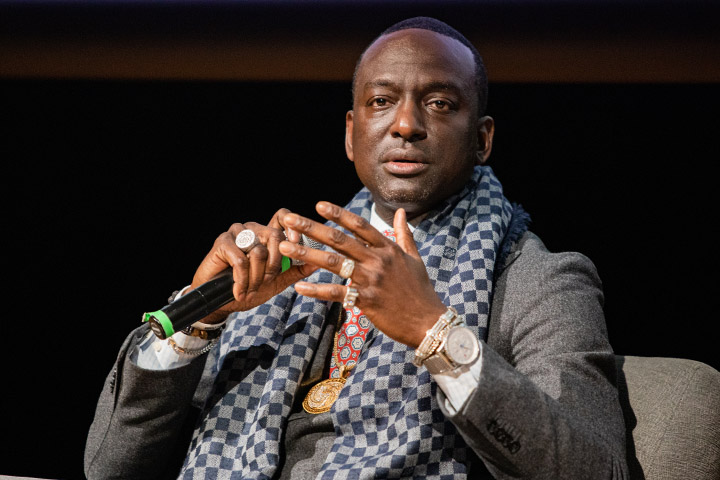 After the hour-long discussion, Owens opened up the audience to a question-and-answer session.
One person asked about his relationship with the other four men. Salaam dispelled the myth that the five men all knew each other before the crime — this was not so, he said. He only knew one of the others, Korey Wise. All five were roped into the crime together, dubbed as acquaintances.
Another woman mentioned how she was wrongfully convicted for assaulting a police officer and asked Salaam how she could find hope in eventually finding a job and regaining a sense of normalcy.
"Your statement is definitely felt in my heart," he said. "We can transform pain into purpose. If we don't do that, we become ticking time bombs.
 "Once we transform pain into purpose, we are unstoppable."