Kids, volunteers connect at ACEing Autism tennis camp
Smiles and words of encouragement filled William & Mary's McCormack-Nagelsen Tennis Center last week as the center hosted its second ACEing Autism camp.
With the help of local volunteers ranging from children to retirees, the camp gave 14 kids on the autism spectrum the chance to not just gain tennis skills, but to build connections — and confidence.
ACEing Autism is a national, nonprofit organization that aims to connect children with autism through school-based and community tennis programs. The center at W&M has hosted weekend tennis clinics with ACEing Autism participants since 2017, but last summer was the first time it hosted a weeklong camp — a first for ACEing Autism.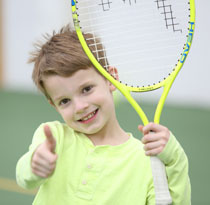 "We see players improve quicker in our weekly junior camps by coming five days in row where they build off the previous day, which inspired the idea to do an ACEing Autism camp this past summer," said Neely Zervakis, associate director of the tennis center. "It was a blast. We couldn't wait until summer, so we started the year off with a winter ACEing camp."
Zervakis and Shannon Lewes, a student at Providence Classical School, served as co-directors of the camp. They said their goal was to give the participants a fun environment in which to learn both socialization and tennis skills.
"Our goal isn't to make them professional tennis players by any means, but we've been trying to use similar teaching techniques that we use with other kids here — similar progressions  — and we found they're able to do a lot of similar things," said Lewes. "But with the volunteers, we're able to do more."
The camp centered around a theme each day, ranging from "forehand and focus" to "rally and resilient."
"One of our goals is not just to teach the technical, but also positive mindsets," said Zervakis.
The camp also allowed members of the tennis center's community, from high school students to staff members to retirees, a chance to give back through volunteering. Although the volunteers initially signed up for just one day of the camp, many of them had so much fun, they changed their plans and came back each night, said Zervakis.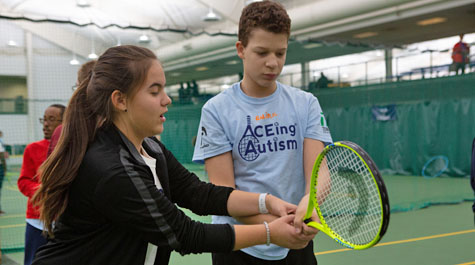 Jamestown high school student Lily McCullough, one of the volunteers, has been playing tennis since she was in 2nd grade. She said that the center is like a second home to her, and she wanted to help with the camp because the coaches there have done so much for her.
"Through this experience I have gained a better perspective on kids living with a disability, and I have gained a greater understanding of and appreciation for the kids at my school with autism," said McCullough.
She was able to work with the same player last week that she worked with during last summer's ACEing autism camp.
"I have really enjoyed getting to know him," she said. "I love being able to share a sport that I am so passionate about with someone else."
Ainsley Craddock has also enjoyed working with the same player through volunteering with ACEing Autism.
Craddock, a Providence Classical School student who will attend W&M next fall, started going to the center at the age of 11. When she found out that it would start hosting ACEing Autism sessions, she was eager to get involved.
"I like that it helps kids because for people with autism, it's really hard for them to make social connections and friends, so this is really great for them to do that. It also gives them the commonality of really liking tennis and coming together to play, so that part is really cool," she said, adding that she doesn't know of anything similar in Williamsburg.
"And it combines two things I really love," she added.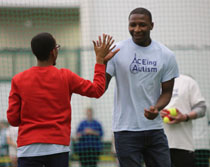 Craddock has enjoyed watching her player's progress through ACEing Autism.
"He has really opened up. He was very shy, and now he goes around, runs around and talks to everybody," said Craddock.
Lewes said watching the players grow is her favorite part of the program.
"Jordan, for example, this is his fourth session, and he's come so far," Lewes said.
"And a homeschooler, Nate, who's shy, seeing him work together with a 70-year-old national tennis champion — it connects people of all ages and backgrounds," added Zervakis.
Zervakis hopes the center will be able to offer more camps in the future and maybe even expand them. Because only six courts are available, no more than 14 players may participate in the camp, but with plenty of volunteers, Zervakis said they may be able to host double sessions, each at a different time, to accommodate more players.
"For us at MNTC, it's really about inspiring excellence, creating opportunities, connecting the community and fostering a positive lasting impact through tennis," said Zervakis.