Martin brings a wide range of experiences in administration and athletics
The summer before his senior year at Houghton College, Jeremy Martin gassed up his car and hit the road. Destination: Any college basketball camp that would allow him to help. Kentucky, Wake Forest and Oklahoma were among those that did.
Martin's first coaching job came after Myra Sims, then the women's head coach at Emory University, rescued his resume from the reject pile. The school's sports information director, a man by the name of John Arenberg, gave him a part-time graduate assistant job to increase his income from pitiful to measly.
Since coming to William & Mary in 2008, Martin has had doors opened by people like Jason Simms in athletics, Shirley Aceto in the provost's office and Michael Fox in the president's office. All because they saw something in him.
Looking back, it's more than a bit humbling.
"A lot of people have taken chances on me," Martin said. "I'm hoping to make them all proud."
Martin's next role will be his most high profile. On Tuesday, as the university announced that Samantha Huge was stepping down as the Tribe's athletics director, Martin was named her interim successor.
To say he will inherit unusual circumstances would be a monster understatement. Aside from the pandemic and economic concerns, which most athletic departments are facing, W&M is dealing with the fallout from last month's announcement that seven sports will be cut following the 2020-21 season.
Martin might be new to this particular job, but he's educated. In addition to his bachelor's degree from Houghton, he has his master's in sports administration from Georgia State along with his Ph.D. (2012) and M.B.A. (2017) from W&M.
Martin also knows as well as anyone, and more than most, that the next few months will be critical for William & Mary Athletics.
"The first thing we've got to do is get the ground stable beneath us," Martin said. "The last few weeks have not seen us embody our values to everyone within our community at all times. We've got to get back to being William & Mary."
Tonight at 7 p.m. ET, Martin will address the community for the first time as interim director. Given the leadership transitions in recent days and Martin's change in role over the past 48 hours, the format for tonight's session will be a bit different than originally planned.
Martin said he plans to use this time to introduce himself to the Tribe family, address the issues around long-term sustainable excellence for W&M Athletics, answer some questions he's received and frame new ones. While tonight's session will not be a moderated discussion, future sessions in the coming weeks will include additional W&M voices and moderated Q&A.
"It's important that we clearly frame the problem so that people who want to be engaged can focus on trying to find viable solutions," he said. "Then we've got to move forward through that path knowing there's a problem we have to solve this year, and we have to be honest enough with each other to face it head on."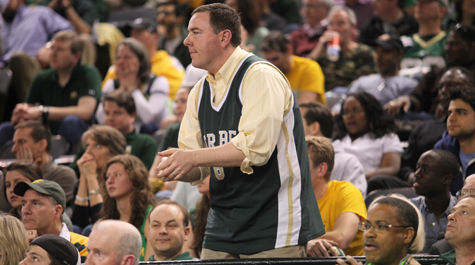 Martin, 41, never envisioned himself in this role. As a former basketball player and assistant coach for Division III programs, he thought one day he might return to that level as an athletics director. D-I was never on his radar. 
"Samantha has been an exceptional colleague to me, so I was conflicted about it initially," Martin said of being named interim AD. "I sincerely believe Samantha had the best interest of the university at heart." 
Anyone who saw Tuesday's press release might wonder what qualifications a college president's chief of staff might bring to an AD's job. But there's the master's in sports administration, his four-year career as a 6-foot-5 forward at Houghton (about 65 miles southeast of Buffalo) and his experience as an assistant coach. 
His time under Simms, W&M's associate athletics director for student engagement, was also valuable. As he worked on his doctorate, Martin was a graduate assistant in academic support. 
"I really learned what it is to be a student-athlete at William & Mary," said Martin, who is married with two children. "That was a deliberate, great experience. 
"If you want to work with people, which is what all of these roles require, you have to know what makes them tick. That's on a personal and collective level." 
Martin's colleagues believe he gets it. 
"I would characterize him as a life-long learner, and that ties in well with the William & Mary culture," said Julie Leach '99, executive director of the William & Mary Foundation and a former Tribe women's basketball player. "He's been very instrumental and focused on strategic planning for the university and general William & Mary matters, but he's always kept that love for athletics. 
"His daughter served as a ball girl for the women's basketball team with my daughter. He and his family have been a constant presence at William & Mary events. Athletics has always seemed like a passion for him, in particular William & Mary Athletics." 
Bobby Dwyer, a senior associate athletic director responsible for heading athletics fundraising efforts before retiring in 2019, saw the potential in Martin as graduate assistant. 
"For a young guy at that time, he was smart enough to know he could learn a lot from the people that he was interacting with in the department," Dwyer said. "I noticed on several occasions he did a really good job listening and that carried over. 
"That was a good quality of his, and it still exists. I think that will serve him well in his role." 
Men's soccer coach Chris Norris believes Martin is well prepared and qualified for this new role.
"I've been able to watch him rise to the level of being (W&M President) Katherine Rowe's right-hand man, and I've been really impressed with all my interactions with him," said Norris, the Tribe's head coach since 2004.  
"We're facing some difficult times right now. But I think he's certainly the kind of guy who has the talent, and  maybe more importantly the insight and diversity of experience, to be able to help us navigate it." 
Mike Leach, a former Tribe football player and current radio analyst, describes Martin as "a serious guy who doesn't take himself too seriously." He does have a self-deprecating sense of humor.
When reminded he had 24 blocked shots one season at Houghton, fourth in the school's record book at the time, he quipped "There must have been a lot of under-handed layups." Martin called the Highlanders' 10-97 mark during his four seasons "among the worst cumulative four-year records of anyone I'm aware of."
And of his first-team all-conference selection as a junior, when he averaged 13 points and 6 rebounds a game, he said "All the sympathy votes aligned." 
But Martin is serious about his new role and the challenges it presents. Tuesday night, he spoke with Student-Athlete Advisory Council members from the affected sports about the change in leadership. It's been a rough stretch for them and for everyone associated with the university. 
"I'm going to care for them as much as I can," Martin said. "I'm going to try to learn as many student-athletes' names as I can. I'm going to try to be at as many practices as I can. The swimmers have already told me they welcome me at 5 a.m., and I said I may have to get my breakfast afterwards, but I'll be there.  
"I hope every single athlete at William & Mary genuinely feels respected. And that we will walk whatever path is before us together."