Coach of the Year: CAA, ECAC honor seven leaders in W&M Athletics
William & Mary was founded by leaders — King William III and Queen Mary II. Since that time, it has produced U.S. presidents, judges, generals, CEOs and two current head coaches in the National Football League.
 
For the 2019-20 athletic season, which ended prematurely on March 12 due to the coronavirus outbreak, W&M had five of its mentors named Coach of the Year in the Colonial Athletic Association. Two more were honored by the Eastern College Athletic Conference.

Winning this year were Forest Braden (men's cross country), Tess Ellis (field hockey), Brittney Emmons (women's gymnastics), Dane Fischer (men's basketball), Nate Kellogg (men's swimming), Mike Powell (men's gymnastics) and Ed Swanson (women's basketball).

Each had their own path and inspiration in becoming a leader.
In three seasons, Braden has been named CAA Coach of the Year four times. Two came during the 2018 season — one with the men's team, one with the women.

"Any William & Mary coach who's here seems to get the award," Braden said.

That's no exaggeration. On the men's side, Braden and six predecessors have combined to take home the last 21 coach of the year awards. The Tribe has won 20 consecutive championships in the Colonial.

Braden emerged as a leader in high school and took that competitive nature to Boise State, where he was a three-time All-American. His first coaching job was as a volunteer assistant at Gonzaga, where he worked under Pat Tyson.
 
"He was a huge influence," Braden said. "He's an Oregon alumnus who ran with Steve Prefontaine and was one of the best high school coaches in the country for years. I learned so much from him about how to conduct myself and grow as a leader."

Like all coaches now, Braden faces the challenge of keeping his athletes in shape during a pandemic. But unlike most other sports, the only equipment cross country requires is a good pair of running shoes. 

"Obviously, they're not used to having this (long) a break," Braden said. "But I do feel like our sport is much better suited for it."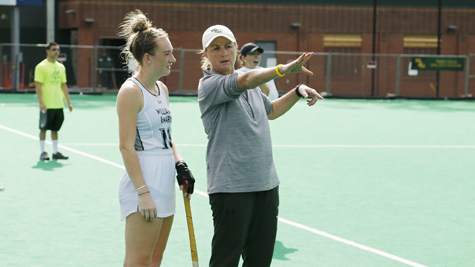 Ellis grew up in Goulburn, a small town on the east coast of Australia. An elite field hockey player, she was given opportunities — with the expectation that, one day, she would give back.

"By 16, I was representing my senior state team," Ellis said. "I was being flown around with other state players, and we would help do clinics (for) the next generation coming through.

"For me, coaching was an avenue to say thank you and say to the younger generation that if you achieve at the next level, that opens up the world through hockey. That was what the generations in front of me did."

Ellis has been at W&M for 24 years in three stints. She was the associate head coach for two seasons before her promotion to head coach in 2013.

The Tribe went 12-7 last fall (5-1 in the CAA) for its third consecutive winning season. Ellis won coach of the year for the fourth time in seven years.

"I literally fell right into coaching," Ellis said. "My dad probably had a big part in it because he was a rugby league official, and he used to do a lot of coaching. Coaching has always been in my blood."
When Emmons signed on the dotted line last October, her job description was assistant coach. But she knew things would change in late February when Kelsey Hinton, W&M's head coach, was due to give birth.

Around the eight-month mark, Hinton stopped traveling to away meets. Emmons took over on road trips to Philadelphia and Raleigh, and the team returned home for a meet on Feb. 23.

Six days later, Hinton had a baby girl. Emmons took the team to College Park, Maryland, and Washington, D.C., before the remainder of the season was canceled because of COVID-19.

"It was an awesome experience," Emmons said. "It was also a little nerve-racking at times. But the girls were all on board and ready to jump into this new challenge together."

Ten days after season was shut down, Emmons was named the ECAC's women's gymnastics assistant coach of the year. 

"That was super cool," she said. "I wasn't even expecting it. I didn't believe it when Kelsey called me.
"I knew she would be having a baby. I just wanted to make sure I put my best foot forward to help build this program and make sure these athletes would be leaving with a great experience."
In his debut as Ithaca College's starting point guard, Fischer first knew the feeling of being a leader.

"We were bringing it in before the game, and I just started talking," Fischer said. "I'm not sure why, but it was the moment. We were starting four seniors and myself, and I felt like I could be a voice for the team."

Fischer averaged only 3.7 points a game in his three seasons on the varsity. But the team he quarterbacked went 44-34 and made the NCAA tournament his senior year.

"I've been coaching for 40 years," former Ithaca coach Jim Mullins said last spring, "and Dane's probably the best leader I've ever had."

After losing four players to the transfer portal, W&M finished a surprising 21-11 in Fischer's first season. The Tribe was picked seventh in the CAA's preseason poll but finished five spots higher.

On the sideline, Fischer is not a yeller or stomper. Mistakes are pointed out discretely.

"For me, it's about being able to set standards and hold people accountable when those standards aren't met," Fischer said. "I don't think you have to yell at people to hold them accountable."
Nate Kellogg had been a head coach before. In 12 seasons at Georgia Southern, he became the program's all-time winningest coach.

But when he was elevated to head coach at W&M last summer, Kellogg faced a different challenge. This time, he was going from assistant to lead in the same program.

"As an assistant, your role is to be supportive of the head coach," Kellogg said. "To handle the more logistical things as opposed to big-picture things.

"A lot of times, the head coach has to be the bad guy. I found that to be difficult this year. But knowing the expectations and having a background of our athletes as individuals, that was definitely helpful."

Kellogg inherited a men's program that had won five consecutive CAA championships. He was able to lead the Tribe to its six in a row with a winning margin of 93.5 points.

"That culture of expecting to be successful was definitely part of our team," Kellogg said. "We didn't necessarily talk about it every day, but it was there and everybody felt it. Nobody on our men's team, including our staff, had ever lost a CAA championship."

Kellogg also coached the women's team to a second-place finish in the CAA championship.
In 2017, Mike Powell became the head coach of W&M's men's gymnastics team. The man he replaced, Cliff Gauthier, had held that title since Richard Nixon was president — long before Powell was born.

Rather than buckle under the pressure of replacing a legend, Powell chose to focus on what he had learned from Gauthier — in four years as a Tribe gymnast and one as an assistant.

"The main thrust was the philosophy," Powell said. "He showed how to make a mission and a philosophy central to your leadership."

In his first season as head coach, Powell led the Tribe to the ECAC championship and won his first coach of the year. He was technically W&M's interim head coach at the time, but the adjective was removed a month after the season ended.

Powell got an early taste of coaching just after graduating from William & Mary in 2004.

"It just so happened that a local gymnastics club was looking for a coach," said Powell, who is from Columbus, Ohio. "And I saw, even in the course of a summer, the influence you can have. To see that playing out was a real light-bulb moment for me."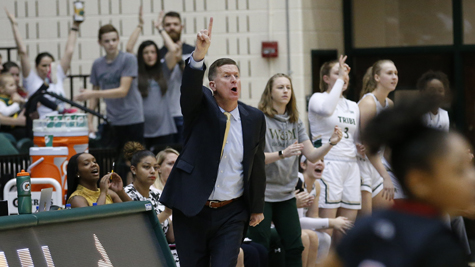 By his job description, Swanson is a leader. Even if he doesn't see it that way.

"I think my job is to help develop leaders," he said. "People don't follow titles."

To illustrate his point, Swanson refers to his team's historic season of 2019-20. Picked seventh in the Colonial, the Tribe set a school record with 21 wins and finished third in the conference. 

"We didn't have captains on this year's team for a variety of reasons," he said. "And it worked out to be the best leadership group I've had."

Dave Bike, head coach of the Sacred Heart's men's team from 1979-2013, became Swanson's mentor. Swanson spent four seasons as Bike's assistant, the last three of which he also coached the women's team.

"He once told me, 'Ed, you can lead a horse to water, but you can't make it drink,'" Swanson said. "So a leader can lead you there, but the qualities that make you drink the water are your passion and energy.

"It's the confidence you can bring out in the people you are leading. That, in terms of my leadership philosophy, is what I took from it."