Honorary alumna: Patti Dwyer joins the W&M alumni family
The William & Mary family has grown by one more: Patricia "Patti" Jarboe Dwyer has been nominated by her peers and selected by the W&M Alumni Association Board of Directors to be inducted as an honorary alumna. This recognition honors non-graduates of William & Mary who have a distinguished record of service, support, advocacy and commitment on behalf of the Alma Mater of the Nation. 
For more than 30 years, Dwyer has consistently and visibly helped rally support for W&M initiatives and lent her time and talents to their success. When her husband, Robert "Bobby" Dwyer M.Ed. '94, joined the fundraising staff for William & Mary Athletics in 1987, Patti Dwyer became an active and engaged member of the William & Mary community and an essential partner to the athletics program.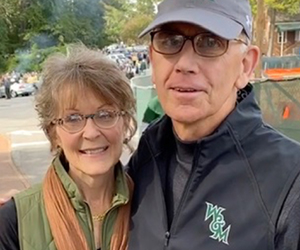 She served on the committee for the Lord Botetourt Affair, athletics' largest fundraising event, and chaired the event five times—often donating items she personally created for the cause.
Dwyer has been a mentor and a friend to W&M students, often hosting dinners for student-athletes who are not able to return home over school breaks because of their competition schedule. She keeps in touch with many of them, and in turn she has helped those graduates remain connected to W&M. 
An active member of the community, Dwyer was instrumental in forming the Williamsburg Arts District and is the founder of the Art House, which supports local artists. A talented artist herself, her art has been recognized across campus. She also worked for many years as a kindergarten teacher, all while staying engaged with William & Mary.  
"We are honored to officially bring Patti into our alumni family, even though she has been part of our W&M family all along," said Marilyn Ward Midyette '75, executive director of the W&M Alumni Association. "She has consistently gone above and beyond for her adopted alma mater, and we are inspired by her commitment and grateful for her service."
Nominations for Honorary Alumni status are due on January 15 of each year but are accepted year-round through the W&M Alumni Association's website.
This article will appear in the spring W&M Alumni Magazine.