WMPD receives VLEPSC accreditation
The William & Mary Police Department recently received accreditation from the Virginia Law Enforcement Professional Standards Commission, an agency of the Virginia Department of Criminal Justice Services. The certification, which was announced at the association's annual conference last month, was officially presented Friday during the November meeting of the William & Mary Board of Visitors. VLEPSC Commissioner Bradley J. Rinehimer made the presentation.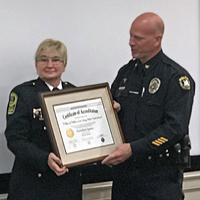 Rinehimer, who is also chief of the James City County Police Department, noted that WMPD received "zero returns" — a 100% score — during the review, something he said he's rarely seen in his 25 year career.
"It certainly says a lot about the work they have done here at William & Mary and the work that Chief Cheesebro has done," he said.
Before presenting the certificate of accreditation, Rinehimer read from the assessor's report, which said in part, "The professionalism of the entire William & Mary Police Department, from support personnel, administrative staff all the way up to Chief Cheesebro, was obvious to these assessors. Chief Cheesebro not only requires, but demands the highest ethics and morals from members working under her leadership. She sets the example and expects the same from all of her employees."
Rinehimer echoed the sentiment.
"I will absolutely tell you this without any hesitation, the level of professionalism and efficiency that the William & Mary Police Department has achieved under Chief Cheesebro and her staff is the best I've seen in my time here in James City County," he said.
William & Mary is one of just six police departments at public universities or colleges in the Commonwealth to have achieved VLEPSC accreditation. To receive the designation, departments have to demonstrate sustained practice and performance over a consecutive four-year period for 190 standards which include 700 individual review points. Agencies have to be reviewed for reaccreditation every four years.
"We've got 100 state-accredited agencies across the commonwealth," Rinehimer noted. "There aren't that many universities that take on that role, that take on that challenge because it's difficult. It's not an easy task. It's something that is hard to come by, it's hard to maintain."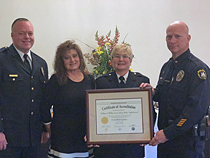 Cheesebro, who heads a 31-member department, accepted the accreditation plaque along with the department's major, Donald Butler and accreditation officer, Darla Brantley. In thanking the board for its recognition, Cheesebro lauded the department for its teamwork and dedication during the four year-long process.
"Obviously, this is a great team effort, and I am so proud of my team, of my staff. … I think this shows that you can have a compassionate, service-oriented police department while meeting all the standards that are law enforcement, as well," she said.
Board member Charles Poston, a former Norfolk Circuit Court Judge, added his congratulations to the department following the presentation.
"I've always thought that one of the measures of a good police department was the relationship the officers have to the people they protect," he said. "Since I've come on the board, those of you that have talked to me have probably heard me ask about the police department here, and I've talked to some of my colleagues on the bench in this area about the police department here. This certification doesn't surprise me. Everything I've heard has been wonderful."