W&M receives 'best of' recognition for catering
William & Mary was recently awarded the "Best Venue for Unique or Locally Sourced Catering" by Unique Venues, a professional organization for non-traditional event venues. William & Mary Conference and Event Services, a member of the organization, submitted the nomination for the award.
Unique Venues featured William & Mary Dining Services' initiatives with Williamsburg Farmers Market and KelRae Farm, plus the annual Farm-to-Fork Dinner on the Sunken Garden, when announcing the award.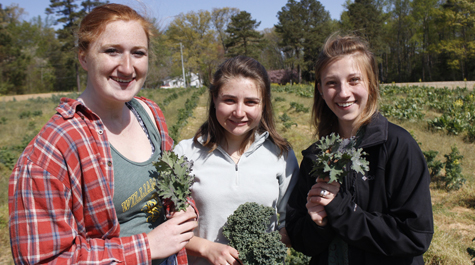 "People connect over food," said Mariellynn Maurer, director of William & Mary Conference and Event Services. "Just as we've seen a cultural shift of people wanting to know more about their food, we notice that our events are becoming more mindful as well."
Each year, William & Mary Dining sources from local farms at the Williamsburg Farmers Market as well as plants, tends and harvests seasonal crops at KelRae Farms in Toano. The work is done by staff and W&M Dining Sustainability Interns and the produce is brought back to be used in the dining program. The annual Farm-to-Fork Dinner is planned around the seasonal crops and is served family style in the Sunken Garden.
Just this past fall, William & Mary Dining Services served nearly 5,000 pounds of watermelon, tomatoes, potatoes, sweet potatoes and leafy greens including spinach and kale from KelRae Farms.
The partnership with Kelrae "not only serves as a local and more sustainable option for much of the dining hall produce, but also as a great educational opportunity and way to de-stress from the busy lifestyle on campus," said Sam Laveson '20, a William & Mary Dining sustainability intern. "I love spending time outdoors, learning new skills and fun facts, and getting to share my insights with others, and all three of those things are accomplished through our farm partnership."
William & Mary Dining Services operates the campus dining program which includes two all-you-care-to-eat facilities, a food truck with a rotating seasonal menu, nine retail dining locations and two convenience stores, plus William & Mary Catering Services, a full-service catering program.