W&M law professors win Eisenberg Prize
The American Academy of Appellate Lawyers (AAAL) presented the Eisenberg Prize for scholarship in the field of appellate practice and procedure to Professor Allison Orr Larsen and Professor Neal Devins for their article, "The Amicus Machine," during the academy's fall meeting in Chicago on Oct. 25.
The article appeared in the Virginia Law Review in 2016. Read it on SSRN. The award is named for the late Howard B. Eisenberg, a dean and professor at Marquette University Law School. This was the second year in a row that AAAL has recognized Larsen's scholarship. She previously was awarded the Eisenberg Prize for her 2014 Virginia Law Review article, "The Trouble with Amicus Facts" Read it on SSRN.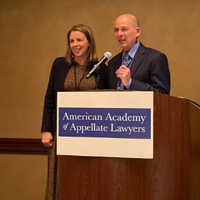 Based on the authors' interviews with more than two dozen Supreme Court advocates, the article delineates the well-orchestrated process that is increasingly behind many of the amicus curiae briefs submitted to the Court each term.
"The 'friend of the court' brief is no longer a tool for lobbyists, organically grown by interest groups hoping to press their policy preferences at the Court," the authors write. "There is now an 'amicus strategy' and it is intentional and choreographed by Supreme Court specialists." The article explores in detail the forces that fuel and sustain the contemporary "amicus machine" and concludes that, for the most part, its benefits to the modern Court outweigh its drawbacks.

The research was the subject of a 2016 New York Times story by Adam Liptak, "Study Shows How Much Work It Takes to be Supreme Court's Friend," and also was cited in an analysis by Anthony J. Franze and R. Reeves Anderson of the Supreme Court's amicus curiae docket for the 2015-16 term published in the National Law Journal.

Larsen is a scholar of constitutional law and legal institutions, with a focus on how information dynamics affect both. Her work has been published in the nation's leading law journals, and her latest article with Jeffrey L. Fisher, titled "Virtual Briefing at the Supreme Court," will appear in a forthcoming issue of the Cornell Law Review. Read it on SSRN.

Devins is director of the Institute of Bill of Rights Law at William & Mary and has explored a wide range of issues in constitutional law and politics in his scholarship. He is the author of numerous articles and 11 books, including, most recently, "The Company They Keep: How Partisan Divisions Came to the Supreme Court," with Lawrence Baum.