W&M-clad mystery man on Berlin Wall intrigues history professor, students
The Berlin Wall came down 30 years ago, and William & Mary was there. A small representation of the university, at least. 
A group of students came to this realization a few weeks ago while watching a video in one of Professor Frederick Corney's history classes. 
The video, produced by Radio Free Europe/Radio Liberty, shows jubilant revelers sitting atop the wall celebrating its demise. A bearded man with shaggy hair uses a sledgehammer to chip away large chunks of concrete. People surround him and watch as pieces fly. 
On the left side of the brief clip is a young man wearing a backward blue baseball cap, maroon pants and dark green sweatshirt. Upon further inspection, the shirt looked very familiar to the William & Mary students. 
"Suddenly the students say, 'Stop, stop,' and I thought, 'Oh my gosh, what's happening?' And they said, 'Go back, go back,' and sure enough, their little eagle eyes suddenly got interested," said Corney, chair of the history department. 
There they were, white letters on the shirt spelling out William & Mary, with an ampersand to boot. 
"I'd watched that video probably three or four times and never saw that kid. I would love to know who he is, though," Corney said. "He looks young. He looks like he could be in his 20s. That was 1989. It could be a student." 
Perhaps the young man was a student. Perhaps he had family at the university. Perhaps he was just visiting Berlin, like Corney did on multiple occasions before the wall was demolished.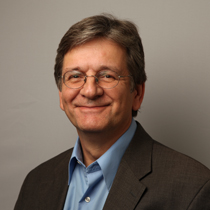 Corney doesn't have any photographs from his visits to Berlin — he wishes camera phones were available back in those days — but he has a storehouse of memories from visiting both sides of the wall, which represented the Cold War divide between the West and the Eastern Bloc. 
"The idea of having this wall or barrier through the entirety of Europe is mad," Corney said. "So you can't feel nostalgic about the wall." 
In recent years, Corney has taken students to Berlin to see where the wall once stood. Cobblestones mark the location now, and Corney shares stories from his time there. 
Corney, a native of England who has studied Russian and Soviet history extensively, worked as a translator for a company in Frankfurt, West Germany, in the '80s and often made the trek to Berlin. 
He remembers crossing over to communist East Berlin through Checkpoint Charlie, the most famous crossing point between the two sides. 
"It is terribly fascinating going through Checkpoint Charlie as an Englishman working in Germany full time and then going through into the East with a background in Russian studies," Corney said. "It was always a bit discomforting, because I had the papers to go in, but sometimes I could go straight through, and other times I'd have to go sit in a little booth and they'd ask me silly questions that had nothing more to do than just harass me, basically." 
Each of Corney's visits to East Berlin would include a trip to a Russian bookstore, where he would browse different novels and buy a few to read later. An unsettling feeling would come over him, however, as he walked through the desolate city, damage from World War II still visible. 
"There was a sense that you were always under surveillance when you were wandering around on your own," he said. 
Corney left Germany in 1986 to enroll in the Ph.D. program in Russian history at Columbia University. He returned to Berlin for the first time in 2000 and it was a "completely different world," he said. 
"This was just a colossal change," Corney said. "It looks like a very different city than it did before. I was in my 20s at the time, and it was kind of a big adventure for me, but I don't feel any nostalgia. If I had lived there during that period, I'm sure it would have been a very different kind of experience." 
The recent revelation in his classroom elicited a rush of memories from his time in Germany and brought his journey to William & Mary around full-circle. 
He was as surprised as anybody to see a person wearing a W&M sweatshirt sitting atop the wall. 
Other universities have had sections of the wall on display at various times. Even though he doesn't know the story behind the sweatshirt-clad young man, Corney still likes to boast, "We had somebody on the wall."