W&M among top producers of Peace Corps volunteers for 11th consecutive year
Other recent rankings also highlight W&M
William & Mary has once again been named one of the top collegiate producers of Peace Corps volunteers, according to a report released by the organization today.
With 40 alumni currently volunteering in locations across the globe, W&M is ranked fourth among medium-sized schools — those with 5,000-15,000 undergraduates. This is the 11th consecutive year that the university has been ranked among the top 25 medium schools. Since the Peace Corps' inception in 1961, more than 660 W&M alumni have served with the organization.
The Peace Corps report is the latest in a number of recent rankings that highlight different aspects of W&M.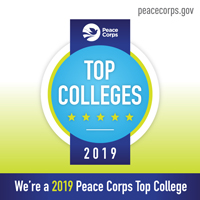 In January, Princeton Review released its list of "Best Value Colleges," and W&M ranked 39th among the top 50 schools. The university also ranked sixth among best schools for internships, 11th among best value colleges for students who don't qualify for financial aid and 15th among schools making an impact through such things as community service opportunities and student government.
In early March, the SmartAsset website ranked the top states in the country for higher education, and Virginia came in at number one. The report cites the low student-to-faculty ratio in Virginia institutions as one of the reasons the commonwealth took the top spot in the ranking. At W&M, the student-to-faculty ratio is 11 to 1.
Last week, U.S. News & World Report released its annual graduate school rankings. In those, the W&M School of Education and W&M Law School tied at 39th in their respective disciplines. The full-time Master of Business Administration program ranked 54th and the part-time MBA program tied at 99th. In a new category for public affairs graduate programs, W&M tied at 94th.
W&M Law School currently ranks 14th among law schools based on the percentage of recent graduates securing federal clerkships. It has the 22nd most-cited law faculty in the nation ranked by median citation scores according to a recent study. The school will celebrate the 240th anniversary of its founding later this year and also will be featured in the May issue of G.I. Jobs Magazine as number one on the list of top 10 "Military Friendly Graduate Schools."
In December 2018,
Poets & Quants
released a ranking of undergraduate business schools in which W&M's Mason School of Business was named 12
th
in the nation and fifth among public institutions. The month before, the
Princeton Review's
annual
business school rankings
listed W&M's Mason School of Business third among those with the best professors, sixth among most family-friendly programs, seventh for most competitive students, 10
th
for best administered and 22
nd
for top online MBA programs.