W&M alumna spreads water safety awareness a year after husband's death
It was Father's Day Weekend 2018. Ali Gaidies Joy '96 and her husband Austin Joy '93 were enjoying a day with their three kids at Atlantic Beach in North Carolina. After a day of picnicking and searching for shells in the sand, the couple's 7-year-old twin daughters ventured into the water. Ali remembers Austin making a joke before turning his head and noticing that their girls were too far out in the ocean. They were caught in a rip current.
Immediately, the Joys ran into the water to save their daughters. Ali compares the water's swift grasp on the two girls to the speed of a motorboat, pulling them away from the shore. Austin reached the girls first, and Ali lost no time behind him. In the crashing waves, Ali's feet struggled to touch the ocean floor as she tried to keep their children afloat.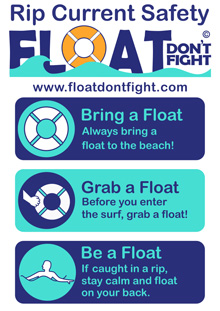 Ali and her girls survived, but Austin did not. Now Ali is determined to keep beach safety in the forefront of people's minds through her Float Don't Fight campaign, which urges people to take a floating device when heading into the ocean for leisure or if trying to rescue someone. Ali's message is simple: Bring a float, grab a float and be a float.
"I want to focus on messaging that is not out there for most beachgoers," Ali said. "People need to always bring a float, a raft or a boogie board to the beach. Before you run in to help someone, grab a float. I want to condition people's minds to do that, so they can make a rescue and not have the pain and loss of life that we encountered."
Ali has started a website and Facebook page to spread awareness about rip currents. She also plans to start a nonprofit around the cause.
Austin was a commercial real estate agent in Richmond, Virginia. The Joys, who have three children, were married for 13 years. Both from Norfolk, Virginia, the two attended the same high school as well as William & Mary. Despite knowing each other since they were teens, the Joys began dating after they were reconnected through a mutual friend in 2004.
"Austin was just an amazing man who put everyone at ease," Ali said. "He was a great father and husband who touched the lives of a lot of people. Austin was elegant, smart, funny, witty, insightful and a good listener."
This year, 21 people in the United States have drowned while caught in a rip current, according to the National Weather Service. June and July are the peak months for rip currents, which create high-speed river-like channels between the beach and sandbars. Rip currents account for more than 30,000 water rescues annually, according to the National Weather Service.
Ali does not remember how long she was in the water the day of the accident. By chance, four U.S. Marines were taking advantage of the weather as well. They told her to float on her back. Still gripping her twins tightly, Ali followed his instructions and waited for the Marines and two surfers to bring surfboards to their rescue. The surfboards aided in getting Ali and her girls safely back to shore.
Ali was able to find the Marines who helped her after the accident. They will be receiving commendations this summer for their bravery, she said.
"When you see a loved one in distress, you're not going to think twice about going in to get them," Ali said. "You are going to try to save them. If that time comes, I want this message to empower beachgoers to remember to take a float, bring a float and be a float."