William & Mary selects Christopher D. Lee to lead HR
Christopher D. Lee, associate vice chancellor for human resource services for the Virginia Community College System (VCCS) and a leading authority on search committee processes, will be William & Mary's next chief human resources officer.
Including his work with VCCS, Lee has led human resources for four institutions of higher education and written extensively about human resources for scholarly journals and other publications. Lee, who is also a Marine Corps veteran, will begin at W&M on Aug. 1.
Lee succeeds John Poma '86, M.B.A. '00, who left the university in December 2018. Robert "Bob" Green, a former Virginia Military Institute administrator, has served as interim chief human resources officer for the university since January.
"Chris is at the top of his field, and we are thrilled to welcome him to campus," said Sam Jones, senior vice president for finance and administration. "We appreciate all that John did at the helm of human resources and are grateful to Bob for coming out of retirement to support William & Mary as we searched for the best person for the job. Chris Lee is that person. I know that his leadership, experience and vision will greatly benefit William & Mary's employees, who are vital to the success of our university."
As chief human resources officer for W&M and a member of the president's cabinet, Lee will be responsible for developing and leading the university's human resources management programs, to include classification and compensation, recruitment, staffing, training, performance management, employee relations, benefits and HR strategy. He will also oversee employee conduct, compliance, records management and reporting.
Lee said that William & Mary's reputation for excellence, its integration of tradition and innovation and its campus community all inspired him to seek a position at the university.
"I'm excited about the opportunity to try to do good work and make a difference," he said. "I've been fortunate to have 25 years of experience working at various kinds of colleges and universities. I'm really hopeful and optimistic that some of that experience can be brought to bear to help the university achieve its goals and objectives and to help people to feel empowered to do good work as well."
During his first 120 days at the university, Lee hopes to interview 100 employees about what they believe, want and expect of their work and of the university's HR department. From those conversations, he will write a report and craft a plan with other campus officials to address the identified challenges and opportunities.
"And then we'll get to work," he said.
Lee has served in his current position with VCCS, which includes 23 colleges with more than 20,000 employees, since 2006. In that role, he reorganized the HR department to focus on responsive customer service, contributed to the HR portions of the system's strategic plans, advised 24 chief executive officers and their teams and helped to spearhead the system's movement toward shared services in portions of HR, procurement, accounts payable and other administrative functions.
Partnering with Old Dominion University, he co-sponsored the development of a State Council of Higher Education in Virginia-approved certificate in Community College Leadership for VCCS faculty and administrators. Lee served as executive sponsor and task force co-chair for the redesign of the system-wide faculty evaluation system, led the development of a new associate instructor role, established the system's first diversity officer function, implemented a diversity hiring initiative and managed the selection and recruitment process for the appointment of 30 community college presidents.
Prior to his work with VCCS, Lee served as the director of human resources and chief human resources officers for Bates College in Maine, from 1999 to 2006. Before that, he worked as director of human resources and chief human resources officer for Southern Polytechnic State University and Georgia Highlands College, both in Georgia.
Lee served in the U.S. Marine Corps for 21 years, including eight years on active duty and 13 in the Marine Corps Reserve. He retired from the Marines as a lieutenant colonel.
Throughout his career, Lee has also taught several courses, including graduate classes in human resources leadership. He worked as an adjunct professor of human resource management for the University of Richmond and an adjunct assistant professor of leadership and organizational studies at the University of Southern Maine. He has also served as a consultant for more than 75 private companies and institutions of higher learning in the U.S., Canada, Australia and South Africa on hiring and managing talent.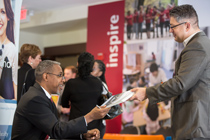 Lee has written three books, including "Search Committees: A Comprehensive Guide to Faculty, Staff and Administrative Searches," and recently finished the manuscript for his fourth. He has also written numerous chapters and articles for peer-reviewed journals and other publications and been a question writer for the Professional in Human Resources and Senior Professional in Human Resources certification exams.
He has received multiple awards, including the 2001 Kathryn G. Hansen Publication Award, and served on myriad boards, including that of the Human Resources Certification Institute, the Museum of African Tribal Art and the College and University HR Association. Lee was also a founding member of the Diversity Hiring Coalition of Maine.
Lee received his undergraduate degree from Auburn University, before earning a master's degree from Golden Gate University and a doctorate from Georgia State University. Lee is no stranger to the Williamsburg area, having lived in James City County (Toano) since 2007.