William & Mary Homecoming & Reunion Weekend on campus Oct. 17-20
Next weekend, alumni will return to William & Mary to celebrate and reconnect with classmates and their alma mater. The entire William & Mary and local community are invited to participate in a wide variety of events, including the annual Homecoming Parade, which will take place Friday, Oct. 18 at 4:30 p.m.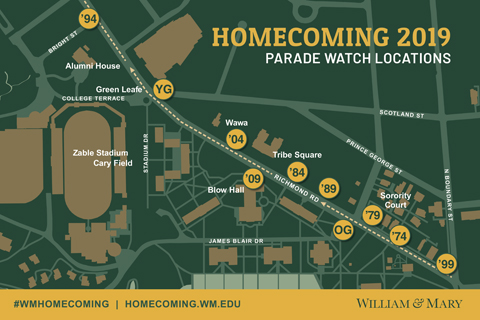 For those planning to attend festivities in the afternoon of Oct. 18, please note that the parade route will begin on North Boundary Street before coming up Richmond Road, turning onto Dillard St. and proceeding down Ukrop Way to Kaplan Arena. More information on the parade can be found at homecoming.wm.edu/events/parade.php. No cars will be allowed to park on Richmond Road on Friday until approximately 6 p.m.
Serving as this year's parade grand marshal will be Marshall Acuff '62, L.H.D. '07, who has served as university rector, president of the Alumni Association and on many university boards. The Homecoming grand marshal is an honorary position filled by distinguished alumni and friends of William & Mary. The grand marshal receives recognition throughout Homecoming and rides in the lead car during the Homecoming parade.
Announcing the parade and narrating the livestream will be Wade Minter '97 and Kay Floyd '05. Minter is the announcer for the Carolina Hurricanes, a National Hockey League team. Floyd is the director of William & Mary's Whole of Government Center of Excellence, which provides interagency training, research and other collaborative opportunities to government and military leaders around national security and other public policy issues.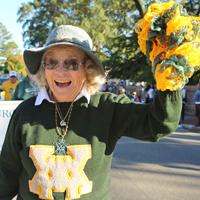 The live broadcast and parade judging will take place on the opposite side of the street this year, across from College Delly next to Camm Hall, because the Alumni House will be closed for construction and renovation. The Alumni House is expected to reopen in summer 2020. Because of the closure, registration for paid events during Homecoming & Reunion Weekend will be available in the Sadler Center.
Other highlights of Homecoming include:
Homecoming Academic Showcase: Friday, Oct. 18, 2:30 - 4 p.m. in the Presentation Room in Cohen Career Center, hear from dynamic student and faculty duos about cutting-edge research and programming at William & Mary.
Tribe Talks: Friday, Oct. 18, 2:30 - 4 p.m. in the Hospitality Suite at Zable Stadium. What does the future look like for William & Mary Athletics? Find out during a lively "Tribe Talks" discussion with student-athletes and staff, moderated by Director of Athletics Samantha K. Huge.
Virginia Uncorked: Friday, October 18, 7-11 p.m. in the Sunken Garden, featuring live music, food trucks (pay-as-you-go) and tastings from Virginia breweries, vineyards and distilleries ($35 per person, $10 for non-tasting admission.)
W&M Libraries Homecoming Author Breakfast: Saturday, Oct. 19, 9-11 a.m. at Swem Library, enjoy breakfast and a book signing with Carter Higgins '00, the author of "A Rambler Steals Home" and three picture books — "This is Not a Valentine," "Everything You Need For a Treehouse" and her newest "Bikes for Sale."
Bold Moments: A Conversation with Jill Ellis '88, L.H.D. '16 and President Rowe: Saturday, Oct. 19, 10:30 a.m.-noon in the Sadler Center, Commonwealth Auditorium. Join the two-time World Cup champion as she sits down with President Katherine Rowe to talk about the bold moments that led to the team's victory, coaching philosophies and the role of athletics in preparing students to thrive in our rapidly changing world.
Children's Carnival: Saturday, Oct. 19, noon-3 p.m. in the Sunken Garden, enjoy this family-friendly carnival featuring inflatables, face painting and more.
W&M Football Game: Saturday, Oct. 19, 3:30 p.m. at Zable Stadium. The Tribe will take on the James Madison Dukes. Call (757) 221-3340 to purchase tickets.
Saturday Night Bash: Saturday, Oct. 19, 9-11:30 p.m. in the Sunken Garden main tent, dance the night away to the sounds of crowd-favorite band Attraction, or mingle, snack and spend time with friends! ($40 per person.)
William & Mary expects thousands of alumni, students, faculty, parents and friends of the university to participate in this year's Homecoming & Reunion Weekend.
A complete list of campus events and prices are available at homecoming.wm.edu. Tickets for paid events can be bought online until 11:59 p.m. on Saturday, Oct. 12 and will be available at each event.