Strong bonds: W&M alumni create a sports and entertainment empire
The following story originally appeared in the spring 2019 issue of the W&M Alumni Magazine. - Ed.
William & Mary ties strengthen the team behind a new sports and entertainment empire
Inside the St. James on a chilly Friday morning in early spring, members of the D.C. United team mingle around high-top tables inside Vim and Victor, the elegant restaurant to the left of the entrance, where a coffee counter serves pressed juices, banana loaves, paleo cranberry scones and breakfast sandwiches.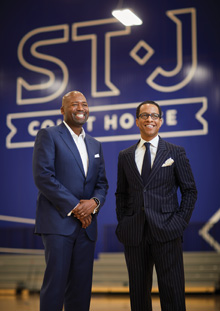 The MLS soccer club's black and red eagle logos can be spotted elsewhere in the 450,000-square-foot sports, wellness and entertainment complex, as players practice moves on the FIFA-regulation-size turf field and lift weights in the training room. School is out today, so there are also children shooting down slides in the indoor waterpark, scaling colorful climbing walls and tying on figure skates in one of the center's two ice rinks. In the other, there's a hockey clinic going on, while a man working on a laptop watches through a large window in the adjacent lounge. A golfer practices his swing in one of six simulator bays, and in the health club, a woman relaxes in the sauna.
Another day, you might see a Washington Wizards basketball player shooting baskets next to a group of 7-year-old children in one of four basketball courts, which convert to nine volleyball courts. If your timing is right, gold medalist Katie Ledecky might be doing laps in the Olympic-size pool.
This mecca for serious athletes, fitness enthusiasts and entertainment seekers — young, old and in between — is the vision of Craig Dixon '97, J.D. '00 and Kendrick Ashton '98, two William & Mary graduates who went on to successful careers in law and investment banking before starting this venture. They named the business, which opened in September, after the Court of St. James's, the center of global affairs under the British empire for centuries.
"We wanted our brand to represent our ambition for the business, which was to be the center of the universe for each market that we serve," Ashton says. "We very much want to be as integral to people's lives as home and school or work are."
The name also recognizes the pair's link to William & Mary, he says.
"Craig and I met at a place that was discussed and ultimately approved and chartered in the Court of St. James's. It's a very important and formative place for us. We met our wives there. We started our friendship there and we grew as young people in ways that we probably could not have imagined."
Read the full story on the W&M Alumni Magazine website.