R. Alexander Kurland inducted as honorary alumnus
At the start of Commencement weekend, before students donned their caps and gowns to officially become alumni, the William & Mary Alumni Association inducted a new honorary alumnus into its ranks.
Alexander Kurland was inducted on May 10 at this year's Honorary Alumni Ceremony, an annual event that honors non-graduates of William & Mary who have gone above and beyond in their support of the Alma Mater of the Nation. Throughout the year, the Alumni Association accepts letters of nomination for this distinguished award. The Alumni Association's Board of Directors then votes on the final awardees.
"There are very few activities and events that affirm the role of the Alumni Association more succinctly than the induction of Honorary Alumni into our extended William & Mary family," said Sue Manix '79, president of the Alumni Association. "It is our most official and lasting way of saying thank you to those whose devotion to William & Mary is strong, regardless of their place of graduation."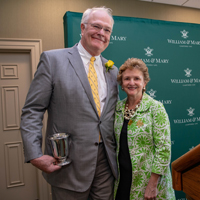 Kurland has been a constant presence at the university, attending countless William & Mary events and accompanying and supporting his wife Leanne Dorman Kurland '75 throughout her service on many boards. When their son, Lee Kurland '05, chose William & Mary for college, Kurland became an active William & Mary parent and helped Lee become an engaged alumnus as well.
Kurland is also one of the university's most loyal and generous supporters. The Kurlands are members of the James Blair Society, William & Mary's most prestigious giving society. They have endowed a need-based scholarship for out-of-state undergraduate students and the Dorman Family Distinguished Term Professorship, which provides funding for undergraduate professors in business, the School of Education and biology. Year after year, they have sponsored challenges for One Tribe One Day, which helped the university consistently break records for the number of donors. Their support of the Alumni House expansion and renovation project and more continues to positively impact our campus and community.
Originally from the Midwest, Kurland received his undergraduate degree from DePauw and his MBA from the University of Chicago. He and Leanne lived in Chicago for 30 years, where Kurland built a career in the financial sector. In 2008 he became president of R.A. Kurland & Company, which serves the rail transportation industry. Now back in Richmond, Virginia, he also volunteers on the Richmond Regional Campaign Committee for the For the Bold campaign. This past summer, Kurland returned to Chicago, where he and Leanne showed their commitment to and love for the university as co-chairs of William & Mary Weekend.
"Thank you to all my friends and fellow alumni — just being able to say 'fellow alumni' is an honor," said Kurland. "I'm grateful to be part of this community, and I want to see it flourish and prosper."
Since the Honorary Alumni Ceremony began in 1994, 110 individuals have been inducted into the Alumni Association. Many previous honorees attended this year's ceremony.
The Honorary Alumni Ceremony is one of several awards and recognition programs that the Alumni Association holds throughout the course of a year. Other events include the Alumni Medallion Ceremony, the Douglas N. Morton '62 Alumni Service Awards and the Olde Guarde Distinguished Service Award