New student group seeks dialogue with the city
A summer job led Caleb Rogers '20 to a project he hopes will help William & Mary students and the City of Williamsburg communicate effectively.

It's called the Student Residents Group, an official organization created by a bill that Rogers, a public policy and History major, proposed that was passed last fall by the Student Assembly. That action was spurred by Rogers' numerous conversations with members of the city's economic development group, where he worked last summer, and other city officials. He gained their ear because at the end of his sophomore year, Rogers was appointed Undersecretary of Williamsburg Affairs, which is a wing of the Student Assembly's public affairs section.

Allowed to create the guidelines of this new position, Rogers' goal was to bridge the gap between the students and the city. But he didn't want to do it himself because he didn't think one person could adequately represent a diverse student body.
"I heard a lot of times the city would love to hear from students, is very interested in hearing from students, what student opinion is, what certain businesses they'd be interested in or how they think certain places are working, land-use wise," he said. "but there wasn't really a medium for the students to come to the city besides individually. Individually, students have gotten involved with the local government, something I've tried to do since freshman year on my own. Some students have tried to engage the local government, but there hasn't been a group or club to help them in a long time."
At the conclusion of two organizational meetings, the SRG has 32 members, is accepting more, and has plans to recruit from the incoming freshman class.
Rogers is using spring break to arrange further organizational meetings and to get members involved with creating social media accounts, contacting council members, speaking at public forums and other assignments.
The group's purpose is twofold, Rogers said.
The first is to speak at City Council meetings and with any relevant city commissioner or employee about student issues, such as the Midtown Row decision, or long-term planning points.
The second is to operate a website of fun, nearby events that are specifically geared to W&M students. Those could range from restaurants with student-friendly specials to newspaper articles students might be interested in, and anything in between. Eventually, they might go so far as to provide information on concerts in Richmond or Virginia Beach.
"My idea was that students are a huge economic force in Williamsburg and a very important part of the city," Rogers said. "The students in SRG will represent the student body. If there's an idea in front of council that they are considering right now, they can say, 'Hey, here's what students think about that.' Or, if city council or city planning, which every two years considers their future plan and outcomes, the SRG can go in front of council and say, 'Here are some things we think would be great.' So, there's a reactive and proactive part of the group."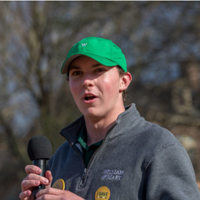 Rogers said he'd recently run into a friend who told him about a band he'd heard play that Rogers would have liked. He had no idea that they played local gigs. Those types of conversations inspired SRG's second platform.
"I think there's a lot to be done in getting students involved in community," he said. "For instance, as a student here I've been wholly unaware of good deeds going on in the community or fun events going on in the community. So, I was wondering about a medium to get students involved in the community so they know what's going on."
To that end, fellow student Brighten Meade '21 is creating a website on which weekly deals and other special sales can be posted in time to give students the chance to take advantage of them. Meade said the work might be finished in a few weeks.
"The whole idea of SRG is to get students involved economically in the city then to also be a representative group of the student body," Rogers said.
Down the road, Rogers even envisions a place where what he calls "pick me up" jobs could be listed that students could apply for.
"I'm sure there are residents who would pay a student to take their trash to the curb every week or rake their leaves," he said. "I'm thinking the kinds of jobs students could get to easily."
Interested students were asked by Rogers to fill out an application, though anyone who provided answers was accepted as a member of SRG. The idea, he said, was to get a better feel for what concerns and interests students had.
When asked how Williamsburg could improve, answers included college-oriented opportunities, responsiveness to younger constituents, more places open late at night, a crosswalk across Jamestown Road outside Morton Hall, affordable off-campus housing, more student discounts and more economic appeals to college students.
When asked why they wanted to join SRG, one student wrote "because activism is best served locally."