'Love, Mary' to give voice to women students
The 100 years of coeducation commemoration at William & Mary has resulted thus far in myriad memorable events, awards and ceremonies. But Grayce Angle '19 believed a certain perspective was missing from the celebration of women at William & Mary.
"Something that's always nagged at me throughout the year is that I was waiting for something that had a bit more student involvement and had more about what the student experience was, (in addition) to all of these amazing women that are brought back to campus and these amazing alumni and faculty members we're highlighting, which is all fantastic," she said.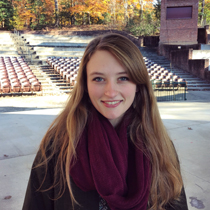 This desire for a current student perspective yielded "Love, Mary," a student-based evening of performance highlighting the experience of women at William & Mary in a contemporary context. The performance is scheduled for April 17 from 6 to 9 p.m. in the Sadler Center's Lodge 1.
Co-organized with fellow student Kristen Popham '20, Angle hopes to cultivate an evening of storytelling, celebration and recognition of the steps the first class of women made in 1918.
Angle wanted a place for women of all walks of life on the college campus to deliver personal anecdotes about their time at William & Mary.
"It's very focused on people now, because it's only going to be students who are performing, but I think, from what I understand, a lot of people's reflections, what they've written, does juxtapose a lot of what things were like before," she said.
After various clubs and organizations across campus nominated a dozen students, an open call was made via the social media pages of "Love, Mary," rounding out to a total of 24 performers: a number selected for a purpose.
"It's an allusion to the first class of women, which was 24 in 1918, which I'm realizing a lot of people did not know," Angle said.
The performance will include multiple formats, from spoken word to musical performance, said Angle. And audience members can come and go as they please, rather than staying for the entire evening.
"We want people to come for periods of time that they can," Angle said. "They're five-minute performances, no matter what you're doing."
For more information, visit the Facebook event page.