Law School Dean Dave Douglas to return to faculty in 2020
Douglas has served more than a decade at the nation's oldest law school
Davison M. Douglas, dean of W&M Law School for more than 10 years, will step down from the position in July 2020 to return to the faculty.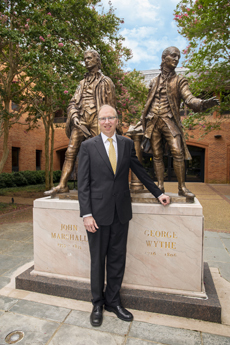 Douglas has led the school since 2009 after serving there for nearly two decades as a professor, scholar and administrator. He is the longest serving dean at the law school over the past 50 years and currently the ninth-longest serving law dean in the United States. 
During his tenure as dean, the law school has raised more than $81 million toward the university's For the Bold campaign, added outstanding scholars and teachers to the faculty, established the Hixon Center for Experiential Learning and Leadership and added several new clinics and programs to address the unmet legal needs of the community and provide invaluable real-world experience to students.
"It has been an honor to serve as dean of William & Mary Law School," Douglas said. "I have been reminded again and again throughout my time as a faculty member and as dean that our school's core mission remains alive and well and vital, that of educating highly skilled and ethical citizen lawyers who will play leadership roles in the world. This has been the best job that I have ever had, and I am so grateful that I was able to serve the university in this way. The timing of my decision has much to do with the For the Bold campaign, which will conclude next year and is absolutely essential to the long-term success of the law school and university. I decided early on in my tenure as dean that I would serve until the end of the campaign and do everything I can to help us achieve the bold fundraising goals we set for ourselves."
A renowned constitutional historian, Douglas started at W&M Law School in 1990 and went on to hold a number of leadership roles, including director of the Institute of Bill of Rights Law. He also founded and directed the Election Law Program.
Douglas became dean of the school on July 1, 2009, and since that time has led multiple efforts to further its mission to educate highly skilled and ethical citizen lawyers.
"Dean Douglas brilliantly piloted the nation's oldest law school through one of the most successful decades in its long history," said President Katherine A. Rowe. "So many areas have been furthered by Dave's expansive vision for the school and his wise and compassionate stewardship. We are thankful for his years of exceptional leadership and grateful that he will continue to teach, guiding our students as they prepare for their careers."
Educating the citizen lawyers of tomorrow
Under Douglas' leadership, several new legal clinics were created, including an immigration law clinic, a small-business clinic, an appellate litigation clinic and the Virginia Coastal Policy Center. The clinical program now offers over 200 seats annually to students who, last year, provided more than 40,000 hours of free legal assistance under the supervision of managing attorneys. The Puller Veterans Benefits Clinic alone recently crossed the $43 million mark in lifetime expected benefits secured for its clients.
In addition to the new clinics, the law school's students have benefited from the creation of the Legal Practice Program, which retained some of the best aspects of the earlier skills curriculum and trains students to become practice-ready legal writers and ethical practitioners. This includes full-time faculty members who teach legal writing along with law librarians and adjunct professors from the bench and bar to help students develop skills in legal analysis, legal research and writing, and negotiation and oral advocacy. Over the past decade, W&M law students have won more than 20 top prizes in national writing competitions.
"The law school's programs and reach greatly expanded under Dean Douglas' leadership," said Provost Peggy Agouris, "and always with an eye toward our commitment to educate citizen lawyers. Today, William & Mary's law students have many professional options doing meaningful, important work, due in part to Dave's vision and drive. We will miss his leadership as dean, but I'm delighted he will continue to teach and serve as a resource for our talented students."
Since 2009, the law school has also increased the number of externships available to students by 23%. Additionally, over the past decade the Summer Public Service Fellowship Program has awarded more than $3.1 million in stipends to students assisting public service organizations and agencies throughout the United States and the world.
At the same time, the law school has become a leader in the percentage of its graduates that secure federal judicial clerkships. William & Mary law graduates also continue to have success securing positions with government agencies and public service organizations both in the U.S. and abroad. In addition, more and more of the largest law firms in the nation are hiring the school's graduates.
But it's not just all been about employment. During his tenure, Douglas remained committed to supporting the well-being of students by adding a senior administrator responsible for student services and supporting the "Wellness Wednesdays" program created in collaboration with the student chapter of Lawyers Helping Lawyers.
A commitment to academic excellence
The law faculty has also flourished under Douglas' leadership. During the past decade, the school has welcomed 14 new, full-time clinical professors or professors of the practice of law and 14 tenure-track professors, including three Supreme Court clerks, a Rhodes Scholar and a recipient of the Paul M. Bator Award, given to outstanding legal scholars and teachers under the age of 40. Two of these new faculty members have received Outstanding Faculty Awards from the State Council of Higher Education in Virginia (SCHEV). The law school faculty continues to author scholarship in national law journals and books, addressing some of the law's most challenging questions. Douglas himself received a Distinguished Service Award from the National Center for State Courts in 2010 and is a recipient of the SCHEV award for outstanding faculty, along with numerous other teaching awards.
Douglas has also worked to further the diversity and inclusion efforts at the law school, hosting multiple panels and other special events and commissioning a task force that recently presented its recommendations to the university's chief diversity officer, president and provost. In 2018, a portrait of the law school's first African American graduate, Edward Augustus Travis B.C.L. '54, was unveiled. In 2019, the school received an award for being the top military-friendly graduate school in the country.
Chancellor Professor of Law Lynda L. Butler '73, the longest-serving woman faculty member at the university and previous interim dean of the law school, said Douglas has succeeded at all levels as dean.
"Dave has advanced the quality of the faculty by making excellent hires and raising scholarship expectations," Butler said. "A tireless advocate for our students, he championed their interests on a weekly, if not daily, basis. Under his leadership, for example, a new wing was added to the law school building to provide greater clinical, legal practice and experiential learning opportunities.
"Much of Dave's success as dean has been due to his warm rapport with alumni and his extraordinary talents at fundraising, which consistently set records," she added. "Though we understand Dave's desire to return to the faculty, Dave's commitment to academic excellence and love of the law school will be hard to replace."
A law school for the bold
As one of the leaders of the school's fundraising efforts, Douglas has seen its endowments grow from $31.9 million to $79.5 million since he became dean in 2009.
As part of the university's $1 billion For the Bold campaign, the school set a goal to raise $75 million by 2020. That aim was achieved two years early, making the law school the first school at W&M to reach its goal. The school is now working toward a new stretch goal of $100 million and, as of June 2019, had raised $81.3 million in cash, estate gifts, pledges and other gifts — including $22 million from anonymous donors, the largest gift the law school has ever received.
The school's students have also demonstrated their commitment to supporting the university. Since 2014, the third-year law class gift has exceeded 90% participation annually.
The fundraising efforts have resulted in the creation of 20 endowed scholarships and the ability to offer student aid packages that are competitive with other top-ranked law schools, among other benefits.
The generosity of the law school community also made possible a new addition to the school's campus: the James A. and Robin L. Hixon Center for Experiential Learning and Leadership. Dedicated in 2017, the center serves as a hub for the school's Clinical and Legal Practice Programs, trial and appellate training and leadership activities. Its dedication also served as the culmination of a 16-year building program at the school that included the addition of the North Wing and the Wolf Law Library.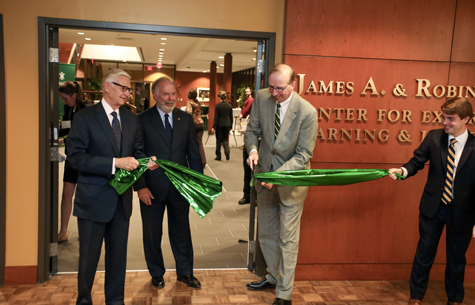 Under Douglas' deanship, the law school added several other new physical spaces, including the Penny Commons, the Penney and Young Courtroom, the Law School Bistro and new space for the Law School's clinics and legal writing program. The school also renovated and dedicated the John E. Donaldson '63 Classroom and W. Taylor Reveley III Classroom.
James D. Penny '83, chair of the law school's Campaign Steering Committee, said that Douglas has been "a tremendous force for good," developing strong relationships with students and acting as a mentor and advocate for many.
"Dave has recruited and nurtured excellent young faculty, who have made the law school's outstanding faculty even stronger," said Penny. "He has been incredibly effective at building connections with law school alumni and friends, who have responded to his advocacy with generous, record-breaking support in the For the Bold campaign.
"I am confident that he will continue to be a strong leader for the law school as he returns to full-time teaching."
A renowned scholar and teacher
Douglas received his undergraduate degree from Princeton University before earning a master's degree in religion, a law degree and a doctorate in history from Yale University. Before coming to William & Mary, Douglas practiced employment law as a partner in a North Carolina law firm. He also clerked for Judge Walter R. Mansfield of the U.S. Court of Appeals for the 2nd Circuit.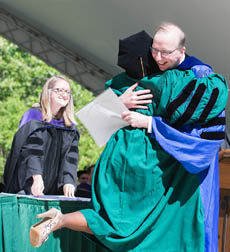 Throughout his career, Douglas has published numerous law review articles and books, including 2005's "Jim Crow Moves North: The Battle Over Northern School Segregation, 1865-1954." He has also lectured and served as a visiting professor at universities and law schools throughout the world and annually taught Race and American Legal History as a W&M seminar course throughout his deanship.
Douglas will once again share his scholarship and award-winning teaching with W&M students when he returns to the classroom following the conclusion of his service as dean.
"I am grateful for the support and encouragement I have received from the William & Mary community during my tenure as dean," said Douglas. "I have had the great pleasure of working with so many individuals who care deeply about the work of the law school — and the students whom we educate. It has been wonderful to have time at the helm of an institution that has a special place in history as the country's first law school and where a sense of community and pride informs all of its endeavors. I look forward to celebrating the 240th anniversary of the law school's founding in December and to working with everyone to move the university and school forward in the coming year."