Gail Williams Wertz '66, M.A. '19 digs into new career
It's 94 degrees in Williamsburg, and Gail Williams Wertz '66, M.A. '19 has been sweating in the bright sun for hours, carefully digging through layers of soil to reveal artifacts. It's a world away from the clean, cool laboratories she's run for most of her career — and she loves it.

Gail is currently a full-time graduate student in anthropology and archaeology at William & Mary, returning to her alma mater after an almost 50-year career in biomedical research. She's stayed involved at William & Mary through the Graduate Studies Advisory Board and made an impact through her gifts to her alma mater, including to the biology department and the Center for Conservation Biology.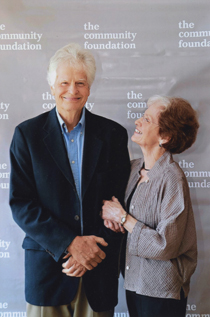 Trained as a molecular virologist, Gail taught, did research and led research groups at university medical schools. Her laboratory developed the methodology for genetically engineering RNA-based viruses — work that was the basis for a successful vaccine against Ebola. She's authored 155 peer-reviewed publications and received 36 years of continuous funding from the National Institutes of Health (NIH), including their coveted MERIT Award. She also received support from the World Health Organization and National Science Foundation.
Now, the professor is a student once more. Though subject matter is different, it's very much in line with her passions for research and discovery — passions that began when she attended William & Mary the first time, as a biology major back in 1963.

"In those days, teaching was very didactic. Someone stood in front of the classroom and gave you all these facts, but didn't engage you in learning about the discovery process," Wertz said. "But Dr. Byrd went out on a limb to get funds to give students the opportunity to learn how to do research."

Professor Mitchell Byrd, now faculty emeriti, secured one of the first NIH grants at William & Mary for his lab. Wertz spent the summer earning a small stipend to dissect fish guts, then find, stain and identify parasites in them.

"At that time, women weren't often encouraged to go into science. Because she pursued it, now her scientific reputation is unparalleled," said Byrd. "She could be playful, but she was also a very serious student. I think the world of her."

Her project with Byrd was Wertz's first real experience with what she calls "bench science," and it set up how she would approach her career as a scientist and a teacher.

"It was my project. Dr. Byrd taught me how to do the work, then gave me the responsibility," she said. "To be put in a situation where you learn what scholarly research is, and you have an opportunity to know what's it's like to find out something new... it's absolutely transformative. And to be in charge of it or have some sort of say in the process … it's addictive!"

When Wertz became principal investigator in labs of her own, she would teach and consult with lab members about their work 9 a.m.-5 p.m. and then design and run her own experiments 5-9 p.m. She cultivated an ethic of sharing and collaboration with her students, where everyone's contributions and critiques were valued.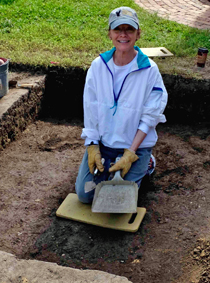 It was during her career that DNA sequencing was developed, and Wertz built upon this technique to engineer viruses that use RNA as their genetic information.

"With all the changes in the field during my career, there were so many opportunities to do exciting science, that I never had a day I didn't look forward to coming into the lab," Wertz said. "And to stay competitive in science, you also had to be pretty obsessive. You couldn't do much else — you had to be focused on the science. But I loved it!"

Wertz's husband, L. Andrew Ball, is a biochemist and was a professor at the University of Wisconsin when they met at a conference in the Hague. They began to share new technology developed in their labs and were able to collaborate on many projects together. But their focus on science meant there were parts of her life that Wertz didn't get to enjoy as much as she would have liked. She hadn't had a chance to give back to her community the way she wanted, and she hadn't spent much time with her parents, who lived on the Northern Neck of Virginia. 

So, when her parents began having health issues in 2005, Wertz moved her lab to the University of Virginia (UVA) and she and Ball bought a farm near her parents on the Rappahannock River. They restored the 1725 house, and Ball, an Englishman raised in London, transitioned from science to breeding grass-fed, antibiotic and hormone-free black Angus cattle. He won the 2013 Water-Friendly Farm award for transforming the farm from row-crops to sustainable pastures. 

As they worked on the farm, Wertz kept finding Native American artifacts, and neighbors shared with her the collections of stone tools they had found. Curious, she began attending archaeology classes at UVA, at first just sitting in but soon for credit as well. She learned how to identify these artifacts, some of which were more than 10,000 years old. 

At the same time she was attending classes at UVA, Wertz began to reconnect with her alma mater. Though she had been giving to the biology department for many years, she wanted to be more involved.

"I'd not been back to W&M for many years, this despite the fact that my roommate my senior year was Anne Klare Sullivan '66, M.Ed. '68, who later became President Emeritus Tim Sullivan '66's wife," she said. "Tim Sullivan fostered the ethic of giving back to your community. My father very much enjoyed Tim's letters to the community and shared his spirit of giving — that's a big reason why I give back."

Wertz financially supports William & Mary and Virginia Commonwealth University's Center for Conservation Biology, founded by her professor and mentor Byrd. She also supports the biology department, where she got her start, and is an annual donor to the Graduate Studies Advisory Board (GSAB), which she joined in 2011. The GSAB fundraises, advocates, builds community and enhances opportunities for the Graduate Arts & Sciences at William & Mary.

For her 50th Reunion, she made an estate provision to the biology department in honor of her parents and Byrd, and as a committee member encouraged others in her class to reconnect with William & Mary and give back.

"As Thomas Jefferson said and I firmly believe, if we are going to have a democracy that functions, if we are going to have a compassionate civilization, then we need an educated citizenry that's willing to give back to their community," Wertz said.

At a GSAB meeting, Wertz met Neil Norman, assistant professor of anthropology and director of graduate studies at William & Mary. She told him about the artifacts she was finding and the courses she was taking. Norman encouraged her to apply to graduate school in William & Mary's anthropology and archaeology program.

After months of serious thought, she decided to become a student at her alma mater once again. She had recently become professor emerita at UVA and was excited to begin this new phase of her life.

"The transition between having an active career and then retiring is like coming off a cliff. So to switch into something that allows me to continue to do research, contribute and be productive, outside of a full-on academic career, is terrific," said Wertz. 

Still, the transition was challenging at first.

"I was way behind the curve. I was a geek, I took mostly science courses in school, and I had never taken an anthropology course before," she said. "Anthropology and archaeology have a different language, a different way of thinking about research than the hard science fields. But I love the challenge."

Wertz is part of a cohort of five master's and Ph.D. students, all much younger than her. They have become friends, helping each other along the way.

She loves being back at William & Mary and is glad to see her alma mater, though larger in footprint than it was in the 1960s, remains true to its small-school ethos. She has gotten to know her professors well and appreciates the one-on-one interactions and engaging classes taught by professors doing research that leads their fields.

One class on indigenous archaeology, taught by Ashley Atkins Spivey M.A. '09, Ph.D. '17, was an eye-opener on how to enrich research by involving descendant communities. For her thesis, Wertz is studying Archaic Period settlement patterns in the Rappahannock River Valley and the responses of Native Americans to environmental changes over millennia. She's consulting with the Rappahannock Indian Tribe to find out what would be of interest and use to them from her archeological research. 

"Gail Wertz has a passion for archaeological research like no one else I know," says Martin Gallivan, her thesis advisor and chair of the anthropology department. "She brings a wealth of real-world experience that enriches her approach to tasks ranging from stone tool analysis to engagement with contemporary Native communities. Gail is a remarkably hard-working student, and the department is very pleased to have her as a colleague."
Between classwork, research and participating in archaeological digs with the field school, Wertz never lets her age slow her down.
"Don't let age influence how you feel about yourself," she said. "When you get to that magic age of retirement, you've got so much talent left in you, because you've been out there, you've seen how the world works, you can synthesize problems in a way that younger people can't. I may not be able to think as fast or read as fast as a 22-year-old, and I certainly can't dig as fast, but I can see the big picture. And to be able to keep learning is so exciting!"