Zena Howard's work honors African-American history, culture
During more than 25 years as an architect, Zena Howard's portfolio has included the Durham County Human Services Complex, the International Civil Rights Center and Museum and Brooklyn Village, all in North Carolina, as well as the Anacostia and Tenley-Friendship libraries in Washington, D.C. and the Motown Museum in Detroit, Michigan.

But as she arrived in the nation's capital shortly after President Barack Obama's inauguration in 2008, Howard, who works for the firm of Perkins+Will and is a member of its Global Diversity and Inclusion Committee, was acutely aware she was about to experience something new and extraordinary.

Seated at a table were representatives from four architectural firms: Freelon, Adjaye Bond/SmithGroup – the Fabs, as they came to call themselves. They had combined forces to win an international contest for the right to design the National Museum of African American History and Culture on the National Mall, three blocks south of the White House.

British architect David Adjaye would serve as lead architect. Phillip Freelon would be the lead designer. Howard, a LEED accredited professional and member of the National Organization of Minority Architects, was the senior project manager.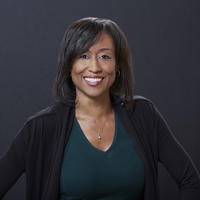 She recently told students in Coordinator of African American Studies and Professor of English & Africana Studies Hermine Pinson's class that her responsibilities consumed the next eight years of her life.

"I lived this project basically," she told the William & Mary students.

Howard was on campus recently as one of this semester's COLL 300 visitors, visiting classes and giving a public lecture, "Sustainability, Our Built Environment, and Our Culture," on Feb. 28. COLL 300 classes, part of the university's College Curriculum, typically taken by third-year undergraduates, focuses on topics that are intended to broaden the way that students see themselves in the world. Each semester centers on a theme, and three visitors are invited to campus to support that theme.

The spring 2018 COLL 300 theme is sustainability. In addition to Howard, this semester's visitors include Vandana Shiva, a physicist with the University of Punjab, and RDK (Doug) Herman, the creator of a web-based indigenous-geography project for the American Pacific.

Howard pointed to the Anacostia library as an example of her new version of sustainability. The area of Washington is rich in history, although with residents who are predominantly low-income and underserved.

"I could have a vision of creating something that's a beautiful aesthetic. Or I can create something that's really grounded in the values and the history of the community that the building serves. One of the key definitions of sustainability to me has taken on a broader meaning. When we as designers walk away, the community sustains that building. When I come back they are using the building in ways I couldn't have imagined.

"At the Anacostia library, what we realized is that it was important for them to celebrate the children."

So, Howard said, the building was designed to put the children's section in the front, thus showcasing its importance to the community.


Meanwhile, the National Museum of African American History and Culture project had 31 consultants that Howard dealt with, including the Smithsonian Institution, several federal agencies and stakeholders who wanted to contribute millions of dollars but wanted something in return, she said. About $270 million, half the total cost of the building, was raised privately.

Howard said it took years of negotiations — and compromise — for all parties to be satisfied with what they walked away with and for the architects to remain true to their vision. It took three years just to get to the groundbreaking, and the museum didn't open until September 2016.

"We were commissioned to do a museum, a building, on our National Mall," she said. "First of all, very rarely do you put a building on any of our national treasures. So you cannot be arbitrary about it. It's got to be grounded in something that's beyond our ambition as architects."

No one brought pen and paper to that first meeting. Rather, they sat and discussed the images in life that provoked them to think about certain things germane to this project.

One was the photo from the National Mall of people celebrating, their arms raised high over their heads.

"A universal symbol for happiness," Howard said.

For Howard, among other elements, it was the manner in which porches were used in African-American homes in the South.

"When I was growing up, everything happened on the porch," said Howard. "I had to sit on the porch and shuck corn. I had to sit on the porch to get my hair done. I played jacks on the porch. Cards. Everything was done on the porch. So from Southern African-American tradition we were inspired by that."

The main entrance to the museum is described as "a welcoming porch," which has architectural roots in Africa and the Caribbean in addition to the South.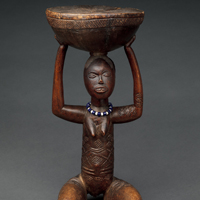 Adjaye contributed perhaps the key piece of the museum puzzle. It was a Yoruban carytid, a traditional West African column with a corona at the top. Adjaye has said that to him it represented a story that moved from one continent, where people were taken, along with their cultures, and used as labor, then contributed toward making another country and new cultures.

Howard said the corona is where African people often stored their most prized possessions to protect them. The notion of lifting something above visitors' heads intrigued her and the group. It formed the basis for the building's inverted triple pyramid form.

"One could actually enter below and have the corona form above their head," she said. "The elements that make up the museum are actually in a box, shrouded in a corona form that moves around. That's how we wound up with this corona form of museum where light dabbles in and fills the space."

Finally, the museum is wrapped in an ornamental bronze-colored metal lattice, which pays homage to the intricate ironwork done by enslaved African-Americans mostly in the Deep South.

The journey to get the museum built began long before Howard and the other architects won the contest. Black Civil War veterans advocated for a national African-American history museum in the early 1900s. Civil rights icon Rep. John Lewis (D-Ga.) introduced legislation to fund the museum every year for 15 years, but it was defeated every time.

Arguments were made that it would be too costly and that not enough people would visit to make it worthwhile.

But within its first four months, more than 1 million people had visited. It remains one of the most difficult tickets to get among Washington museums.

"It really is a beautiful sort of amalgam of West African sensibilities and southern American sensibilities," Howard said.