W&M's Kiersten Boyce to become chief compliance officer at UC-Riverside
William & Mary's chief compliance officer will soon be leaving the position for a new role at the University of California-Riverside.
Kiersten Boyce — who also serves as W&M's Title IX and ADA/Section 504 coordinator — has worked at W&M for 12 years and has led the Office of Compliance & Equity for seven. She will become the associate vice chancellor and chief compliance officer at the University of California-Riverside, where she will oversee the university's compliance, Title IX and audit functions.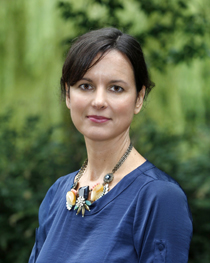 Boyce's last day at W&M is May 31. A reception in her honor will be held in the Great Hall of the Wren Building at 4:30 p.m. on June 7.
"William & Mary is enormously grateful for Kiersten's ground breaking, creative work and unswerving dedication to our students and the campus as a whole," said President Taylor Reveley. "During her time at William & Mary, Kiersten has greatly increased our capacity to combat and respond to sexual violence, and she has vastly improved the university's overall compliance, Title IX and ADA functions, as well as our process for making and amending policies. She goes to California with our warm thanks and very best wishes."
Pam Mason, deputy chief compliance officer, will serve as W&M's interim chief compliance officer and Title IX coordinator. Mason, who earned law and master's degrees at W&M, has served at the university since 2004, working first in athletics on issues related to Title IX, eligibility and academic progress of student-athletes and NCAA regulations. Mason joined the Compliance & Equity Office in 2013 and currently serves as a deputy Title IX coordinator.   
Boyce was William & Mary's first chief compliance officer. Under her leadership, the university developed a compliance and ethics program, chartered by W&M's Board of Visitors. The program  reflects the university's commitment to an environment of accountability and integrity, Boyce said. As part of the compliance and ethics program, the Compliance & Equity Office coordinates the production of institutional policies and procedures.
The office also oversees the university's equity program. In this role, Boyce has overseen cross-campus efforts to prevent and respond to sexual violence and sex-based discrimination as well as other forms of harassment and discrimination. She led the overhaul of the university's policies and procedures used to address discrimination, harassment and sexual misconduct.
In 2016, Boyce issued W&M's first sexual misconduct prevention and response report, which compiled all available data on sexual misconduct reports, investigations and outcomes in one document for the first time. The report is now completed annually. 
Boyce also chairs the university's Disability Working Group, formed last spring. Reveley charged the group with looking beyond compliance with the Americans with Disabilities Act to see how W&M can meet the needs of people who deal with mobility, visual, hearing, neurological and other challenges.
"After a dozen years here, I am proud of all the progress the university has made, thanks to the work of our many partners across campus, including the Dean of Students Office, W&M Police, Legal, Audit and Diversity & Inclusion," said Boyce. "I think we have created a solid foundation for Katherine Rowe, William & Mary's next president, to build upon. Pamela, who is a highly skilled professional who cares deeply about these issues, will do an exceptional job as Title IX coordinator and in leading the university's compliance efforts."
Boyce received her bachelor's degree from the University of Wisconsin-Madison and her law degree from the Georgetown University Law Center. She has also received certifications as a compliance and ethics professional as well as a Title IX investigator and coordinator. She came to William & Mary after working as a corporate lawyer in Washington D.C., and London, at the firm of Clery Gottlieb Steen & Hamilton.