W&M Board elects John E. Littel rector
The William & Mary Board of Visitors today elected John E. Littel as William & Mary's next rector.
Littel, who was appointed to the Board in 2012 and reappointed in 2016, will succeed Todd A. Stottlemyer '85, who has served as rector since July 2013. Will H. Payne II '01 was elected vice rector and Sue H. Gerdelman '76 was re-elected as secretary of the Board.
Littel comes to the post after serving in a number of leadership positions on the Board of Visitors, including as chair of the Richard Bland College Committee and as one of the Board's representatives on the Presidential Search Committee. The rector serves as chair of the Board of Visitors. Littel will officially begin his two-year term on July 1, 2018. The following day, Katherine Rowe will be sworn in as William & Mary's 28th president.
"This is an exciting time for the Alma Mater of the Nation and I am honored to be elected rector," Littel said. "Todd has proven to be an exceptional leader and his imprint on this university will be forever felt. He has had an historic run as rector and I'm grateful he will continue to serve on the Board. I'm also very thankful to President Reveley and my friends and colleagues across William & Mary. I look forward to working closely with President-elect Rowe as well as the entire campus community."
John E. Littel
Littel is the president of Magellan of Virginia and chief external affairs officer for Magellan Health. Prior to joining Magellan, he served as executive vice president for external affairs at Amerigroup Corporation, until that company was acquired by Anthem, then served as an interim senior vice president of government affairs for Anthem; he was responsible for growth and business development, including public policy, government relations and advocacy, sales and marketing, and eBusiness, and led Amerigroup's social responsibility initiatives and corporate communications.
Previously, he has served at the federal and state government levels, including as the deputy secretary of health and human resources for the Commonwealth of Virginia and as the director of intergovernmental affairs for the White House's Office of National Drug Control Policy. He has taught government, politics and communications at the graduate level, and has also served as a member of the William & Mary Public Policy Board of Advisors.
Littel, the parent of an incoming W&M freshman, earned his bachelor's degree in philosophy and political science from the University of Scranton and J.D. from the Columbus School of Law at Catholic University. Littel previously served on the Gloucester Institute, a leadership initiative for young African-Americans based at Robert Russa Moton's historic home.  He was appointed to the Board of Visitors in 2012 and reappointed in 2016. He serves as chair of the Richard Bland College Committee and vice chair of the Committee on Strategic Initiatives and New Ventures.
Will H. Payne II '01
Payne has a great deal of experience working in public affairs in the Commonwealth and serves as chief deputy of Virginia's state energy office, primarily focused on economic development opportunities in the Commonwealth's energy sector.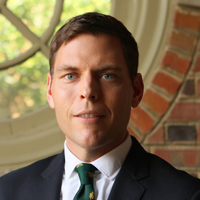 Payne is a co-founder of the nonprofit Virginia Sportsmen's Foundation and serves as vice-chair of Virginia 21's board of directors. Payne earned a bachelor's degree in public policy from William & Mary and was named a Fellow of the Sorensen Institute for Political Leadership in 2005. In 2015, he published his first book, Mark Warner the Dealmaker: From Business Success to the Business of Governing.
Payne has been a member of the W&M Annual Giving Board and in 2011 received its Board of Directors Cup. Since 1997 he has been involved with the W&M ice hockey team as a player, assistant coach and chairman of its booster club. Payne was appointed in 2014 to the Board of Visitors, where he chairs the Committee on Administration, Buildings and Grounds.
Sue H. Gerdelman '76
Gerdelman received her undergraduate degree in elementary education from William & Mary and taught school for six years in Washington State. She later worked at the White House as an executive assistant to the Assistant to the President for Homeland Security and Counterterrorism and as associate director of the President's National Economic Council.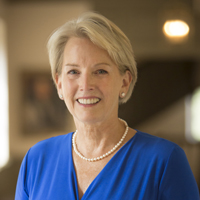 Gerdelman has served on the Board of Visitors since 2013. She has long been active in support of her alma mater and in the community; she is a past chair of the W&M Foundation, a member of the Board of Trustees of the Jamestown-Yorktown Foundation and is past president of the Jamestown-Yorktown Foundation, Inc., the private affiliate. She is currently chair of the Board of Visitors' Committee on Advancement and chair of For the Bold: The Campaign for William & Mary. In 2011, Gerdelman received the Alumni Medallion, the highest honor given by the William & Mary Alumni Association.