Tribe Panhellenic Association winning streak reaches 5
For the fifth consecutive year, William & Mary's Panhellenic Association has been recognized by the National Panhellenic Conference with an Excellence Award.
The association, made up of 10 sororities at the university, is the only one from the state of Virginia recognized. The National Panhellenic Conference contains 670 United States and Canadian colleges and universities. Only 25 are recognized with Excellence Awards.
There is a second category of award recipients, Achievement, given this year to 18 universities.
"You don't see many groups consistently stay on the excellence list," said W&M Coordinator of Fraternity and Sorority Life Anne Strickland. "You see some go between excellence and achievement. That to me is a testament to students and the women on our Panhellenic councils, their commitment to always wanting to be excellent and their willingness to assess it and change with the needs of the community."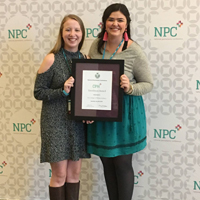 In winning an Excellence Award, William & Mary met or exceeded NPC standards in every category, seven in all: academics, communication with the NPC area advisor, judicial procedures, Panhellenic community impact and relations, Panhellenic programming, Panhellenic structure and recruiting.
Some examples: The highest grade-point average achieved in the university's sorority/fraternity community last year was achieved by a Panhellenic organization, 3.63. The GPA of W&M Panhellenic organizations, Strickland said, is typically on par or higher than the overall women's GPA.
W&M's Panhellenic community has a long-standing relationship with the Arc of Greater Williamsburg, which serves young adults with developmental disabilities such as Down syndrome, autism, cerebral palsy and irreparable brain injuries as they age out of special education in public schools when they reach 22 years old. Each year, W&M fraternities and sororities stage the Arc carnival, attended by close to 1,000 students as well as about 120 Arc clients and community members.
Panhellenic Council presidents, in conjunction with the Interfraternity Council president and the National Panhellenic Council president, have in recent years engaged in more significant conversation with the Neighborhood Relations Committee. Joe Wheeless, assistant director of student leadership development, attends monthly meetings and reports back to the three council presidents, and others, about community issues that could have a bearing on the campus.
"We want to make sure we are part of the conversation about sexual misconduct, alcohol and drugs, and the attempt to educate the community on these issues and to be at the front of talking about them," Strickland said. "We want to make sure we are talking to them about how we are working to educate our community about these issues and are the forefront of that effort."
When the NPC asked that the film "50/50: Rethinking the Past, Present, and Future of Women + Power," the W&M Panhellenic Association arranged a night for the viewing and discussion.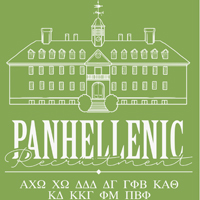 "It's about the initiatives to help close the wage gap with women in the workforce that NPC sent out to everyone," Strickland said. "We try to do programming that our members can come to that are furthering the conversation for women here at William & Mary but also women across the country. We've tried to combine our educational programs with things our students care about in advancing women."
Finally, W&M's Panhellenic Association has enjoyed uncanny success at recruiting new members. It stages a two-weekend recruitment period, where women can get to know the various chapters and, hopefully, find one they feel is a good fit. Normally, 400 women go through the process annually, with approximately 300 joining. That's an abnormally high percentage, according to Strickland.
"We really want women here to find their place," she said. "We're encouraged the way our women have chosen to try out the process and even if it's not for them, at least they've seen what life at W&M is like. We feel it's a win for everyone."