Poet Nikki Giovanni to keynote Lemon Project & 50-Year Commemoration Symposium
Award-winning poet, activist and educator Nikki Giovanni will speak at William & Mary's 2018 Lemon Project Symposium next Saturday.
Organized around the theme of "Desegregating Higher Education in Virginia: William & Mary in Historical Context," the March 16-17 symposium will also offer a number of performances, discussions and other interactive opportunities, including a workshop with artist Steve Prince March 16. It is free and open to the public, but attendees are asked to register online.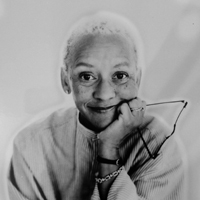 Named for a man who was enslaved by the university, the Lemon Project is a long-term research initiative to examine W&M's history with slavery and segregation and its ongoing relationship with the African-American community. This year's spring symposium coincides with the 50th anniversary commemoration of W&M's first African-American residential students, a commemoration that also serves to recognize and celebrate the contributions of all African-Americans to the university since its founding in 1693.
"I am excited to have had the opportunity to join forces with the 50th Anniversary Committee this year," said Jody Allen, Lemon Project director and co-chair and visiting assistant professor of history. "The symposium has expanded and the focus is on the dismantling of segregation in higher education, one of the legacies of slavery."
The symposium will begin Friday, March 16, in the Sadler Center atrium with breakfast at 9 a.m. and a 9:30 a.m. lecture in the Commonwealth Auditorium by Prince on "The Second Line: Redressing American Systems of Education." A roundtable discussion about the current relationship between W&M and the local African-American community will follow.
After lunch, a 1 p.m. roundtable discussion will explore Giovanni's work in context. Giovanni, a University Distinguished Professor at Virginia Tech, became well-known in the 1960s and early 1970s for her poetry and advocacy for the black community. Her published works include Re: Creation, Racism 101 and The Collected Poems of Nikki Giovanni. She has received numerous recognitions, including seven NAACP Image Awards and a Grammy nomination for the recording of one of her books. She was also a finalist for the National Book Award.
Following the discussion of Giovanni's works, Prince will host a 3 p.m. workshop in which participants will create communal artwork to honor Lemon. Registration for that opportunity is required. Last summer, Prince worked with students to create a mural to honor W&M's first African-American residential students. It was unveiled Aug. 31, 2017, in Swem Library to help kick off the 50th anniversary commemoration, which is being observed throughout the 2017-18 academic year.
Friday night, Valerie Gray-Holmes, a historical interpreter and performer for Colonial Williamsburg, will perform "The New Gatekeepers" in the Sadler Center's Commonwealth Auditorium at 7 p.m.
The symposium continues Saturday, March 17, in the W&M School of Education's Matoaka Room, with an 8:30 a.m. breakfast. W&M President Taylor Reveley will deliver remarks before Professor of English and Africana Studies Hermine Pinson introduces Giovanni. Leah Glenn Dance Theatre will perform "Stifled, Sorrowed … Sustained" with choreography by Associate Professor of Dance Leah Glenn and poetry by Giovanni before the poet begins her keynote address at 9:45 a.m.
A panel discussion about the desegregation of the University of Richmond will follow at 10:45 a.m. After lunch, the communal artwork "Lemon Revival," which was created by Prince and his students on Friday, will be unveiled.
At 2:30 p.m., a panel discussion will focus on how universities should move forward as they continue to confront their past and current relationships with the African-American community.
The symposium will conclude Saturday night at 7 p.m. in Small Hall room 110 with an open mic event hosted by Students of Hip-Hop Legacy.
A complete schedule may be found on the
Lemon Project website
.