The following story originally appeared in the fall 2018 issue of the W&M Alumni Magazine. - Ed.
The world truly is taking notice of Pocket Sun '13. Just nine years ago, she was a wide-eyed freshman at William & Mary. Now she runs a multimillion-dollar venture capital firm, SoGal Ventures, with cofounder Elizabeth Galbut, and has more than 50 companies under her care. She's given TEDx talks. She's been on the cover of Forbes Asia as one of their 30 Under 30. In 2017, she was an invited speaker at Fortune's Most Powerful Women International Summit in Hong Kong and Microsoft's CEO Summit. She's been interviewed by the BBC, Harper's BAZAAR, Fortune, CNBC and more.
All this, and she's only 27.
"Our generation is very privileged to have the previous generation pave the way for us so we can do a greater good for this world," Sun said in an interview this April with CNBC. "I hear a lot that millennials are lazy. I don't think so. Millennials are incredibly global, they are constantly on the go. They are really driven by vision and purpose."
Sun has let vision and purpose guide her throughout her meteoric rise into the world of venture capital. As it says in SoGal's mission statement:
As the first female-led millennial venture capital firm, SoGal Ventures represents how far our generation has come, and how deep our impact on the world can be. We believe in the power of diversity, borderless business, and human-centric design … Our investments paint the future picture of how we live, work, and stay healthy.
Sun is creating change in the world through the power of women.
Building confidence

In 2009, Yiqing "Pocket" Sun came to the United States from Shandong Province, China, specifically to attend William & Mary. A family friend had toured the historic campus and said it was beautiful. The low ratio of students to teachers was appealing to Sun, who was looking for a small school where she could increase her English fluency and get an American education.
"I thought William & Mary had a really romantic name, and my dad thought it was a safe place for me to study," says Sun. "I came here without knowing what to expect."
Her first semester at the Raymond A. Mason School of Business was definitely the hardest. Many of her classes consisted of group projects, not something often done in China, where studying textbooks and taking exams is more common. She was astounded that professors encouraged students to voice their opinions and think critically about what they were taught. More comfortable carefully thinking through her ideas before voicing them, she didn't speak up often. Presenting in front of the class was terrifying.
But Sun was determined to adapt to this strange new environment.
"I always knew that I wanted to go to school abroad. I loved the idea of giving myself a challenge and seeing a bigger world. I really wanted to take this chance to better myself and do things that I couldn't do before," she says.
She joined the ballroom dance club and participated in dance competitions. She loved her piano lessons at William & Mary, so she became a music minor. She joined the symphony orchestra for a semester, took photographs for the Flat Hat, taught Chinese in the Chinese department, and eventually became a teaching assistant there. She even studied abroad in Paris.
Rick Spatz met Sun at an undergraduate event when she was finishing her sophomore year, and he was immediately impressed. He is an executive partner at the business school and a past director of that program, which makes senior business executives in a variety of industries available to students.
"She didn't have all the confidence in the world — she was 19 years old — but she was confident that she was going to make something work. She may not have known what it was, but there was no doubt in her mind that she was going to be successful doing something," says Spatz.
Sun kept coming back to Spatz for advice, and over time he became her mentor and friend.
"She used the literal translation of her name, Pocket, as her English name because it was different and would stand out. When I met her as a sophomore, she already knew people would remember her name," he says.
Her friend Takami Peemoeller '11 saw both Sun's shy side and this blossoming confidence during their time together at William & Mary. They met in Japanese 101.
"At William & Mary, every so often you get a class where everyone is friends with everyone, and when you go into that class it's an awesome part of your day. For some reason that happened in our Japanese 101 class," she says. "We started talking through that class, hung out and eventually became close friends."
Sun's entrepreneurial spirit was already evident as a college student. She took photos of classmates for them to use as their Facebook profile pictures and talked about starting a photography company. She loved singing so she made and sold a CD of her recorded songs.
"She looks at the world so creatively, and she is willing to just jump out and try things," says Peemoeller. "It takes a certain type of personality to go to school in another country, to say 'I'm going to go across the world and try this.'"
By senior year, Sun was surrounded by friends, very active in her clubs and activities and eager to start a career in marketing at a corporation somewhere. She wasn't yet talking about wanting to change the world.
"We didn't really talk about 'we have to empower women,' but she is an empowering person. She's always told me 'you can do whatever you want, you have so much potential,'" says Peemoeller. "She brings that potential out in people."
Even now that Sun has become more successful and famous than even she could have imagined, when she and Peemoeller get together, she is still the same supportive, goofy friend Peemoeller remembers from their college days.
Out into the wide world

"Her story is a story of persistence, and of not letting the short-term negatives deter you from doing what you really want to do," says Spatz as he describes the next phase of Sun's career. Things didn't always work out exactly as planned for the William & Mary grad.
Sun was worried when she started her job hunt that she wouldn't be able to compete for marketing jobs against Americans who didn't need visas and were native English speakers. She started taking any interview she could get, even for jobs she didn't want, just to practice and build connections.
"She was really persistent about pursuing leads. She didn't just send résumés out into the ether and hope that something would return. She would contact people directly, she would write letters, she wasn't passive," says Spatz. "And that's the quality that carries on and makes her really good in the world of venture capital."
And that quality earned her a position with a public relations firm in Chicago, then a job with Motorola. She enjoyed her work there and planned to stay for a while — then disaster struck. She didn't pass the H-1B visa lottery. Now, she had to either find a way to stay in the United States or move back to China.
She started frantically applying to grad schools, knowing she could stay on a student visa. It was already May. She needed a school that would allow her to start that September.
Five schools offered her admission. She chose the University of Southern California (USC)'s Marshall School of Business in Los Angeles and began her master of science in entrepreneurship and innovation.
This program exposed her to entrepreneurs of all kinds. Before long, hearing their stories had convinced her to change the entire trajectory of her career.
"I quickly came to the realization that entrepreneurship is the only way to make a real impact on the world," Sun wrote in a post on Medium in January 2017.
But Sun recognized a problem. She felt lonely as an aspirational entrepreneur — very few other entrepreneurs looked like her. So she started a club at USC for women to get together and learn about entrepreneurship.
"Pocket doesn't sit around and wait for fate or other people," says Spatz. "She goes and gets it done."
And thus the SoGal community was born, with Sun photocopying posters, renting a room on campus and hoping women would show up.
And they did. Hundreds of them. Women told Sun and each other their stories of success and struggle building companies from the ground up.
These meetings spread from USC to the greater Los Angeles area to nationwide — and then all over the world.
Now, the SoGal community has an online peer-to-peer support platform and hosts in-person educational, inspirational and networking events worldwide.
And Sun realized while the community was important, what these women needed most was funding.
Venture capital adventure

Venture capital is not exactly an easy field to get into. Most venture capitalists have already had careers in which they made their money, and many also come from families with significant wealth. They have long-established relationships with banks and other big institutions who provide them with funding.
Only 8 percent of partners at American venture capitalist firms are women, according to the 2017 Crunchbase Women in Venture report. And USA Today reported in December 2016 that only 3 percent of the venture capital workforce (including administrators and others) are African-American and only 4 percent are Latino. It's a baby-boomer white man's world.
But Sun enrolled in a venture capital program at Stanford anyway, and there she met Elizabeth Galbut, who would become her business partner. Galbut had also been a rising star in graduate school, founding A-Level Capital, the first student-led venture capital firm powered by Johns Hopkins students. She was working as a strategy and operations consultant at Deloitte Consulting, focusing on large healthcare clients.
Together, they realized that there was a potential gold mine waiting for investors in female entrepreneurs. As reported by Fortune in January 2018, only 2.2 percent of funding in 2017 was directed at female founders — with very few people investing in them, very few people were reaping the returns of their success.
"We thought, if being an entrepreneur is all about disrupting the existing status quo, we could be that for venture capital. When everyone making decisions in venture capital looks the same, they probably can't see a lot of things that we could see. Entrepreneurs are so diverse, and if VCs can't match that demographic, then they miss that perspective," says Sun.
And so they founded SoGal Ventures, named after the SoGal community Sun had built at USC. They dived in using money from Pocket's own checking account, cutting really small checks to female entrepreneurs. With each, they went through the whole process of venture capital, from due diligence to negotiations to helping each company grow. They worried people wouldn't see them as serious investors — until they realized that if you are actively investing, nobody can deny that you are an investor.
After a year and a half of these small deals, they knew they were onto something. They launched their own fund, and now, two and a half years later, three of their companies have been acquired and the rest are still in business.
Sun's success has proven true what she always believed: that there is no perfect time to just dive in and get started doing something you believe in. You don't need a certain number of years of experience or to be 100 percent knowledgeable or prepared. You just have to be willing to learn and to work.
"I think it's really important to just start doing something," she says. "No matter if it's a passionate hobby of yours, or a cause that you really care about, or a pain point that really affects your daily life, just take something and start working on it.
"It doesn't have to be world-changing at first; maybe it will become world-chang- ing and grow faster than you ever imagined," she laughs, a little wide-eyed as she reflects on her own success. "Act toward your mission and purpose."
More than money

Sun's mission and purpose is creating change in society through woman-owned businesses. That involves raising money to give to entrepreneurs so they can build billion-dollar businesses. But it's also about supporting entrepreneurs beyond funding and helping them scale up the good they can do in the world when they have resources.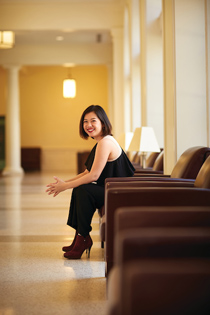 The more than 50 companies Sun and Galbut have funded include EverlyWell, a digital health platform that delivers at-home health testing kits; Lovevery, which makes baby toys for brain development; and Winky Lux, a millennial beauty brand that just opened an immersive experience pop-up store in New York City. All were chosen for their diverse founders, design-centric approach, rapid but sustainable growth and their ability to change how the next generation lives, works and stays healthy.
NailSnaps was one of Sun's first personal investments. On their web-based platform, users design and sell nontoxic nail art worldwide. In part, the platform is an entry point for girls to learn about web development and entrepreneurship through something they already love.
"Pocket is not only a great champion of our company, but is also really active in our community," says Sarah Heering, COO and co-founder of NailSnaps. "She spreads the word and arranges funding from sources that we may not even know about. She puts her money where her mouth is."
Sun purposefully seeks out companies based all over the world, leveraging the resources of the global SoGal community. In today's internet and social-media connected world, she believes all business is global business. She also feels millennials are well- adapted to this globally competitive environment.
"Our generation has lived in different countries and they speak different languages, work in different places and study internationally. They identify themselves as global citizens. When they start businesses, they naturally think globally from day one," Sun says.
Sun spends 30-50 percent of her time traveling — she flew 300,000 miles in the past year alone. She now lives in Singapore, where the location and organized culture are particularly conducive to her busy lifestyle. Galbut lives in New York. They consider their long-distance partnership to be an asset in this globally competitive world.
In 2017, 15 William & Mary students had the opportunity to meet with Pocket Sun in Singapore as part of a Global Immersion Program through the Boehly Center for Excellence in Finance at the Mason School. These immersions allow William & Mary students to gain valuable, on-the-ground perspective on doing business outside the United States.
After hearing Sun tell the story of her nontraditional path to success, Cynthia Wang '19 was inspired by her perseverance and strength.
"Since she is not only female, but also of Asian descent, she has overcome so many more obstacles than the other investors in her field," says Wang. "The venture capital world is primarily dominated by men, so for Pocket Sun to create a name for herself and go beyond the social norms of the industry is truly remarkable and inspiring for all women and people in underrepresented groups."
And that's what Sun hopes for, that her work will inspire the next generation of young diverse entrepreneurs — and more important, set the stage for their success.
"If I can be a stepping stone in history, and just do what I can so my next generation, my daughters, don't have to go through the same struggles — they will have a better environment, and they will have more liberty, more freedom, more wealth. That would be wonderful!" says Sun.
For Sun, the first step to changing the world is to economically empower women. SoGal does this not only by giving them the funding to create more money for themselves and their families, but also through the SoGal community that provides women encouragement to break into male-dominated fields and fix the problems they see in the world.
"First step for us to change the world is to get women rich. Whether that's encouraging them into investing early on, or encouraging them to be an entrepreneur and create a massive empire of wealth and social impact — it's really about putting women in the limelight, in the driver's seat, and giving them the power they deserve," she says.
And if this mission isn't enough to persuade investors to back SoGal, there is a strong economic argument as well.
"Women make 80 percent of consumer purchasing decisions and 85 percent of healthcare decisions for themselves and their families. They are controlling more and more wealth, they are making decisions, and if you don't have that representation, voice and perspective in your investments, you will have sub- optimal returns," said Galbut in an interview with CNBC's "Squawk Box" in February 2018.
Keep moving forward

What's next? SoGal Ventures recently received $1.5 million in grants and donations, so Sun and Galbut are establishing a nonprofit to help them expand their SoGal community of female entrepreneurs.
They are also finishing raising their $15 million fund, with significant interests from financial institutions and Fortune 100 companies, which is rare for first-time fund managers and small funds. Their investors include some industry heavyweights such as the retired president at East West Bank, the group president at Princess Cruises and the first investor in Spotify.
It's not all smooth sailing from here, though. "My work has so much uncertainty. Investing in a startup is like taking a test now and getting your results 10 years later," Sun says.
But Sun and Galbut aren't stopping with venture capital.
"When we look in the long term, our mission has always been the same: to redefine the next generation of founders and funders by investing in diverse entrepreneurs, and inspiring and training young people to become entrepreneurs and investors early on in life. We need diversity on both sides of the table. Venture capital is just the beginning of our grand plan; it's the best way to make the most impact for what we are trying to do now," says Sun.
She envisions SoGal being the Berkshire Hathaway for women, and she sees her own potential to be the next Warren Buffett. Who knows? She's got her whole life ahead of her.