Hershner receives Environmental Leadership Award
Carl Hershner was honored with the Erchul Environmental Leadership Award by the Virginia Military Institute's Center for Leadership and Ethics during its annual Environment Virginia Symposium in Lexington on April 5. Hershner is a professor at William & Mary's Virginia Institute of Marine Science and director of VIMS' Center for Coastal Resources Management (CCRM).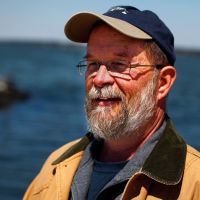 The annual award — which recognizes a Virginian who has made significant individual efforts to improve the environment — is named for VMI professor Ronald A. Erchul, who founded the Environment Virginia Symposium in 1990. Candidates are nominated by members of Virginia's environmental community, and judged on the basis of their vision, expertise, commitment, integrity, communication skills, accomplishments, and diplomacy. A panel of judges comprised of past award recipients selects the winner.
VIMS Dean and Director John Wells says the recognition is well deserved. "Through Carl's leadership, CCRM has long been a keystone of advisory service activities at VIMS, and work by Carl and his staff continues to benefit Virginia's coastal and watershed resources every day," says Wells.
Presenting the award was last year's Erchul recipient Nikki Rovner, The Nature Conservancy's associate state director. In remarks from the nomination packet, she said, "Throughout his career, Carl has taken a systems-level approach to his research, working to integrate both natural and social aspects for effective resource management. Under his leadership CCRM has supported management of coastal, shoreline, tidal, and non-tidal wetlands via the provision of technical and policy guidance, analytical models, and decision-support tools."
Hershner says receiving the Erchul award is "particularly nice because the final selection is made by previous recipients, and in this case they are all people I have known and respected for years." Previous winners include Tayloe Murphy, Virginia Secretary of Natural Resources under then-Governor Mark Warner; David Paylor, director of the Virginia Department of Environmental Quality; Ann Jennings, Virginia director for the Chesapeake Bay Commission; Joe Maroon, executive director of the Virginia Environmental Endowment; and Russ Baxter, deputy director of the Virginia Department of Conservation.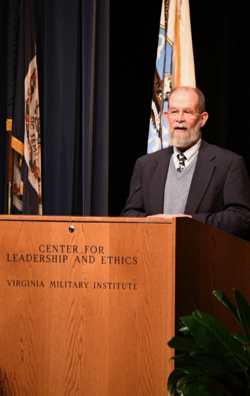 Hershner established CCRM's precursor more than 30 years ago, with the goal of developing and supporting integrated and adaptive management of coastal zone resources. One of many examples of how CCRM has benefited the commonwealth is the growing use of living shorelines — now Virginia's legally preferred method for coastal protection — to guard against shoreline erosion while maintaining the natural linkages between water and land that nurture commercial and recreational fisheries.
Hershner's contributions to marine resource management are many. He has more than 100 peer-reviewed and report publications in multiple areas of marine science and has trained, mentored, and inspired more than 100 graduate students. He has competed successfully for grants from the National Science Foundation, Environmental Protection Agency, National Oceanic and Atmospheric Administration, Virginia Department of Environmental Quality, Packard Foundation, and many others—and used these to create decision tools, mapping portals, and other interactive data products that are used on a daily basis by resource managers and city planners to ­encourage sustainable use of natural resources.
Hershner has also served on countless state, regional, and national committees and panels representing Virginia and VIMS. These include positions as Chair and member of the Chesapeake Bay Program's Scientific and Technical Advisory Committee, Virginia Water Quality Academic Advisory Committee, Virginia Water Resources Research Center Advisory Board, the Science Committee of the Intergovernmental Pilot Project, Leadership Team for Systems Approach to Geomorphic Engineering, Albemarle Pamlico National Estuary Partnership Policy Board, and the Water Institute of The Gulf Science and Engineering Advisory Board.
His active participation in advisory service has also included science support to the Virginia General Assembly on numerous issues.
Each year, VMI honors the Erchul Award winner with a $1,500 donation to a nonprofit environmental organization of the recipient's choice. Hershner requested that this donation be made to Wetlands Watch, a Norfolk-based non-profit that like CCRM is actively involved in efforts to improve Virginia's resiliency to sea-level rise and recurrent coastal flooding.