Henry Hart has a new title: poet laureate of Virginia
For the first time since the creation of the position 70 years ago, the poet laureate of Virginia will reside at William & Mary.
Henry Hart, the Mildred and J.B. Hickman Professor of English and Humanities, will officially become the commonwealth's 17th poet laureate on July 2 at a swearing-in ceremony in Richmond. Although the Poetry Society of Virginia, which ultimately submits nominations for Poet Laureate to the governor's office, was founded at W&M's Wren Chapel in 1923, the only other laureate associated with W&M was Thomas Lomax Hunter '48.
"I have worked closely with the Poetry Society for about the last 15 years," Hart said, "and I think in some way I was rewarded for the work I've done with the poet laureateship. I don't know if I set it as a goal, but it definitely represents a culmination."
Hart, who was described as "The Biographical Poet" by Coastal Virginia Magazine, has been a prodigious author. Included among his many works are The Poetry of Geoffrey Hill, Seamus Heaney: Poetry of Contrary Progressions, Robert Lowell and the Sublime, James Dickey: The World as a Lie and Robert Frost: A Biography. His works of original poetry include The Ghost Ship, The Rooster Mask, Background Radiation and Familiar Ghosts. His resume contains dozens of articles, reviews and presentations.
Hart, who has taught at W&M since 1986, has ambitious plans for his two-year tenure as poet laureate that includes the hoped-for culmination of a project he began a decade or so ago.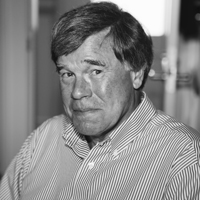 At the time, Hart approached then-W&M Dean of the Faculty of Arts & Sciences Carl Strickwerda about moving the Poetry Society's headquarters to campus. He said Strickwerda was enthused about the idea, but ultimately said that the lack of adequate space rendered it impossible. Hart said he will resurrect his proposal to the society by offering to make available space in his office.
He also wants to find a permanent location for the society's annual poetry festival in May. Again, he has his eye on William & Mary, perhaps the week following Commencement, but realizes that his first order of business will be to raise funds to cover expenses.
Finally, he said he endorses former Poet Laureate Sofia Starnes' goal of expanding the festival to two days, a goal he also has harbored for years.
"Although I've been doing some work to get the poetry society back to William & Mary for a couple of months, I'm really returning to an old plan," he said.
Hart's ascension to the role of promoting the reading, writing and appreciation of poetry among the general public could be described as unique. A self-proclaimed "jock" in high school, where he captained the basketball, soccer and baseball teams — and earned all-league and all-state honors — Hart wasn't introduced to contemporary poetry until his freshman year at Dartmouth when he had to write a paper on Robert Lowell's poem "For the Union Dead."
"A little lightbulb went off in my head," Hart said. "It was strange, a revelation, an epiphany. After that I started taking a lot of poetry courses. My professor, Robert Siegel, told me that maybe I should try to write poetry. I was hooked."
Hart said that where once "poetry was at the center of people's lives," computers, films, radio, smart phones and other modern creations have changed society. However, he added, poetry is still out there; many people just don't realize it. He pointed to President Abraham Lincoln's 1861 inaugural speech in which he implored people to listen to their "better angels" and not go into the Civil War. Hart points out that the phrase is an echo of one of Shakespeare's sonnets.
"Take Martin Luther King's famous 'I have a dream' speech," Hart said. "He's also drawing on a verse from one of Shakespeare's plays, Richard III. He doesn't talk about a winter of discontent, which is from a speech in the play. But King talks about a 'summer of discontent,' meaning the African-American experience in what was a hot summer of discontent.
"The great poets invent expressions that we associate perhaps with great religious leaders, great politicians, but the poets are often the ones inventing the language," he added. "Poetry is important. When people understand where the language comes from, they realize that poetic expressions are very important and that they add something significant to our lives."