First woman board member at W&M honored
The sundial area near Swem Library has been named in honor of the first woman member of William & Mary's Board of Visitors, Mary-Cooke Branch Munford.
The Board of Visitors voted unanimously last week to pass a resolution naming the area Mary-Cooke Branch Munford Plaza; a copy of the resolution was presented to Munford's family.
The effort to recognize Munford was coordinated by the committee that is organizing W&M's 100th anniversary commemoration of coeducation, which is being observed during the 2018-2019 academic year.
According to the resolution, Munford devoted her life to the improvement of public education in the South, the advancement of women in higher education and the improvement of race relations. She was also instrumental to making W&M coeducational in 1918.
Munford served on the W&M Board of Visitors from 1920 to 1924.  But she also served on the board of the National Urban League, was a founding member of the Virginia Inter-Racial League and a trustee at Fisk University in Nashville, Tennessee.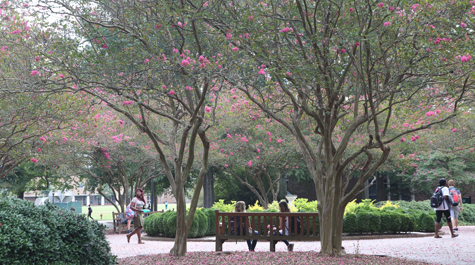 "Throughout her life, Mary-Cooke Branch Munford was an advocate for women and for women's education," the resolution says, acknowledging her work as founder of the Richmond Women's Club and an advocate for universal public education.
Munford also founded the Richmond Education Association, which lobbied for education for both black and white children, and the Cooperative Education Association of Virginia, which focused on rural Virginia schools.
"Her career as a social and educational reformer directly affected the lives of many Virginians," the resolution says.
The area that was named in her honor lies between Swem Library, Andrews Hall and Small Hall, with Barksdale Field — named for another pioneering W&M woman — in view.
"This area connects — physically via brick walkways — the fine arts, the sciences, literature, history, social sciences and more," the resolution says. "These were the opportunities that Mary-Cooke Branch Munford longed for as a young woman and fought for in her advocacy for coeducation."