Current events collide with professor's research on religious liberty
Maureen Fitzgerald has spent decades studying how religion impacts American life across immigration, race, gender, sexuality and social movements.
Current events in U.S. politics and her students' quest for deeper understanding recently converged with that work. Fitzgerald, associate professor of religious studies at William & Mary, has expanded her research on American religious nationalisms as a result.
Religious nationalism is the relationship of nationalism to a particular religious belief, dogma, or affiliation in regard to either the politicization of religion or the influence of religion on politics.
Fitzgerald said that in some ways, her research on what's currently happening with immigration, women's and LGBTQ rights, and American nationalism will be an update to her 2006 book Habits of Compassion: Irish-Catholic Nuns and the Origins of New York's Welfare System. That book details how anti-Catholicism allowed the children of Irish Catholics to be forced into reform societies, which were made up of people from different faiths, but mostly Protestants. Those anti-Catholic groups thought they could raise the children better than their parents could and separated them from their families, a form of punishment similar to what Fitzgerald sees happening with immigrant families currently being separated at the U.S./Mexico border, she said.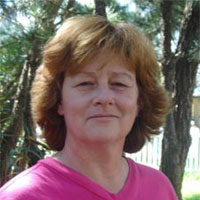 "There's always been a history of American religious nationalism hinging on an 'other,'" Fitzgerald said. "And so for instance, when reform societies were faced with a challenge about what they were doing with these kids, they would say now this is not against the idea of church establishment or the idea of the free exercise of religion because there's no establishment here because there's no single church that's benefiting. …
"So when I look long-term at these problems, and I'm writing a book on American religious nationalisms, the anti-Catholicism is there, the anti-Semitism is there, anti-Islam."
Fitzgerald has long taught that, in the context of the U.S., there's always been a balance between the First Amendment mandates of not having an established religion and protecting the free exercise of religion. However, she said that in the last 30 years, the two have tipped out of balance.
Fitzgerald points to the 1993 Religious Freedom Restoration Act, which was implemented to ensure that interests in religious freedom are protected.
The RFRA has been used to frame religious liberty in terms of protecting individuals' and corporations' ability to use religion as justification for decisions, Fitzgerald said, giving examples such as a locality clerk who refused to issue marriage licenses to same-sex couples, a Catholic pharmacist who doesn't want to fill prescriptions for contraceptives or a corporation that doesn't want to provide Affordable Care Act-mandated insurance coverage for them.
"It's being used in regard to women in general — contraception, abortion, but also LGBTQ — it's being used around gay marriage," Fitzgerald said.
U.S. Attorney General Jeff Sessions has been laying the groundwork for future use of the religious liberty argument, she added. Members of the religious right are marshaling support to make wholesale changes to U.S. laws that match their beliefs.
Current work on legal cases would move the country and the Supreme Court radically to the right on numerous issues, with a small faction of religious people using religious liberty to argue against the rights of certain groups, she added.
"The presumption is that somehow protecting their liberty, again because of the law that was passed in '93 — the RFRA, is more important than this idea of our protection against the establishment." Fitzgerald said.
Fitzgerald points to Sessions' use of religious liberty to influence all facets of the federal government. He announced on July 31 that the Department of Justice would establish a religious liberty task force.  The task force, according a press release, will work to protect and promote religious liberty as established in a 20-point government memorandum in October.
"It's getting turned on its head rhetorically, and it's quite dangerous," she said. "And it's most dangerous in places where there aren't state safeguards against this."
Fitzgerald's research includes both short- and long-term writing projects, as well as teaching two courses this fall — American religious nationalisms, which she first taught last fall, and a new one on religion and social movements. Their overlap area is the rise of the Christian right.
Her students' enthusiasm for examining the issues is one of the best things about teaching at W&M, said Fitzgerald, who added that throughout her long career she has been able to keep learning from students and colleagues fueled by the university's energy. She added the new class on the history of social movements because she referenced them so often to students who were unfamiliar with them and wanted to know the history and context of today's social landscape.
"Their whole future is dependent on a much better idea than what they're seeing right now," Fitzgerald said. "And so they are really ready to think and act outside the box, and have the energy to do it. It's the feeling of possibility for them that is really amazing."