Classics students learn drawing, 3-D modeling
Disparate methods involving pencils and computer software each had their place as students explored new ways of studying artifacts.
Practicum exercises in Jessica Paga's advanced seminar course The Archaeology of Ritual this semester at William & Mary involved making scale drawings and three-dimensional photogrammetric models of artifacts. The two methods are used to make visual records of ancient objects that can't be removed.
"The big goal of this class is to just get these students to think about the material world — the objects that surround us all the time, and think about 2,000 years from now, how would an archaeologist come down here and how would they interpret our sort of everyday objects?" said Paga, assistant professor of classical studies.
"Because that's essentially what we're doing for the ancient world — we're looking at their objects and trying to figure out what they meant, what they did, how they functioned, what significance they held. And creating a drawing, creating a photogrammetric model is just another way of trying to understand."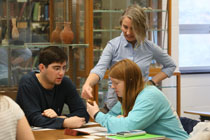 Bailey Hall '18 is a classics major in the department's newest major track of classical archaeology, which the course is specifically for, and the methods were all new to her.
"I had never been exposed to this type of technology before we started experimenting with the practicum," Hall said. "And I think that Dr. Paga has provided us with enough resources that we could pursue it individually if we wanted to."
Students made scale drawings of their individual artifacts in the first two practicum classes. The artifacts were small and kept within the classical studies library where they normally reside.
Rulers and tape measures were used alongside calculators to take measurements and figure out the math for the scale. Students made sketches in pencil at first, and finished with marker pens.
The idea was to start with a big outline, and then go in and add the smaller details.
"Start in pencil and then you can do it in ink, let it dry and then erase (the outline)," Paga announced to students at various levels of apprehension around the room.
She reminded them that they would have to write a paper as part of the project.
"So maybe take some notes as you go that you can 'draw' on to write it," Paga said.
Students helped each other, and made copious use of their erasers, as they made progress on drawing.
The second part of the practicum was the creation of a 3-D model using photogrammetry, which connects common points on numerous photographs of an object to create a manipulable digital model. This was the first time Paga has used it as part of her classes.
The most labor-intensive part was students taking between 50 and 100 digital photos of each object against a black background. Then students downloaded the photos into their laptops to put them into the software program that would produce the model.
S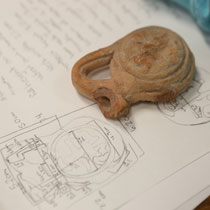 tudents had to hand in their drawings, screen shots of their models and a reflection paper discussing the two methods such as their advantages and disadvantages, and why it might be necessary to do both for the same object, Paga said.
"It opened my mind to what this process could be used for," said Kara Garvey '18, who plans to work in archaeology, has experience with excavation sites and currently works in an archaeology lab.
Both the artistically-inclined and those less so said both ways of making a record were valuable and they enjoyed learning them.
"I think that both methods are very important to know how to do if we're going to pursue a career in this," said Sunni O'Brien '19, who is currently taking a drawing class while majoring in classical archaeology and art history. "It's good to have a basic understanding of what data collection happens."
Robert Yancey '19 said though he's not good at drawing, the measurements were the key to making the scale drawings.
"I thought this project was really useful and important because it makes you pay attention to all the details on an object and not just assume something's rectilinear or anything like that," Yancey said.
Studying objects is key in classics because without written records, material culture provides the best glimpses into the world of ancient Greek religion, Paga said.
"Throughout this class we've been thinking about how we can use material culture to understand ritual in the ancient world," Paga said. "And so these two methodologies — the scale drawing by hand and then the photogrammetry model — are showing them how we actually deal with these material objects."