W&M law alumnus nominated to serve as New Jersey attorney general
He would be the first Sikh American to serve as a state attorney general in the history of the U.S.
New Jersey Governor-elect Phil Murphy announced Dec. 12 he will nominate Bergen County prosecutor Gurbir S. Grewal, a 1999 graduate of William & Mary Law School, to serve as the state's next attorney general.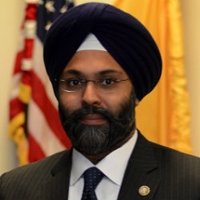 As prosecutor for Bergen County, Grewal leads an office of approximately 265 assistant prosecutors, detectives and staff. Prior to his appointment, he worked as chief of the Economic Crimes Unit of the U.S. Attorney's Office for the District of New Jersey, a role in which he was lead prosecutor in a number of high-profile white collar and cyber-crime prosecutions. He previously served as a federal prosecutor in the criminal division of the U.S. Attorney's Office for the Eastern District of New York. The son of immigrants from India, Grewal received his undergraduate degree from the Georgetown University School of Foreign Service before beginning law school at William & Mary.
Grewal's nomination is subject to confirmation of the New Jersey Senate in 2018. At a press conference on Tuesday, Murphy noted that if confirmed as New Jersey's chief law enforcement officer, Grewal "would be the first South Asian attorney general in our state's history and the first Sikh American to serve as a state attorney general in the history of the United States of America."