W&M community rallies in support of DACA students
The William & Mary Board of Visitors voted unanimously Friday to approve a resolution in support of students attending the university under the auspices of the federal DACA program. The Board's resolution also calls on the nation's elected leaders to find a bipartisan solution allowing students studying under DACA's provisions to finish their studies uninterrupted.
The Board's resolution expanded the university's active and robust support of DACA students that began long before the Sept. 5 announcement that the federal government would phase out the program in the next six months. The White House has suggested that Congress may come up with an alternative for the Deferred Action for Childhood Arrivals (DACA) program, which provides temporary authorization for undocumented people brought to the United States as children to work or attend school.
"The Board stands with President Reveley, faculty, staff and students at William & Mary in supporting our DACA students," said Rector Todd A. Stottlemyer '85. "William & Mary's roughly two dozen DACA students, and those who have come before them, have proven themselves to be among the hardest working students and of the highest caliber.
"As noted in the resolution, 'Who comes here, belongs here' remains a hallmark of the university community. Our goal has always been to graduate all who enter our campus and for them to represent themselves and their alma mater in the most honorable manner possible. That will never change."
Campus forum
There are 23 students attending William & Mary under DACA provisions; their identities are known only to a few administrators who work directly with them.
On Sept. 8, senior administrators and staff from many support offices on campus joined faculty and students in the Sadler Center for a community town hall to answer questions about the university's strategy regarding DACA and to field suggestions for how the campus community can support the students. Lisa Roday, chair of the Committee on Student Affairs for the W&M Board of Visitors, also attended the town hall and expressed her support for DACA students. Later that day, a rally affirming DACA students was attended by several hundred people in the Sunken Garden.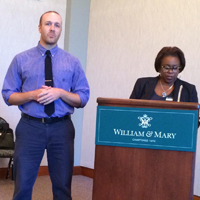 "Support for DACA students is a community effort," said Steve Sechrist, director of the Office of International Students, Scholars and Programs. "The Reves Center [for International Studies] has taken leadership roles in many aspects of support, but equally important is the work of the Office of Diversity & Inclusion, the Center for Student Diversity, the Office of the President and Provost, the Dean of Students Office, the Counseling Center and the efforts of many individual faculty, staff and students."
During the session at the Sadler, Kimberly Weatherly, assistant dean and director of the Center for Student Diversity, opened the forum by reading from the statement issued by W&M President Taylor Reveley shortly after the Sept. 5 DACA announcement.
"DACA students are important members of our community," reads the president's statement. "They belong here, and we strongly believe they should be allowed to finish their educations. William & Mary will keep doing all we can to support them."
University efforts
Sechrist said the university has been working with other offices across campus on DACA issues since the program was created by executive order in 2012.
Prior to the 2016 presidential campaign, faculty and administrators worked with DACA students primarily on administrative issues, like enrollment, financial aid and employment, he said.
"After the election, there was a much-heightened sense of concern about the future of DACA and what happens to the students," Sechrist said.
Since then, he said, units across the university have taken steps to support students with DACA status, including the following:
Sechrist's office has brought immigration attorneys on campus to meet with DACA students and advise them about their rights and options. It also has provided funding to students who cannot afford to pay to renew their DACA status.
The Reves Center created an online resource hub for students and the community: http://www.wm.edu/reves/daca.
Meetings involving William & Mary Police, Reveley, University Registrar Sallie Marchello and Ginger Ambler, vice president for student affairs, have been held with DACA students to answer questions about how W&M can support them and what protections are available to them.
W&M Police clarified its role vis-a-vis

U.S. Immigration and Customs Enforcement

enrollment activities, confirming that its officers do not inquire about a person's immigration status in the course of their work, nor do they provide protected information about a student to ICE or voluntarily participate in an investigation by ICE.
The university has developed additional training to ensure the protection of student data. Non-directory student data, including immigration and citizenship status, is protected information under FERPA, a federal law protecting the privacy of student records. Students also have the right to request that a confidentiality flag be placed on their record so that even directory information is not released.
Staff members with the Counseling Center have organized special sessions for students dealing with immigration-related issues and asked local providers to offer care to DACA students on a sliding scale or pro bono basis.
Last spring, the Reves Center worked with Center for Student Diversity and the Office of Student Affairs to provide training on immigration issues and their impact on students. More training and resources are being developed.
"There has been a lot of stuff going on behind the scenes," Sechrist said. "Many students don't feel comfortable having everyone know what their immigration status is. So we have reached out to students individually, confidentially."
The night before the Sept. 8 town hall meeting, Provost Michael R. Halleran; Teresa Longo, acting vice provost for international affairs and director of the Reves Center; Ambler; Sechrist and several representatives from the Office of the Dean of Students met with DACA students.
"It was partly to listen to what the students are expressing that they need and the kind of support that would be helpful to them, from an academic to a personal level," Ambler said. "We wanted to make sure we heard those needs and figured out who can best address them in a coordinated fashion."