W&M alumnus to serve in White House
William & Mary alumnus Vince Haley '88 will serve on U.S. President-elect Donald Trump's White House policy team, according to announcement made Jan. 5.
Haley will serve as the advisor for policy, strategy and speechwriting in the Office of the Senior Advisor to the President for Policy.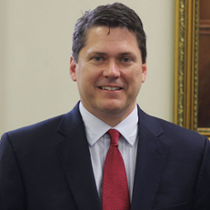 Haley, who holds a bachelor's degree in government from W&M, has worked closely throughout his career with former U.S. House Speaker Gingrich, serving as policy director and campaign manager for Gingrich's 2012 presidential campaign.
According to Politico, Haley served as the vice president of policy at American Solutions, a political action committee created by Gingrich. He has also co-authored several books and helped produce a number of films with Gingrich Productions.
According to a press release from the Trump transition team, Haley helped to develop ethics reform policies during Trump's campaign.
In addition to his W&M degree, Haley earned law and master's degrees from the University of Virginia and a master of law degree from the College of Europe.