William & Mary librarian serves as judge on Chinese talent show
Chinese students compete to win 'best English speaker' on televised competition
This summer, Carrie Cooper, dean of university libraries, represented William & Mary as a judge on the "Star of Outlook English Talent Competition," the largest, most influential English-speaking competition in China.
The program, sponsored by CCTV (the Chinese state television network), is now in its 17th year. Students from across China compete to demonstrate their English speaking skills in the National Championship, broadcast nationwide to millions of viewers. The competition is divided into four groups: kindergarten, primary school, high school and college.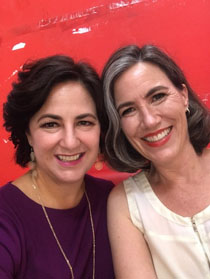 Cooper joined a panel of four judges for the college competition, representing the University of Pennsylvania, Vanderbilt, Cornell and University of Edinburgh. Each judge had five minutes to introduce the contestants and audience to their respective university. Cooper's comments highlighted the university's history, reputation and programs for international students.
Upon meeting the judges, Cooper quickly discovered how William & Mary got such a coveted spot on the panel. Amy Nichols, the University of Pennsylvania judge, is a William & Mary parent; her son graduated in May 2017 with a double-major in computer science and economics. After serving as a judge last year and being invited to return to judge this year's competition, Nichols recommended William & Mary for the judging panel.
"We owe her a great deal of gratitude for suggesting William & Mary be represented on the panel. One of the many highlights was getting to know her," said Cooper. "It's funny how small the world can be sometimes — to travel all the way to Beijing and to meet a William & Mary parent – and how far the university's reach extends."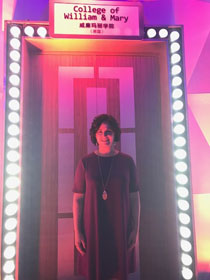 At the end of the competition, the winning students choose a door to walk through, representing the university they want to apply to.
"We had one remarkable student, Tan Yi, choose to walk through the door for William & Mary," said Cooper. "This was an unforgettable experience, and it will be fantastic publicity for William & Mary."
The season will air on CCTV, IQiyi, Youku and LE.com on Dec. 4.