Sheer poetry: Lopez earns Goldwater Fellowship to NYU
The plan Kyle Lopez designed for himself seemed crystal clear. Following graduation from William & Mary next month, Lopez would begin law school.
But hold on. That plan has changed, dramatically.
After a latent interest in poetry was rekindled by taking a creative writing class taught by Professor Henry Hart, Lopez forwarded an application and portfolio of his poetry to New York University's Master of Fine Arts program.
Lopez, who will receive degrees in English and in marginalized community studies, a self-designed major that is a combination of government, linguistics and Africana Studies, among other subjects, was accepted, to put it mildly. He'll attend NYU on a fully-funded Goldwater Fellowship, something more than 1,000 people apply for annually. Only 20 to 25 applicants are accepted; even fewer receive full-tuition scholarships.
"It's pretty surreal," Lopez said.
Part of the fellowship involves conducting creative writing workshops at Roosevelt Island's Coler-Goldwater Hospital, a facility for severely physically challenged residents. Another part involves working on the Golden Writers Anthology, a collection of works by those Lopez and other fellows will instruct.
When Deborah Landau, director of the creative writing department at NYU, phoned Lopez with the good news, she told him that all of the writers involved in the selection process had been excited by his application. But two of them were especially effusive in their praise: Sharon Olds and Yusef Komunyakaa.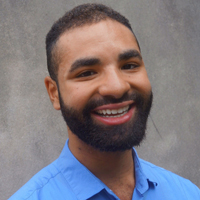 Both are Pulitzer Prize winners.
"I mean, I picked up writing again because I really enjoyed the course I took with Henry Hart," Lopez said. "Afterwards, it became part of my routine, and then I started thinking seriously about what I wanted to do after graduation. I decided the M.F.A. program would be a good idea in terms of being in an environment with other writers and getting to work with well-known and very accomplished writers."
Lopez said that W&M's creative writing program "had helped my work grow so much."
"So many people feel that writing can't be taught; you either have it or you don't," he said. "I get that. But there are a lot of people like me who benefit from a workshop environment where you can offer feedback, get feedback and work from there. Having seen how quickly my poetry improved from working on it here, I knew that moving on to graduate study would be super helpful."
Hart, Mildred and J.B. Hickman Professor of English and Humanities, has taught Lopez in two poetry-writing classes. One focused on post World War II poetry; the other was an independent study class. Lopez has also been his research assistant, Hart said, "and has distinguished himself in all of these endeavors."
"He is a good scholar as well as a good poet," Hart said. "I admire him as a person and as a writer, and was very pleased when those in charge of the NYU writing program recognized his talent."
English Professor Nancy Schoenberger, director of creative writing at W&M, and in whose advanced poetry workshop Lopez is enrolled, calls him "a pleasure to teach."
"He brings wit, sophistication and keen intelligence to his poetry, which explores, among other things, themes of identity and global citizenship," Schoenberger said. "And we're so proud of Kyle winning a place in the competitive graduate writing program at NYU."
Working with Hart and Schoenberger, Lopez said, has made him "much more confident in my poetic voice."
"I wasn't exactly sure if it was for me," he said of being a poet. "I had always liked it, but being in that environment and getting good feedback and learning when to include anecdotal things from my own background, I've gotten much more experimental in the techniques I use in my writing."
Asked which of the 10 poems he submitted was his favorite, Lopez said he is asked that all of the time.
"It's hard for me to say," he answered. "I love all of my kids."