Residence hall transformed into haunted hotel
With flickering flashlights illuminating the narrow way, high-pitched voices singing in dark rooms and zombie-like figures pouncing out of hallway corners, One Tribe Place's Haunted Hotel left no soul unshaken.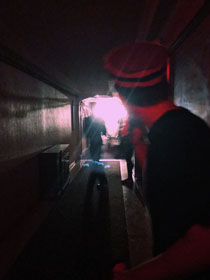 On Saturday, Oct. 27, the resident assistants of One Tribe Place and Green & Gold Village carried out the annual initiative of transforming the William & Mary residence hall and former hotel into the most daunting of scare-house tours.
"It's a tradition, so we decided to keep it up," said Kate Hathaway '19.
What Hathaway described as the resident assistants' one-month preparation process came to fruition on Saturday night — and the results of their work were truly haunting.  
"The tours are enjoyable; the groups all seem to have a lot of fun," said Charlie VanBourgondien '19, resident assistant and haunted house tour guide. "They laugh a lot ... a lot of screaming," he added, smirking.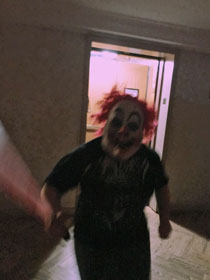 VanBourgondien did not overstate the amount of screaming participants engaged in. Dressed as a bellhop with a mysteriously dysfunctional flashlight, VanBourgondien was one of many students who played their parts impeccably. Leading groups into an elevator alongside a knife-bearing clown and down dim hallways with bodies all around, tour guides had the tough job of compelling frightened students to enter rooms that they knew were rigged with horror. Within the rooms, storytellers recounted spooky narratives, figures which at first seemed inanimate came suddenly alive and members of tour groups clung firmly to each other.
Grayce Angle '19 was amazed by her experience as an attendee.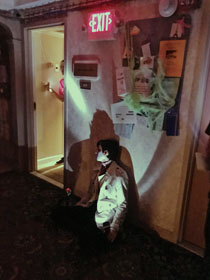 "It was surprisingly terrifying," she said. "I'm not normally someone you'd take to a haunted house — honestly, I'm pretty much a liability — but I got dragged onto a tour by two of my friends. I wasn't expecting it to be as scary as it was, but the students who participated did an amazing job."
Evan Dotas '19 was impressed by the conversion of his home into an eerie environment.
"Since I live in One Tribe Place, what stood out to me was how they were able to transform such a familiar space into a haunted house," he said. "Even though my RA was leading my tour and I was going through halls I've walked through every day, it still felt like I was in a totally foreign environment."
One Tribe Place's haunted hotel had something for everyone. Whether unexpectedly frightened, like Angle, or startled by the alteration of familiar faces, like Dotas, participants were moved by their experience. What struck participants most about the event, though, were not the jump scares, but the sense of community.
"I was really impressed by how many people came together on a Saturday night to make this happen for everyone," said Dotas.