One Tribe One Day returns March 28
Alumni, parents and friends gear up for a blockbuster day of giving back
On March 28, the global Tribe family will assemble once again for one of the most powerful days on the William & Mary calendar: One Tribe One Day. Each year, alumni, parents, students and friends share their love of William & Mary by making gifts, posting, tweeting and attending events. And for the fourth year in a row, the goals — and enthusiasm — will be even bigger than ever.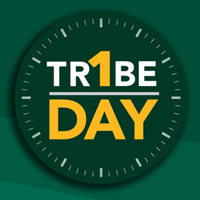 With eight major challenges and three reimagined competitions, One Tribe One Day 2017 will be even more exciting than last year's record-setting event. This year, William & Mary is aiming to have 11,000 people give back to the university in a single 24-hour period. That's an audacious goal, but the Tribe has yet to disappoint.
"Participation matters," said Dan Frezza, William & Mary's associate vice president for lifetime philanthropic engagement and annual giving. "Every gift helps  strengthen the university and create enthusiasm, especially on March 28."
In the pursuit of the 40 percent For the Bold alumni participation goal, every member of the William & Mary community will need to step up, Frezza said. In 2016, One Tribe One Day brought in 10,358 members of the Tribe, raising nearly $2.2 million in a single day for scholarships, programs, athletics and academic support all over campus.
Around the nation and the globe, close to 30 events will take place in cities and regions around the world to stir up enthusiasm and support for the Herculean effort. William & Mary alumni, parents and friends will gather in groups large and small in places like Chicago, San Francisco, London, New York and even Hong Kong — proving that the Tribe community is widespread and ready for an impactful day of giving and celebration.
"The energy at these events is infectious," said Marilyn Ward Midyette '75, executive director of the William & Mary Alumni Association. "As One Tribe One Day grows as a William & Mary tradition, we're seeing more and more alumni who are excited to show up and give back.  Strengthening alumni engagement is the first goal of our campaign, and this day helps mightily to bring the Tribe together."
As One Tribe One Day progresses and challenges are met, videos will be released to entertain and motivate the Tribe community to keep building momentum all day long. The topics and stars of the videos will be kept secret until the big debut on March 28, but fans of President Reveley's 2016 television parodies will not be disappointed.
Volunteers are a critical component of the day, as well. More than 800 class ambassadors from over 50 graduation years will be working hard throughout the day to reconnect with classmates and spread the word about One Tribe One Day.
"This is a day to make a real impact," said Matthew Lambert '99, vice president for university advancement. "Every gift counts — no matter what the amount — and when you put all those gifts together, it can have a transformative effect on this university. It's truly inspiring to see what the Tribe family can accomplish when working toward a common cause."
The gears are already turning on making 2017 the biggest and most exciting One Tribe One Day yet — stay tuned on the
web
and with social media (#onetribeoneday) for the latest updates. To get involved as a class ambassador, visit
https://advancement.wm.edu/giving/ambassador.html
.