Jefferson Wise '21 named Beales Scholar
Jefferson Wise '21, a recent graduate of Buckingham County High School in Buckingham, Virginia, is the recipient of the Harriett Pittard Beales Scholarship at William & Mary for the academic year 2017-2018. This scholarship, which is merit-based, provides approximately $4,000 in tuition assistance to a rising first-year student from southern Virginia.
Wise was the salutatorian of his graduating class this spring, having achieved a 4.58 GPA. He challenged himself in the classroom throughout his high school career, taking dual-enrollment college courses at Southside Community College. He took enough college credits that he graduated with an associate degree in addition to a high school diploma.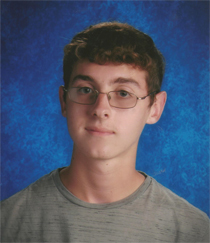 Outside the classroom, Wise participated in Boy's State, the Future Farmers of America Leadership Institute, served as captain of the soccer and cross-country teams, and is an Eagle Scout.  When Wise is not studying or engaging in extracurricular activities, he works on his family's farm. His recommenders describe him as "extremely intelligent, steadfast and dedicated—an exceptional young man."
"This scholarship allows me to attend school while also hopefully saving money for graduate school," said Wise, who intends to major in computer science at William & Mary.
The Beales Scholarship was established in 1984 in honor of the late Harriett Pittard Beales of Boydton, a former teacher and lifelong community servant. She enjoyed mentoring young people well into her 80s. She died in August 2013, shortly after her 100th birthday. The scholarship was established by her sons, Walter R. Beales III, a Boydton attorney and member of the William & Mary Class of 1966, and Randolph A. Beales, a judge on the Virginia Court of Appeals and former Virginia attorney general who also graduated from William & Mary, in 1982.
"Scholarship philanthropy makes you feel like you're doing something meaningful to enable exceptionally bright students to go to college," said Walter Beales. "It's also an investment in the future of America. It is our hope that this scholarship will have a ripple effect as a model, not only with recipients but also with other alumni and friends, who will want to give back to William & Mary for future generations."
Jefferson Wise exemplifies the type of scholar selected for the scholarship since its establishment. Recipients are chosen based on academic performance, extracurricular community activities and service, outstanding character and other personal achievements. Students from the city of Emporia and 12 counties — Amelia, Appomattox, Brunswick, Buckingham, Charlotte, Cumberland, Greensville, Halifax, Lunenburg, Mecklenburg, Nottoway and Prince Edward — are considered for the award once they have been admitted to William & Mary.
"I have been going to Colonial Williamsburg all my life with my family, and toured William & Mary a couple years ago. I have always loved the atmosphere of the town and the campus," said Wise. "I thought it would be nice to go to school with so many memories of family close by."
William & Mary is committed to providing a first-class education to the nation's best and brightest students. This is why scholarship support is the top priority in the university's For the Bold fundraising campaign. The university's prestige as a "Public Ivy" rests on its ability to sustain a community where inquiry and excellence thrive. Competition for the highest-caliber students is intense, and the College must ensure that those scholars choose William & Mary. Merit-based awards like the Beales Scholarship are crucial to this effort.
Established in 1693, William & Mary is the alma mater of generations of our nation's founders, leaders and public servants. Now in its fourth century, William & Mary's distinction lies in its liberal arts atmosphere combined with the opportunities of a modern research university. With 6,276 undergraduate and 2,341 graduate students enrolled, the university was rated the No. 6 public institution in the nation by
U.S. News and World Report's
2017 rankings.